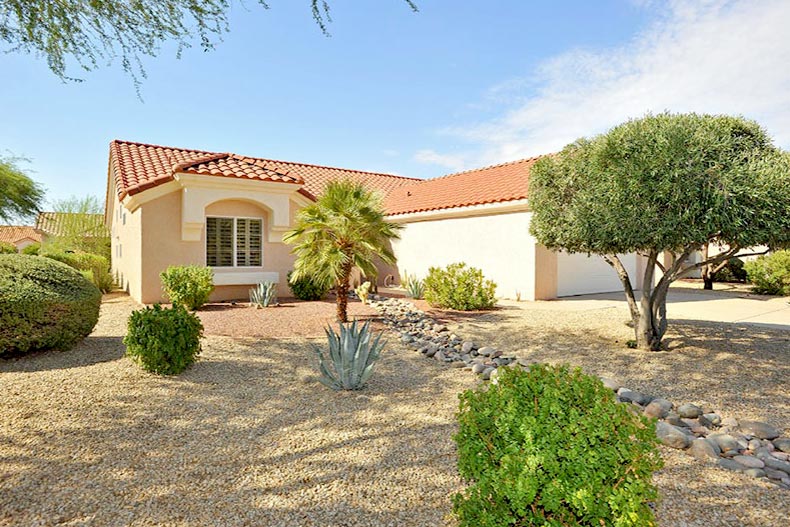 What can active adults buy for $250k in Central Arizona? With over 60 communities in the area, mostly in and around Phoenix, active adults have their pick of places. You can choose between gated or ungated communities, communities with golf courses (sometimes several courses), and communities with age restrictions of 40+, 45+, or 55+.
Most homes at or just under $250k are naturally in the larger communities, where homes come on the market more frequently. Here's a selection of four large communities in Central Arizona, starting with the largest and ending with the smallest.
Below $100K - High $800s
With Central Arizona chosen as the ideal location, Sun City was the first active adult community in the U.S. It's about 16 miles northwest of Downtown Phoenix with Arizona's desert and mountains just a 20-minute drive away. Sun City has over 27,000 homes for the 55+ active adult with smaller homes starting below $100k.
With a budget of $250k, buyers are spoiled for choice. There are numerous homes for sale at or under $250k, and buyers can expect to get a single-family home of about 1,700 square feet with three bedrooms, two bathrooms, and a two-car garage. Two-bedroom homes are also available with the same square footage, providing larger rooms.
Sun City is unrivaled when it comes to active adult amenities. It has 11 golf courses, 19 shopping areas, 31 places of worship, its own hospital, two libraries, indoor and outdoor theaters, numerous swimming pools, arts and crafts studios, and excellent facilities for a wide range of sports.
To learn more about Sun City, request info here.
Low $100s - High $600s
Sun City West is the second-largest active adult community in Central Arizona with 16,900 homes for the 55+ active adult. It was built just a few miles from the original Sun City, a little further from Downtown Phoenix.
Sun City West has homes for sale to suit all budgets, starting in the low $100s. Buyers with an upper limit of $250k will find single-family detached homes at almost 2,000 square feet with three bedrooms, two bathrooms, and a two-car garage. If you prefer two bedrooms, you can find a similar square footage with larger rooms.
Amenities at Sun City West are comparable to Sun City, with nine golf courses, nine restaurants, 18 places of worship, and a hospital. There are four recreation centers providing indoor and outdoor pools, fitness centers, hobby and crafts rooms, a library, dance studios, and a 300-seat theater. Sports enthusiasts will find facilities for tennis, pickleball, softball, basketball, and other sports.
There are two other Sun City communities nearby, Sun City Grand with 9,802 homes and Sun City Festival with 7,200 homes, both for the 45+ active adult. Both also have homes for sale for under $250k, though they are slightly smaller than similarly-priced homes in Sun City and Sun City West.
To learn more about Sun City West, request info here.
Mid $100s - High $700s
Sun Lakes has no connection with the various Sun City communities, and it's on the opposite side of the Phoenix metropolitan area. It's a 25-minute drive southeast of Downtown Phoenix along Interstate-10, across a highway from the unspoiled desert landscape of the Gila River Indian Community. Sun Lakes is a gated community of 6,683 homes with a 40+ age restriction.
For active adults with a $250k budget, single-family homes for sale offer 1,590 square feet with two bedrooms, two bathrooms, and a two-car garage. If you're looking to downsize, you can find single-family homes at under 1,000 square feet with two bedrooms, two bathrooms, and a one-car garage for the same price.
Amenities here include five clubhouses, four 18-hole golf courses and three nine-hole courses, a choice of restaurants, a ballroom, several fitness centers, outdoor pools, fishing lakes, and facilities for tennis, bocce, racquetball, and handball.
To learn more about Sun Lakes, request info here.
Low $200s - Low $900s
PebbleCreek is a gated community with 6,200 homes for the 45+ active adult. Located in Goodyear, a fast-growing city of over 80,000 people, PebbleCreek is a 25-minute drive due west of Downtown Phoenix along I-10. Twenty minutes in the other direction takes you to the hiking trails and other outdoor activities at the 8,700-acre Skyline Regional Park.
A typical home for sale in PebbleCreek for $250k is a single-family home of about 1,600 square feet with two bedrooms, two bathrooms, and a two-car garage. There are also smaller homes and casitas at PebbleCreek, so it's important to register with a trusted realtor to learn when suitable homes that fit your budget come onto the market.
PebbleCreek has an impressive array of amenities, including two 18-hole golf courses. Their Tuscany Clubhouse has a ballroom/auditorium, a separate theater, a library, and a billiards room. A second clubhouse also has billiards, a library, and an auditorium, plus a fitness center, a pool, a whirlpool spa, and illuminated tennis courts. Also, there are both indoor and outdoor pools in the Sports and Aquatics Complex. Additional amenities include an arts and crafts center, facilities for sports including pickleball and bocce, and a choice of eating places.
To learn more about PebbleCreek, request info here.