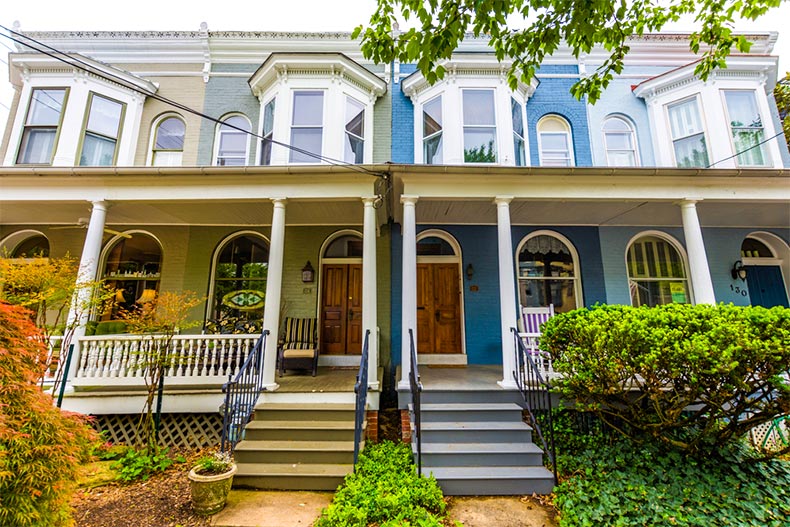 The Washington, D.C. area includes some of the highest housing prices in the country. According to research firm Kiplinger, D.C. is the fifth most expensive place to live in the United States, with home prices in the immediate suburbs higher than the state average.
However, the Daily Record reported that the median home price in Maryland is $285,000. There are 59 age-restricted communities in the state. What can active adults looking to buy a home in a 55+ community get for under the median price? Here are five communities with homes around $250,000.
Leisure World of Maryland - Silver Spring
Within the 5,600 residences at Leisure World of Maryland, almost every active adult looking for a home can find a model that fits their budget. Compact one-bedroom, one-bath condos around 800 square feet can sell for less than $100K, while attached homes and condos with two-bedroom, two-bathroom sell for less than $200K. Builders have constructed homes in this large community since 1966, so prospective residents can choose from a variety of styles and layouts.
The homes are all part of the intimate neighborhoods that make up Leisure World, and residents have access to both clubhouses, which offer amenities typical of resort-style living, and then some. In addition to pools, fitness centers, the golf course, craft studios, and gathering places, Leisure World has a post office, two churches, medical facilities, and a bank.
Heritage Harbour - Annapolis
Heritage Harbour is another well-established community in Maryland, located in Annapolis. Construction on homes lasted until 2008, and the community now includes almost 1,700 single-family, attached, and condominium homes. Some of the remodeled single-family homes can sell in the mid $700s, the variety of homes in the community means prospective residents can find great values, too. Condos in the 900 to 1,100 square foot range, with one- and two- bedrooms sell in the low $200s.
Like Leisure World, Heritage Harbour offers state-of-the-art amenities for every hobby and interest. Residents can stay active at the pools, sauna, fitness center, 9-hole golf course and tennis courts, or socialize in the clubhouse at the meeting rooms or craft studios or in the outdoor spaces, like the walking trails, outdoor patio, or dock.
Cameron Grove - Upper Marlboro
Located in Odenton just outside the Capital Beltway, Cameron Grove is a mid-sized community of 740 homes. The home models include single-family, attached, and condos, and range from 1,200 to 2,600 square feet. Stylish condos currently list in the low to mid $200s. These homes usually include two bedrooms and two bathrooms.
Even with these low home prices, homeowners have access to all the amenities of Cameron Grove. The clubhouse includes a heated indoor pool, saunas, a fitness center, and aerobics studio. The community also offers plenty of time and space to get to know neighbors in social activities, clubs, and classes. Outside, active adults can enjoy walking trails, tennis courts, a softball field, and event pavilion.
The Village at Freedom Hills - Hagerstown
The Village at Freedom Hills is one of the only communities in Maryland to offer new homes around the mid $200s. Located in Hagerstown, the small community of just 27 homes has a neighborhood feel in the foothills of the state's mountains. Admar Custom Homes is currently building attached units with two- to three- bedrooms.
This community is truly more like a neighborhood, where residents can enjoy walking trails and green space, but no clubhouse or larger amenities are currently planned.
The Parke at Ocean Pines - Ocean Pines
For active adults looking for more space but not higher costs, Maryland's Eastern Shore provides many affordable communities. The Parke at Ocean Pines offers single-family and attached homes just outside Ocean City in the planned community of Ocean Pines. Prospective homebuyers can expect to see single-family homes with up to three bedrooms and three bathrooms under $250,000. Even slightly larger homes list in the low $300s.
If the affordable homes and easy beach access weren't enticing enough, the community also has many amenities for active adults. The clubhouse includes a fitness center, indoor pool, meeting spaces, studios, and library.