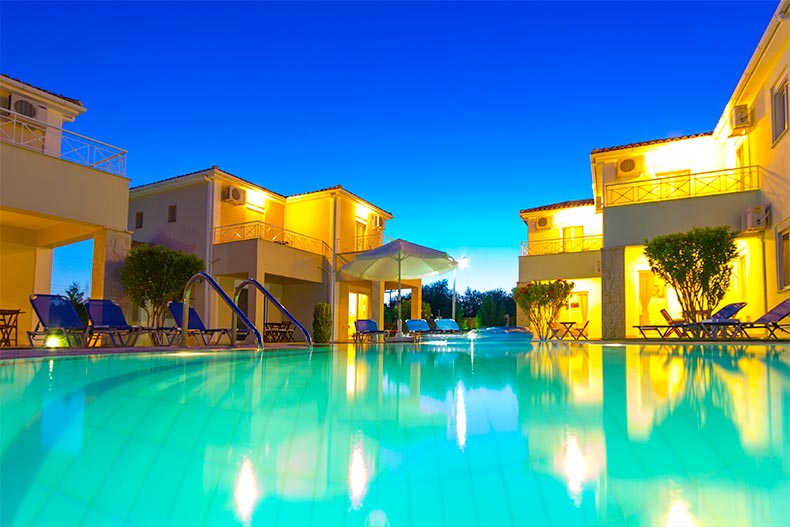 All-inclusive vacations have a huge draw: they offer luxury vacations without worrying about money along the way. When we imagine all-inclusive vacations, we often think of cruises or island resorts in the Caribbean. However, because of the simplicity of the trips and experiences, more resorts and tour operators are offering all-inclusive vacations. Here are three unique ideas for an all-inclusive vacation.
Mediterranean Island Resorts
While Americans fly down to Cancun or the Caribbean for all-inclusive resort stays, Europeans venture to Mediterranean islands. The four Spanish islands of Majorca, Menorca, Ibiza, and Formentera all have all-inclusive resorts. Known collectively as the Balearic Islands, each island has its own character. 55+ travelers might be more interested in Menorca and Formentera. Both islands are known as calm retreats with nice restaurants, hiking perfect for active adults, and secluded beaches.
Greece's islands are another popular Mediterranean destination. Travelers can book a flight and all-inclusive stay at resorts on Crete, Kos, Rhodes, and more. The hotels are traditional resorts with pools, beach access, and spas. Active adults can find resorts that are adult-only, or for the whole family. Greece also has more to offer than just beaches. A number of companies offer trips to Greece, including travel to and around the historic country.
European Tours
Many active adults have taken advantage of the river cruises offered throughout Europe. These vacations include accommodations on the boat, meals, drinks, and selected tours in cities along the way. These cruises are perfect for those who want to see a lot and not worry about the hassle of traveling between cities. While not as easy as a traveling hotel, active adults can also enjoy European tours that focus on a specific region or theme within a European country. Travel companies offer tours that include airfare, hotels, travel between cities, and some meals.
The U.S.
A staycation means you stay at home, but staying inside the U.S. for an all-inclusive vacation doesn't have to mean staying at home. There are many resorts where you can enjoy the luxury of a resort without having to travel far. Many of the resorts that are still all-inclusive are historic. They offer old-school luxury coupled with beautiful locations. The Chautauqua Institution's Athenaeum Hotel is a Victorian retreat in the middle of the unique community that offers classes, programs, lectures, and performances throughout the summer. A week at the hotel includes all meals and access to everything the greater community has to offer.
The Skytop Lodge in the Poconos is a hotel made in Great Gatsby-splendor. Completed in 1928, the hotel and resort are surrounded by woods for hiking and an 18-hole golf course. In Michigan, the Grand Hotel on Mackinac Island is another Victorian-era resort. The whole island makes visitors feel as though they are stepping back in time: cars are banned, with bikes and carriages as the faster methods of transport. Travelers at the hotel can experience the beauty of the island and the antique charm of the hotel.