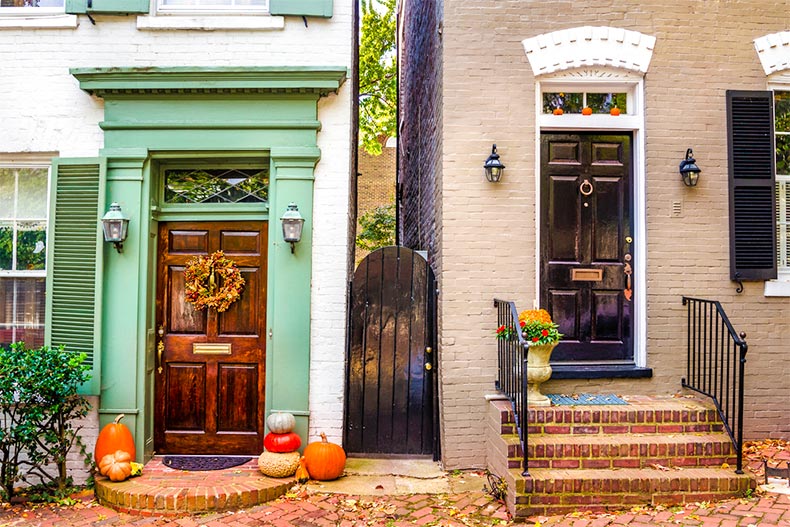 Virginia has recently becomes a surprisingly popular state for retirement. It's tax friendly for older adults, has a lower cost of medical expenses, and has only a slightly higher than average cost of living. For many active adults approaching retirement in Virginia, how and when to downsize are important questions.
For people over 55, downsizing may be a part of their overall retirement plan. Even before they retire, they move into a home where they can be close to grandkids or have time for leisure.
For others, downsizing can just be a practical decision. Homeowners don't need as much space, or simply don't want as much space. Moving into a smaller home can also save money on taxes and mortgage payments.
Downsizing to an age restricted community usually means more amenities close by, with little maintenance on homes or lawns. While some communities still offer large homes, many 55+ communities are geared toward active adults who want smaller, easy to maintain homes.
Here are four communities in Virginia to consider when downsizing.
Liberty Grove - Manassa
Located in Manassas, Liberty Grove presents a great opportunity to downsize in the greater Washington, D.C. suburbs. While most of the homes in the community are condos, there are a limited number of attached homes.
The condos range from one to three bedrooms, and are all under 2,000 square feet. Residents don't have to worry about exterior maintenance, and can spend their time in the community's social areas, in historic Manassas, and surrounding parks.
Lansdowne Woods of Virginia - Lansdowne
Lansdowne Woods of Virginia is another community great for downsizing in the D.C. area. Located near Leesburg, the seven condo buildings that make up this community offer scenic views of the Potomac River and are close to a number of wineries, recreation areas, and small towns.
Although the condos range up to 2,800 square feet, the more modest-sized two- and three-bedroom condos are around 1,500 square feet.
Residents enjoy a large community with an ease of living and many amenities. The large clubhouse includes typical amenities like meeting and activity rooms and a fitness center, but also includes a theater, ballroom, convenience store, and restaurants.
Falls Run - Fredericksburg
Falls Run is a mid-sized community in Fredericksburg, between D.C. and Richmond. While prospective residents can choose from a variety of homes in different styles and sizes, those looking to downsize can find two-bedroom, two-bath single-family and attached homes. These homes are about 1,500 square feet and list in the mid $200s.
Homeowners in this gated community experience a very low-maintenance lifestyle, with dues covering trash pickup, snow plowing, exterior home maintenance, and interior maintenance of all facilities.
The smaller homes at Falls Run don't come at the expense of resort-style amenities that many active adults are looking for in a retirement home. Residents enjoy a large clubhouse with many spaces for learning, socializing, and enjoying time with neighbors. The fitness center includes an indoor and outdoor pool and tennis courts.
The Villages at West Neck
While many of the communities in Eastern Virginia offer large homes, those looking to downsize can find a home at The Villages at West Neck. The low maintenance condos offer residents private garages on the first floor and three bedrooms. Some even provide elevators to access the second floor.
The Village Hall clubhouse includes a fitness center, meeting rooms, library, and outdoor pool. Residents also enjoy a number of planned and community-led activities throughout the year.