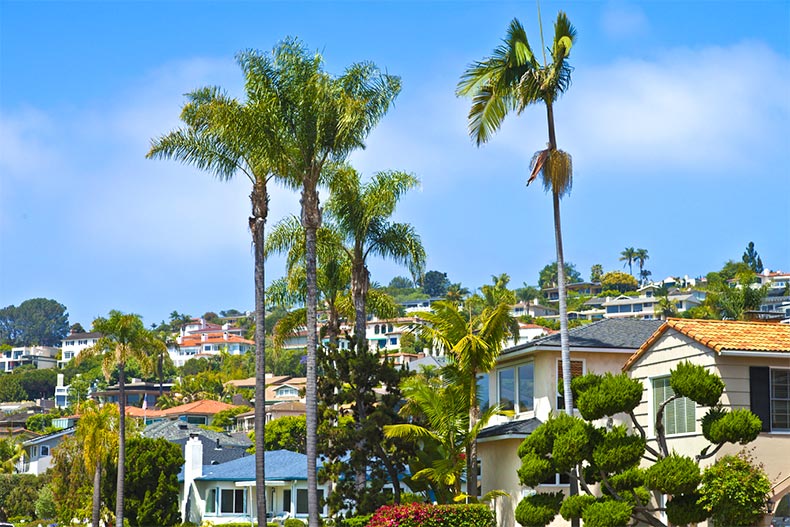 For people embarking on their passage to retirement, key decisions will be the quality of life they desire, and how much house they'll need for shelter in their leisure years. For the active adult lifestyle, a priority will be downsizing the family home and all that goes with it.
Downsizing Your Lifestyle
You can help underwrite your retirement plans by selling the family home. The big return on your equity, plus the savings on reduced household maintenance and utility costs, can subsidize the downsizing. And you may feel a bit more nimble with the new sense of freedom you'll gain by cutting loose from all the possessions and household "stuff" we accumulate over the years.
Once you've banked these material and spiritual gains, a new pursuit of happiness and quality of life begins, and your focus will turn to making the most of downsizing by choosing your ideal spot for relocation.
For the active adult lifestyle, the mandatory weather forecast would be sunny days in the wintertime and comfortable temperatures in the summer. San Diego, California, with what's widely believed to be the best year-round climate in all the U.S., has got to be high on everybody's list of perfect destinations for fun in the sun and laid-back resort living.
What San Diego Offers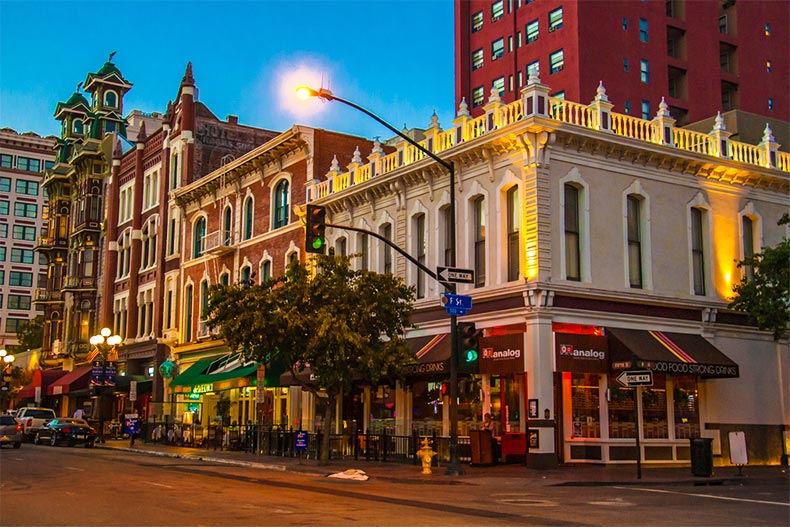 By many measures, San Diego is one of the most livable cities in the U.S.
A water sports paradise, San Diego is known for endless beaches with excellent conditions for surfing. But there is much more to do than boating, fishing, surfing and such. Numerous golf courses and over 50 recreation centers cater to people from all age groups and income levels. San Diego also has the largest aquatic park on the Pacific Coast at Mission Bay, and don't forget the San Diego Zoo and Sea World.
To the landward side, there are over 5,800 acres of recreational area, which offers plenty of opportunity for hiking and overnight camping. Since the temperature generally does not drop below the high-40s in the wintertime, San Diego is perfect for people who enjoy the outdoors.
San Diego also hosts hundreds of special events, with something for everyone. The convention center on the downtown waterfront hosts the Comic-Con International pop culture extravaganza.
Museum exhibits, concerts, bazaars, library events, and theater performances are a few more of the examples of year-round entertainment. Petco Park downtown and Qualcomm Stadium in Mission Valley host baseball and other athletic events to satisfy the sporting enthusiast.
So, in San Diego, we've found our location. But, to make the downsizing part of the equation work, we need to find the most affordable active adult communities available throughout the area.
The following are representative of the moderate price range for these communities. They are located from the far northern coast of San Diego County in Oceanside and Carlsbad, to the inland valleys at Vista and San Marcos, to the hills of north San Diego near Rancho Bernardo.
Oaks North - North San Diego
A long-established community since opening in 1976, Oaks North has attracted active adult homebuyers because of its wide selection of homes, and proximity to Downtown San Diego.
In addition to a community center with a wide range of amenities, residents also enjoy access to the Oaks North Golf Course, providing 27 accessible yet challenging holes.
With over 1,900 homes, Oaks North provides several housing options that include single-family homes, attached residences, and condominiums. Oaks North has eight neighborhoods with distinct homes styles available on a resale-only basis.
Costa Serena - Oceanside
Costa Serena was developed between 1971 and 1982 with 696 attached homes in various floor plans.
The homes range in size from approximately 827 to 1,350 square feet and offer two or three bedrooms, one or two bathrooms, and an attached one-car garage. Some of the homes have recessed lighting and wood or laminate flooring. Outdoors, residents have large, private yards and most have garden sheds and beautiful ocean views.
The ideal location is minutes from the beach. Everyday conveniences are also right down the street with The Shoppes at Carlsbad mall. Although there is no clubhouse, rolling hills, lush landscaping, and wide sidewalks give residents a picturesque and stunning neighborhood for morning jogs or walking the dog.
Rancho Carlsbad
Rancho Carlsbad's close proximity to the beach and welcoming atmosphere make it a popular choice. This gated 55+ community has a great selection of 504 single-family manufactured homes, ranging from modest residences to those with more luxurious features.
The community's clubhouse and recreation center are where neighbors can catch up and make lasting friendships. These facilities have an exercise room, swimming pool and spa, hydrotherapy pools, a two-story library, ballroom, and more.
Outdoors, residents can enjoy the scenic lakes and ponds or hit the courts for a game of tennis. Residents also enjoy access to the 18-hole Rancho Carlsbad Golf Course at a discounted rate.
Las Brisas Pacificas – San Marcos
Las Brisas Pacificas comprises 169 single-family homes spread across beautifully landscaped grounds and is located just six miles from several beaches and a few minutes from the Lake San Marcos Golf Course.
At the center of the community is the clubhouse, where residents gather for socializing. Homeowners also have access to a gathering room complete with a catering kitchen. Outside is a pool, patio with barbecue area, and a beautiful rose garden.
The residences range from approximately 1,200 to over 1,600 square feet and generally offer two or three bedrooms, two bathrooms, and a carport or attached garage.
Nob Hill – Vista
Nob Hill is an intimate neighborhood of just 80 homes with plentiful amenities.
Neighbors often meet in the clubhouse, recreation room or outdoors at the pool, patio and barbecue area. Landscaped natural space makes for an excellent backdrop to the walking and biking trails.
Nob Hill was developed between 1972 and 1977 and now has 80 attached homes. The homes within Nob Hill range in size from approximately 1,013 to 1,102 square feet and offer two bedrooms, two bathrooms, and an attached two-car garage. Most of these homes boast vaulted ceilings, plantation shutters, granite countertops, wine cabinets, private back patios, and fireplaces.