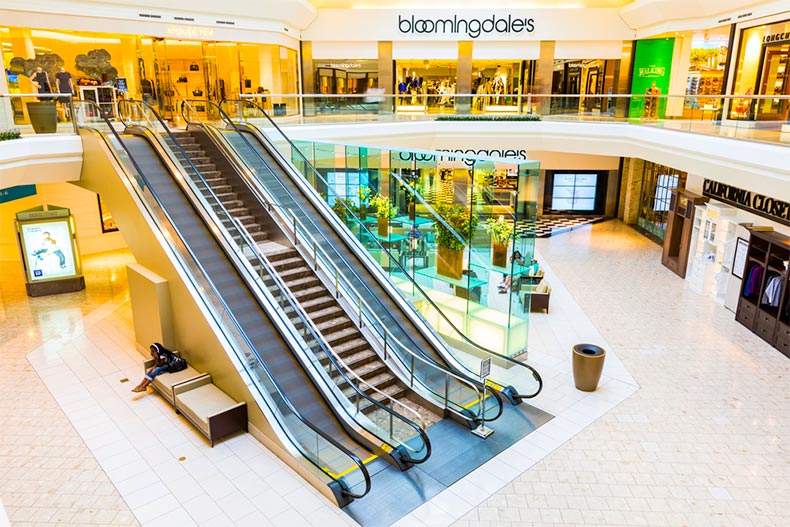 With 28 shopping malls located throughout the state, shopaholics have many ways to indulge their favorite hobby in New Jersey. The malls come in all different sizes, with the largest being Garden State Plaza in Westfield at nearly 2.3 million square feet. The smaller Livingston Mall seems tame in comparison at just under one million square feet, but it is also full of wonderful shops and eateries.
Yes, size matters, but it is not the most important factor. The quality and variety of stores, cleanliness, dining options, and parking facilities all make or break a great shopping experience.
Active adults who are drawn to outstanding shopping malls understand the value and convenience of being a quick drive from many of life's necessities. Some malls also have movie theaters and other large stores nearby. Plus, when you need to pick up a last-minute gift, shopping malls have the best variety. Another advantage is always having something to do when the weather isn't cooperating.
Here are some of the top malls in Jersey, along with a few nearby active adult communities.
Garden State Plaza - Westfield
This two-level, 2.3-million-square-foot shopping behemoth underwent renovations in 2017 that resulted in redesigned interior and exterior areas along with some hi-tech additions. The common areas now feature comfy seating, digital media screens, good Wi-Fi, and interior landscaping. The mall even added an interactive children's area, another dining hall, and a remarkable art collection.
It has pretty much every retailer imaginable, from high end to bargain shops. Some of the more well-known include Adidas, Anthropologie, Bath & Body Works, Burberry, Coach, Gap, J. Crew, and Louis Vuitton. The four anchor stores are Macy's, Lord & Taylor, Nordstrom, and Neiman Marcus. After breaking your bank, you can take in a movie at the AMC 16 theaters.
Garden State Plaza has numerous dining options, including casual fare at Mighty Quinn's Barbecue, cocktails and seafood at Legal Seafood, and more exotic choices at Sarku Japan or Ruby Thai. If you indulge too much, the mall opens early for walking groups like The Activities Club which meets weekdays for a little exercise. Garden State Plaza is in Union County.
High $800s - Mid $900s

56 new attached homes
Freehold Raceway Mall - Freehold
Drive 45 minutes south from Westfield and you will find Freehold Raceway Mall in Monmouth County. Close to 30 years old, it was built on Route 9 across from the Freehold Raceway. At 1.7 million square feet, it is the state's second-largest mall, and it also underwent a renovation back in 2008.
JCPenney, Lord & Taylor, Nordstrom, Macy's, and Sears serve as the mall's major department stores. There are shops inside for every fashion taste, like Chico's, L.L. Bean, and Lululemon. If your wardrobe is updated enough, there are jewelry stores, bath shops, Apple and Microsoft stores, and even a travel agency. The mall's complex also has its own AMC 14 movie theater as well as a Bob's Superstore and an Ashley Furniture store.
Hungry shoppers have plenty of dining options, including full-service eateries like Bobby's Burger Palace, Gyro Place Mediterranean Grill, Ruby Tuesday, and Brio.
Mid $100s - Mid $200s

443 resale single-family homes
High $300s - High $500s

300 resale single-family homes
The Mall at Short Hills
Call it The Mall at Short Hills or call it Short Hills Mall, this upscale mall has 150 shops and restaurants that attract 55+ adults who appreciate the finer things in life. The property originally contained a single department store but was expanded throughout the years to its current incarnation.
The mall's anchor stores are Bloomingdales, Macy's, Neiman Marcus, and Nordstrom. Luxury goods aficionados will be in their element at stores like Van Cleef & Arpels, Saint Laurent, Jimmy Choo, and Prada. To balance things out, there are also some mid-range stores like J.Jill, Express, and Crate & Barrel.
Short Hills Mall is also known for sponsoring exclusive events like children's story times, trunk shows, and technique classes at its Williams Sonoma store. As one would well expect, the restaurants are top-tier, including Legal Sea Foods and the Nordstrom Café.
Low $200s - Mid $400s

672 resale condo homes
Mid $200s - Mid $400s

336 resale condos
Cherry Hill Mall
Opened in 1961, this 1.2-million-square-foot-mall is one of NJ's largest, with a good mix of retail shopping choices. Cherry Hill Mall was also renovated years back, and now has a JCPenney, Macy's, and Nordstrom. A Container Store and Crate & Barrel were also added recently. Amongst the most popular shops are The Apple Store, Pandora, Sephora, Michael Kors, and Urban Outfitters.
This mall has its own restaurant row that features popular chain restaurants like Seasons 52, Capital Grille, and Bahama Breeze. For quick bites, there is a food court at the mall's other end. It also has ample parking, including a multi-level garage adjacent to Nordstrom. Cherry Hill Mall is in Camden County.
Mid $100s - Mid $300s

608 resale condos
Mid $400s - Mid $500s

122 new attached homes