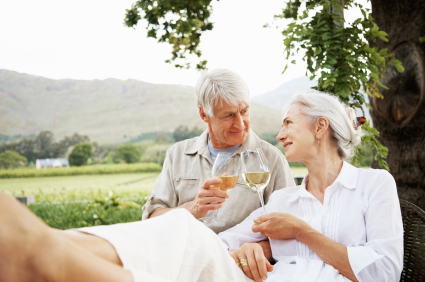 California's beautiful wine country has long been a favorite vacation spot, and some active adults long to call Napa Valley home. How can visitors make the most of their time while touring Napa Valley's wineries? Are there any drawbacks to living in such a beautiful haven?
Napa Valley is known for its fine wines and scenic beauty. While first-time visitors will immediately appreciate the area's beauty, they may be overwhelmed when they realize that there are several hundred wineries scattered throughout Napa Valley.
Some are small family-owned vineyards, while others are world-famous labels, such as Robert Mondavi, Beringer, or Sutter Home. Many of Napa Valley's wineries are open to the public, though some may require an appointment.
Napa Valley Resources
When visiting Napa Valley, it's often best to map out your wine tasting route in advance and find out if any of your preferred stops require a reservation. NapaValley.com offers all the information you will need to plan your visit. The site provides lists of wineries, lodgings, restaurants, and even a handy Napa Valley milage chart that shows just how far it is from one vineyard to the next.
While everyone has their own favorite Napa Valley wines, there are some tours that are more memorable than others. Castello di Amorosa boasts an amazing reproduction of an Italian castle, complete with an authentic dungeon. Jarvis Winery has the unique distinction of being built entirely inside a cave. Some wineries, such as Rutherford Hill offer beautiful picnic spots where visitors can take in the breathtaking views of the valley. However, when picnicking at a winery, it is polite to buy a bottle of their wine.
Communities Close to Napa Valley
Though Napa Valley is beautiful to visit year round, its high cost of living prevents many retirees from settling in the immediate region. Fortunately, those who fall in love with Napa Valley can find some wonderful active adult communities just to the west in neighboring Sonoma County.
Two beautiful 55+ communities with close proximity to Napa Valley are Oakmont Village in Santa Rosa, and Clover Springs in Cloverdale. Oakmont Village is a lovely 1,255-acre age-restricted community that welcomes residents aged 55+. Situated in the middle of Sonoma's own wine country, Oakmont Village's surroundings are similar to that of Napa Valley.
There are plenty of charming shops, restaurants, and wineries just outside of the community gates, while the community itself offers a wide variety of amenities and social clubs to keep residents happily entertained.
Clover Springs, a beautiful Del Webb community, is situated in the northern end of Sonoma County. Like any Del Webb property, Clover Springs features many amenities that support an active lifestyle. The community is unique in having been built on the site of a historic Moulton Hill Winery.
When developing Clover Springs, Del Webb preserved many features from the old winery, which gives this community its own quaint charm. Whether visiting Napa Valley on vacation or scouting the surrounding area for a possible retirement location, a little advance planning goes a long way toward an ideal trip.
Doing your homework before you start out on the winery trail, will give you the freedom to fully appreciate the breathtaking scenery of Napa Valley. Are you considering retirement in the Napa Valley area? Tell us about it in the comments section below.