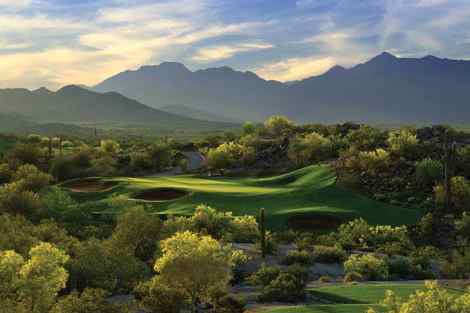 Set in Maricopa County, Arizona, Goodyear is a suburb of Phoenix and a popular destination for active adults retirees. Goodyear offers desert beauty, great golf courses, mountain hiking, and over 300 days of sunshine each year. Various attractions provide plenty to do, while local active adult communities offer their own brand of resort-style living.
As the name suggests, the town of Goodyear was originally established around land owned by the Goodyear Tire and Rubber Company. Since its inception, the town has matured into a thriving Phoenix suburb with rapid population growth.
New communities and homes continue to develop, including impressive resort-style active adult communities such as Robson Communities' popular 6,200-home PebbleCreek and AV Homes' 1,700-home CantaMia, an enclave within the Estrella master-planned community.
Climate
Goodyear has a subtropical desert climate, with hot summers and mild winters. Spring and fall months both tend to be warm, with days that can reach over 90 degrees by April or well into October. Summer days are very hot, but dry, with high temperatures that may climb over 110 degrees. The winter months are the coolest, but still comfortable with days ranging from the 60s to low 70s and nights that drop anywhere from the low 50s to the high 30s.
Outdoor Activity
With its sunny climate, Goodyear is an ideal place for outdoor adventure. Local nature parks, such as Estrella Mountain Regional Park and White Tank Mountain Regional Park, offer outdoor recreations like hiking, horseback riding, picnicking, golf, and more. Animal lovers may also enjoy a trip to the Wildlife World Zoo.
During spring training, baseball fans can visit Goodyear Ballpark to cheer on the Cleveland Indians or Cincinnati Reds. Every two years, nearby Luke Air Force Days also welcomes visitors to Luke Days. This amazing air show features exciting aerial demonstrations, aircraft displays, exhibits, and attractions.
Attractions
With a location less than 20 miles west of Phoenix, Goodyear is also within close proximity of many urban attractions. Throughout the Phoenix area, active adults can enjoy casinos, water parks, botanical gardens, museums, performing arts and much more. The Maricopa County Park system provides access to approximately 120,000 acres of beautiful Sonoran Desert. The area even offers memorable theme parks, such as the Goldfield Ghost Town and the Rawhide Western Town.
Diverse attractions throughout the Goodyear area include a wide range of shopping centers, restaurants, and entertainment venues. The West Valley Arts Council sponsors a variety of performances year-round, while Palm Valley 14 Cinemas brings current movies to the big screen. Visitors and locals can also slow down with a trip to Lavendar's Day Spa or the Red Door Spa.
Whether visiting or looking for a retirement destination, active adults will find a lot to love about the charming town of Goodyear.