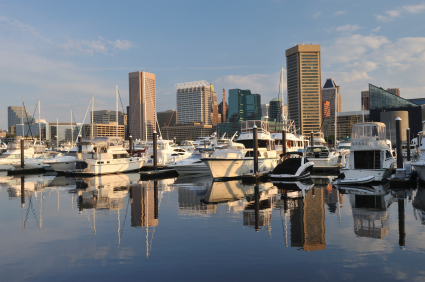 The city of Baltimore offers many recreations for visiting active adults. Set on the Patapsco River, which is an arm of the Chesapeake Bay, Baltimore boasts a thriving Inner Harbor area and historic shopping districts. Sports fans can take in a baseball or football game, and music lovers can enjoy jazz, opera, symphony, or other musical performances. Those who frequently visit Baltimore can even find a few active adult communities within easy distance of the city.
Downtown Baltimore is the city's main commercial area, though Baltimore includes many neighborhoods with their own attractions. The city's architecture is displayed through its many historic buildings, such as the Phoenix Shot Tower, the Sun Iron Building, and the Baltimore Basilica, which is the oldest Catholic Cathedral in the United States.
Historic Attractions
Though downtown Baltimore has much to offer, tourists often spend more time visiting areas such as the Inner Harbor and Fells Point. The Inner Harbor is Baltimore's liveliest tourist spot. This bustling waterfront houses shopping centers, restaurants, museums, and hotels. The National Aquarium and Oriole Park at Camden Yards are two of the Inner Harbor's hottest attractions, though visitors will also enjoy locations such as the Maryland Science Center and the nearby American Visionary Art Museum. Many historic ships are also open for tours, including the USS Constellation (Civil War), the USCGC Taney (Pearl Harbor), and the USS Torsk submarine (World War II).
Fells Point
Neighboring Fells Point, founded in 1730, is a tranquil counterpoint to the vibrancy of Baltimore's Inner Harbor. Though this historic district is only a short water taxi ride or one-mile walk from the Inner Harbor, Fells Point maintains its distinct charm with cozy shops, historic points of interest, and its share of local ghost stories. Visitors at Fells Point will enjoy a stay at the Admiral Fell Inn, a European-style hotel set within two (now attached) historic row buildings.
The surrounding shops, restaurants, and nightclubs include such unique locations as The Horse You Came In On Saloon. Baltimore also offers several walking tours, such as the Fells Point Ghostwalk.
Fort McHenry
Known as the birthplace of the National Anthem, Fort McHenry is a popular Baltimore point of interest for both visiting tourists and local residents. Fort McHenry's rich history makes it a significant landmark for the American Revolution, the War of 1812, the American Civil War, and World War I.
In addition to self-guided walking tours, Fort McHenry offers scheduled events such as twilight tattoos, concerts, and flag changing ceremonies. Active adults who enjoy visiting Baltimore regularly will be happy to learn that there are several age-restricted communities located within easy distance of the city.
Maryland's nearby active adult communities include Central Parke at Victoria Falls in Laurel and Chesapeake in Easton. Baltimore is also an easy day, or weekend, trip from some of the communities in neighboring states, such as Independence in Millsboro, Delaware; and Potomac Green by Del Webb in Ashburn, Virginia.