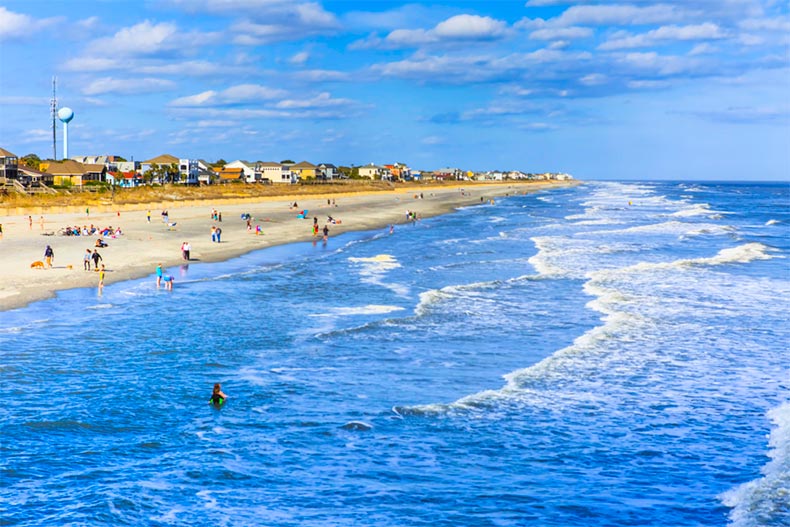 There aren't many places that are more beautiful than the coast of South Carolina, with its sandy beaches lined with towering palmetto trees, and seaside towns full of charming homes, quaint restaurants, and plenty of attractions to explore. From family-friendly options to more secluded areas, here are the best five beaches in South Carolina.
Folly Beach
Located less than 15 minutes away from historic Downtown Charleston, Folly Beach is a vibrant beach town known for its inviting, laid-back atmosphere. The main street through town, Center Street, is lined with local beach bars, seafood restaurants, as well as souvenir and surf shops.
Because of the area's consistent waves, water sports are a big draw for the small town, and plenty of local businesses offer guided water excursions or rentals, including surfboards, paddle boards, kayaks, and more. The 1,045-foot fishing pier is a must-see for visitors who want to experience panoramic views of the ocean and beach below. Folly's accommodation options range from a few beachfront hotels to house rentals.
Hilton Head
The picturesque town of Hilton Head is consistently recognized as one of the top—and for good reason. The area suits all sorts of vacation types: it is family-friendly with plenty of entertainment and activities to enjoy, a golfer's paradise with countless championship courses in the area, and an ideal location for beach-goers wanting to soak up the sun on gorgeous beaches with smooth, soft sand.
Aside from the golf courses and stunning beaches, Hilton Head is home to the popular Harbour Town Lighthouse, a long list of local seafood restaurants to visit that are worth writing home about, several shopping destinations with plenty of boutique shopping, and a number of resorts with luxury spas.
Kiawah Island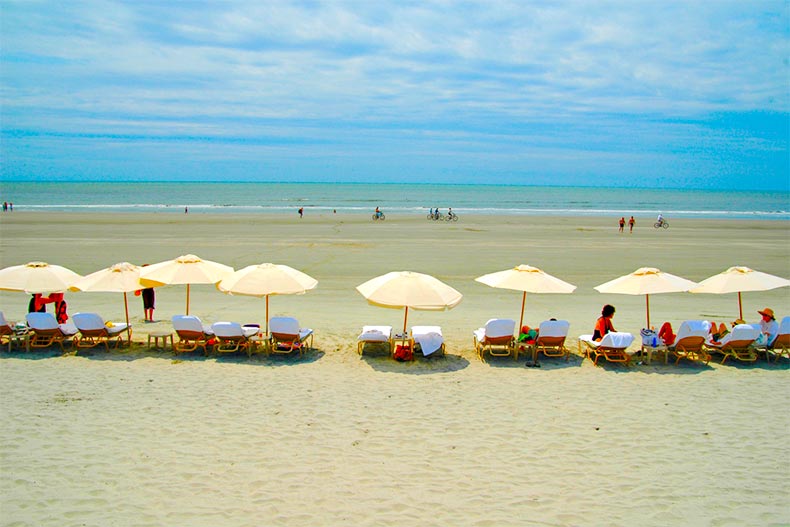 Kiawah Island is great for a resort-style beach visit.
As one of South Carolina's more secluded areas, Kiawah Island offers visitors a peaceful and relaxing escape on the coast. Because the barrier island is mostly residential with multi-million dollar homes and gated communities throughout, it hasn't become over commercialized or overcrowded.
There are very limited ways to stay on the island which include renting a privately owned island rental, with options ranging from oceanfront homes to villas, and cottages. Or, for the ultimate beach retreat, visitors can book a stay at the luxurious Sanctuary. The resort offers top-notch service, upscale amenities, an impeccable golf course, and tranquil spa. For those lucky enough to visit, there are 10 miles of serene, post-card-worthy shoreline, and maritime forests to explore.
Litchfield Beach
Ideal for a family-friendly vacation, the quiet town of Litchfield offers the same beautiful shoreline as its more crowded and commercialized neighbors, but without the hassle. Along with its sandy beaches, Litchfield offers visitors good golf courses, seafood restaurants serving up Lowcountry-style dishes, and boutique shopping.
For visitors who want to stay active even when they're off the beach, the Waccamaw Neck Bikeway is a must-visit. The 12-mile path is perfect for hiking or biking with plenty of sights to see along the way. With Myrtle Beach only 20 miles away it is easy for Litchfield beach-goers to take advantage of all the Grand Strand has to offer like live shows, an aquarium, and outlet shopping.
North Myrtle Beach
As one of the top vacation destinations in the southeast, North Myrtle Beach, is a fantastic option for anyone looking for a place that not only offers plenty of beachfront property, but also an abundance of attractions and activities. Beyond the beaches, visitors can take their pick from a variety of outdoor activities such as horseback riding, paddle boarding, and parasailing, or spend the day at the oceanfront amusement park.
As for entertainment, there's absolutely no shortage of options when it comes to dinner theaters and live shows with the Alabama Theatre, Carolina Opry, and House of Blue Myrtle Beach, nearby. As an added bonus, there are also several popular shopping destinations in North Myrtle that include a number of malls, Tanger Factory Outlets, and Barefoot Landing. Accommodations in the area range from villas and condos to beachfront homes and campgrounds.