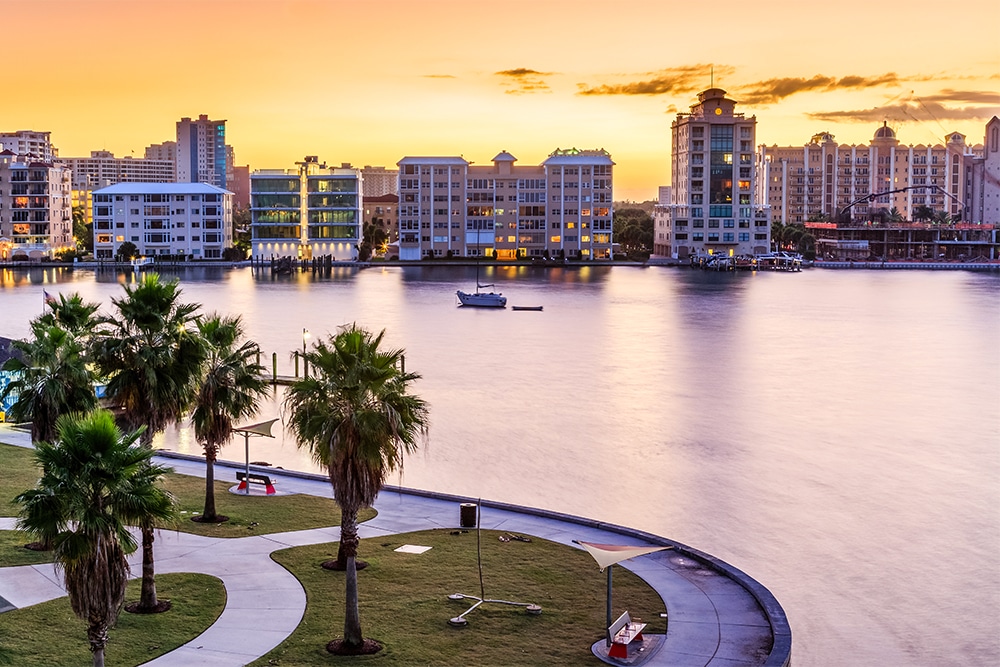 If you're ready to retire from the workforce but refuse to settle down in a quiet suburban enclave, then retiring in a big city might be perfect for you. Retiring in a big city allows you to have easy access to numerous shopping and dining options as well as entertainment and attractions. Although big cities have much more to offer, some retirees steer clear from these retirement hotspots because they worry that the cost of living will eat up their retirement funds quickly.
Fortunately, active adults don't have to sacrifice their city-living dreams because there are several big cities that cater to retirees. According to U.S. News & World Report's best places to retire in the U.S. list, some of the country's most popular metro areas made it to the top of the list thanks to their high rankings in categories like happiness, affordability, desirability, taxes, job market, and healthcare quality. Read on below to see which big cities are the best to retire in the U.S.
It's no surprise that a city in Florida made it to the number one spot on the best retirement list. Sarasota earned the top spot because of its year-round tropical climate, award-winning sandy beaches, and vibrant arts and cultural scene, which appeal to many retirees. The city is also relatively affordable when compared to other big cities in Florida like Miami.
Sarasota is also just an hour from Tampa and two hours from Orlando, making it convenient for residents to enjoy quick getaways for fun entertainment, shopping, and dining. Another reason why Sarasota is an ideal city for retirees is that it has a strong economy with a sizeable job market for those who wish to continue working in areas like healthcare, tourism, and small businesses.
Sarasota is also home to several active adult communities that offer resort-style amenities and exciting social environments, like VillageWalk at Sarasota, Cascades at Sarasota, and LakeRidge Falls. Retirees can enjoy a low-maintenance lifestyle while having access to a variety of clubs and activities that they can join with other like-minded adults.
With beautiful weather, a healthy job market, affordable homes, and 55+ communities, it's easy to see why retirees flock to Sarasota, Florida for their big-city retirement dreams.
The city of Lancaster in Central Pennsylvania offers a great mix of natural beauty, rich history, and exciting urban attractions. The diverse landscape features rural farms as well as charming suburbs that easily connect to the hustle and bustle of the city where there are endless options for shopping, dining, and entertainment.
With plenty of things to do, Lancaster has not only attracted retirees, but also college students, families, and young professionals. Lancaster also received a high score on U.S. News's healthcare index as well as its quality of life category. When compared to other metro areas in the state, Lancaster is an affordable place to live with housing prices below the national average.
Retirees can also find plenty of 55+ communities in the Lancaster-Ephrata Area such as Home Towne Square, Traditions of America at Lititz, or Village Grande at Millers Run.
Although San Antonio attracts many visitors from across the country to see the popular Alamo, it also draws the 55-plus crowd thanks to the city's vibrant amenities and world-renowned attractions and entertainment. San Antonio also lets retirees feel right at home because of its laid-back and welcoming atmosphere.
Retirement in this big city allows retirees to live at their own pace, whether its visiting amusement parks with family members year-round, catching a sports game, attending a music festival, or hanging out at a local food truck festival or BBQ event. Active adults who want to have a more relaxed retirement yet want to be culturally engaged can check out some of the city's notable museums like McNay Art Museum or the Majestic Theater.
Another bonus to retiring in San Antonio is that the city has a cost of living that's slightly lower than the national average and home prices are less than the national average, which means that retirees can live more comfortably off their retirement funds. Active adults will also find a great selection of communities in San Antonio and its surrounding area, such as Hill Country Retreat, Amorosa at Cibolo Canyons, and Roseheart. Each community offers a variety of home designs, impressive amenities, and a vibrant social environment.
Active adults who prefer to retire in a big city and experience a four-season climate in the Midwest should check out Grand Rapids, Michigan. The city earned the number four spot on U.S. News's best places to retire list because it earned high scores in housing affordability and healthcare. The Grand Rapids Area includes communities like Avalon Pointe and The Villas of Ada, which offer reasonably priced homes starting in the low $100s.
Not only will active adults be able to retire comfortably living off their nest egg, but they will also have plenty of things to do in this fun city. Grand Rapids is known for its public art scene as well as local craft breweries that are among the best in the country. The city's Midwestern vibe and welcoming atmosphere also allow active adults to attend neighborhood events like Eastown Street Fair where they can enjoy food and music while mingling with residents from all walks of life.
Another Texas city that made it on the best list is El Paso. This vibrant city has a bustling economy and a healthy job market, which may appeal to active adults who want to keep working during retirement. Besides its thriving economy, El Paso offers endless options for recreation and entertainment. The city hosts a variety of music festivals and cultural events throughout the year including the Texas Country Music Fest, Annual Poppies Fest, Sun City Craft Beer Festival, Sun City Bacon Fest, KLAQ International Balloonfest, and El Paso Downtown Street Festival.
El Paso ranked high scores for its housing affordability and quality of life on U.S. News's list. The cost of living and housing prices are lower than the national average, especially when compared to major metro areas like Houston or Austin. Retirees are sure to find affordable homes within charming neighborhoods while having access to all of the exciting urban attractions this city has to offer.