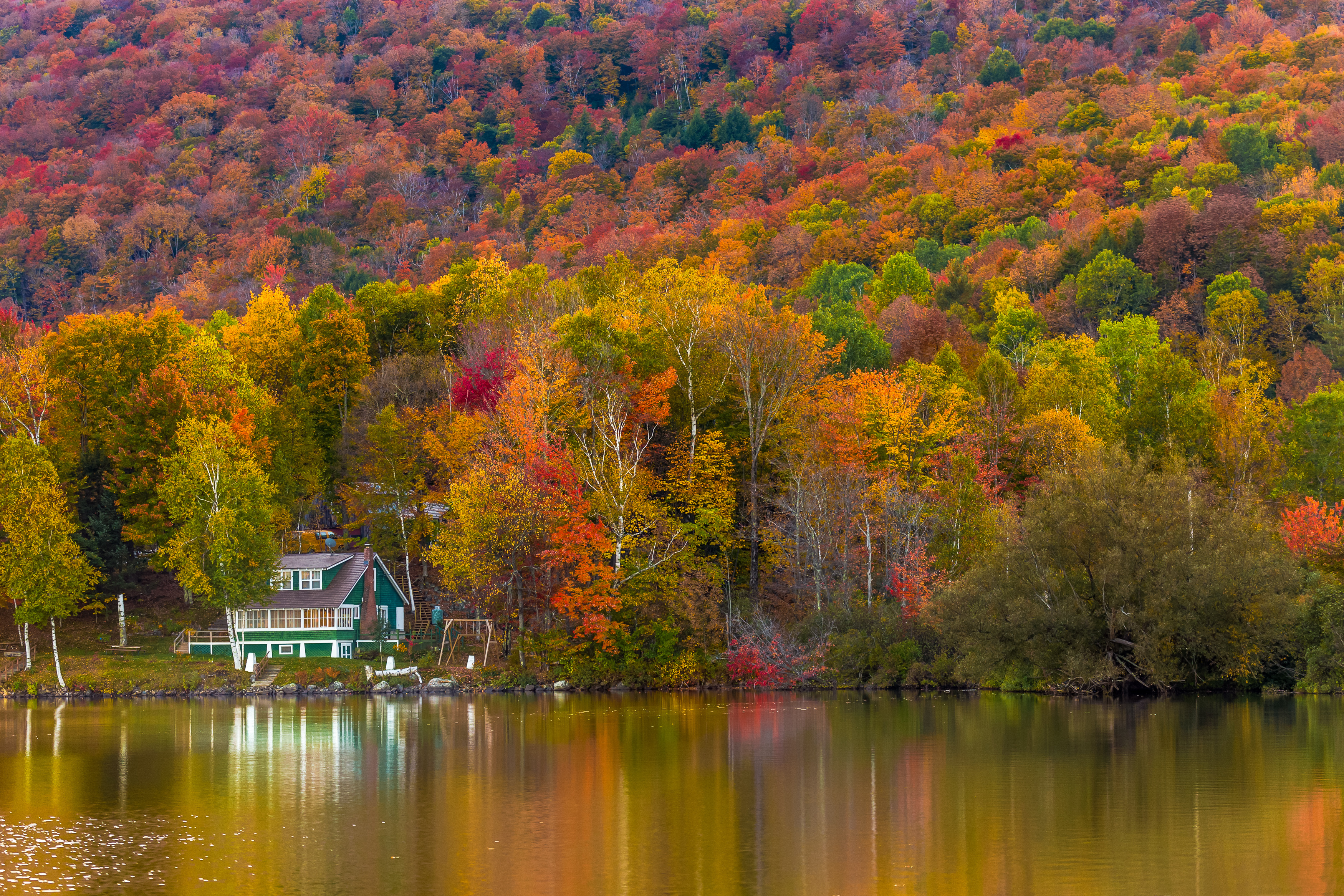 As fall approaches, many people are trying to seek out the best places for foliage viewing. Instead of traveling to those scenic places every season, autumn lovers can choose to live in one of these communities year round. While not every region of the country experiences the same type of autumn, you can find seasonal fun everywhere. Whether it's their amazing fall colors, Halloween traditions, or the nearby cider mill, you can have that autumn feeling no matter what month shows on the calendar.
Aspen, Colorado
Unsurprisingly, a city located directly in a mountain and surrounded by trees is a great place to enjoy autumn foliage. There are many ways to enjoy the scenes in Aspen. You can take in the beautiful scenery from the skies in a hot air balloon or paraglide if you're looking for a thrill. Hike up one of the many great trails in the city, or you can drive or bike up to the various mountain peaks in the city. Beyond foliage, Aspen offers many fall-related activities including a Saturday farmers' market and the annual Aspen Mac and Cheese Fest. Visiting Aspen in the fall is a great way to beat the crowds that will take over the city at the first sight of snow. Luckily, visiting Aspen is easy, as Denver, which is approximately three hours away, has dozens of 55-Plus communities.
Rockport, Massachusetts
As one would expect, New England is a quintessential fall location. There are many great towns and cities that are great for autumn - even big cities like Boston - but few are better than Rockport. One of the earliest American settlements, Rockport is a coastal city covered with trees and history. Of course, no building from the 1600s is still standing, but you can still find some of the country's most historic buildings here, which blend in perfectly with the fall scenery. Rockport HarvestFest is the area's biggest celebration of the season, bringing together fall classics like cider doughnuts and regional favorites like seafood chowder. Rockport is just 40 miles from Boston, which has innumerable active adult communities in the area.
New Orleans, Louisiana
Known as one of the most haunted cities in America, New Orleans gets extra spooky during the fall. If you're looking for a more Halloween-centric autumn experience, New Orleans is the place to be. The highlight is the Voodoo Music Experience, a three-day festival celebrating music, underground arts, and the city's ghoulish past. Visiting grandkids will love the more family-friendly events, like the Boo at the Zoo and Museum Mash at the Louisiana Children's Museum, featuring haunted trains and, of course, trick-or-treating. Nearby Baton Rouge has two spectacular active adult communities: The Greens at Pelican Point and Village Charmant.
Cortlandt, New York
New York is known for its natural beauty, there's acres of land covered in trees and forests, making it ideal for autumn views and sights. Cortlandt is no different, it's an oasis of amenities surrounded by rich forests and rolling hills. It's not just the colors that are great in autumnal Cortlandt though, they also have great fall activities for all ages. Hollenbeck's Cider Mill is a local favorite, where you can get a behind-the-scenes look at how cider, doughnuts and pies are made before getting to taste them yourself. Cortland Rural Cemetery offers a Cemetrail, taking you across the cemetery where you can learn about the famous people buried there, as well as take in the foliage. The marquee event though is the annual Great Cortladnt Pumpkinfest; featuring hayrides, crafting, children's game, pumpkin painting and so much more. There are two 55-plus communities in Cortlandt, Woodcrest at Jacobs Hill and Glassbury Court at Hunterbrook, as well as several in neighboring towns.
Savannah, Georgia
Another city known for its haunting atmosphere is Savannah, and that's never more evident than during fall. The city features a number of walking tours, including a ghost tour, focusing on its historic mansions and town squares. Any time of the year the town can spook you, but the fall adds an extra layer of historic beauty. For those looking for a less ghoulish time, there's always the annual Oktoberfest for a good time with sausage and beer. Savannah is also home to the sprawling, luxurious The Landings on Skidaway Island.