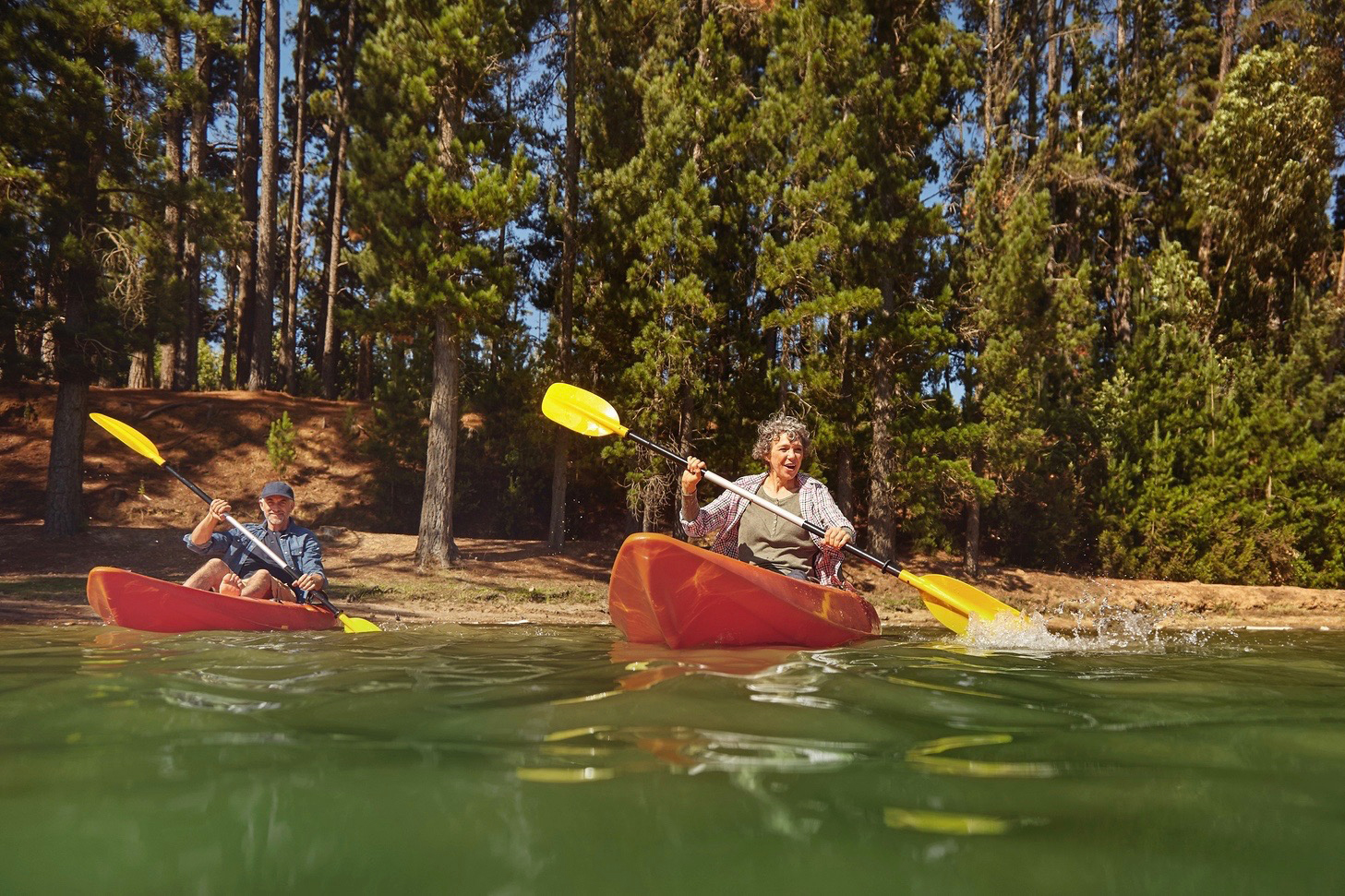 Active adult communities are popular among retirees because they offer a vibrant and active lifestyle. These communities tend to provide resort-style amenities, an exciting social atmosphere, and a welcoming setting that allows residents to mingle and build lifelong friendships. Some of these active adult communities also offer a great lineup of social clubs, activities, and events that cater to those who love to travel and explore outside of their community's gates.
That's why many communities offer special interest groups and travel clubs that allow residents to gather and plan day trips with fellow neighbors to explore their surrounding areas and local attractions. Sometimes these communities are also located close to great metro areas that provide a wide selection of big-city entertainment and cultural events, which allow residents to plan their own day trips where they can visit numerous sites at their leisure. Retirees looking to explore new sites should check out these great 55+ communities that offer day trips and travel clubs.
Sun City Summerlin is Del Webb's first active adult community in Las Vegas, which makes it an ideal place to enjoy everything the area has to offer. The community boasts amazing views of the surrounding mountains as well as the Las Vegas Strip, making it easy for residents to take day trips to explore the area's natural surroundings as well as visit the famous strip for exciting entertainment, gambling, and attractions. This 7,779-home community hosts a rich lineup of resort-style amenities and a long list of social clubs including travel groups, including the cruise & foreign travel club, travel club, R.V. club, and local outings group. Each month, a newsletter highlights all of the activities and events offered in Sun City Summerlin, which include day excursions to the Las Vegas Strip, exotic cruise trips, and international travel destinations.
This established 55+ community in the Tampa Bay, FL Area features a great lineup of social activities that cater to the traveling active adult. The community hosts The Groves Travel Club that meets monthly where members discuss plans for upcoming trips like an eight-day Caribbean cruise excursion, group travel discounts, local outings, and long-distance vacation destinations. Residents can mingle with fellow travelers and bond over their passion for traveling, or they can spend time socializing with neighbors during fun day outings like a wine tasting event, race track trip, or a night out in downtown Tampa.
Carillon – Plainfield, IL
Carillon in Plainfield, IL is an age-restricted community that's just 40 minutes away from Chicago. Residents can easily take day trips to explore all that the Windy City has to offer such as sporting events at the United Center, great museums like the Art Institute of Chicago, Field Museum, Planetarium, and Museum of Science and Industry and live performances at the Cadillac Palace Theater, The Chicago Theater, or Steppenwolf Theater. In addition to easy access to big-city entertainment, Carillon also has a newsletter providing updates from the community's travel club that lists options for fun events, upcoming day trips, and vacation destinations for fellow travelers.
Award-winning developer K. Hovnanian built Four Seasons at Lakewood between 1994 and 1999. This established active adult community not only provides well-appointed amenities for its residents but also a great lineup of social groups that cater to active adults who love to explore and venture outside of the community. It offers special interest groups like travel club, fabulous cruises club, getaways group, who plan exciting day trips like casino tours and movie outings. Four Seasons at Lakewood is also conveniently located just an hour's drive away from all the excitement of Atlantic City. Residents can also plan longer day or weekend trips to visit New York City or Philadelphia, which can be reached in about 90 minutes.
Solera at Oak Valley Greens is a beautiful Del Webb 55-plus community in Southern California. It's ideally situated between San Bernardino and Palm Springs, which make it convenient for residents to enjoy quick getaways in these scenic and relaxing cities. Just a bit farther, homeowners can also visit Los Angeles, which is about an hour's drive away and offers additional big-city entertainment, outdoor recreation, and cultural attractions. The social atmosphere in Solera at Oak Valley Greens also provides for an exciting and invigorating environment where homeowners can join the RV club and plan day trips to local attractions or cross-country road trips.
This 55+ community situated in the Portland area offers homeowners a prime location that's close to big-city attractions and recreation. Residents can plan their own day trips to visit Salem or Portland, which can be reached in about 30 to 45 minutes, or explore the Oregon Coast and Cascade Mountains, which are less than two hours away. Woodburn Estates & Golf also features affordable single-family homes, a charming 26,000 square-foot clubhouse, spectacular outdoor recreational facilities, and a friendly setting.
CrossRidge is an active adult community located on a 400-acre historic site in Glen Allen, a suburb of Richmond in Virginia. This 746-home community provides retirees with on-site social amenities and recreational facilities as well as an active social calendar with more than 100 scheduled events happening every month. Residents who love to venture outside of the community can join the travel club, women's day trippers group, train club, or friends and fun group. The community's activities director plans exciting bus trips to many of the historic destinations in the Richmond area that's just 20 minutes away.
Foster Square is a new 55+ condo community in Foster City, CA, which is just 25 miles south of San Francisco. Besides the community's recreational facilities and quality built units, residents enjoy Foster Square's prime location in the Bay Area. Homeowners can plan quick day trips to explore all that San Francisco has to offer such as the Painted Ladies, AT&T Park, San Francisco Zoo, the Golden Gate Bridge, Golden Gate Park, Fisherman's Wharf, and Alcatraz Island.