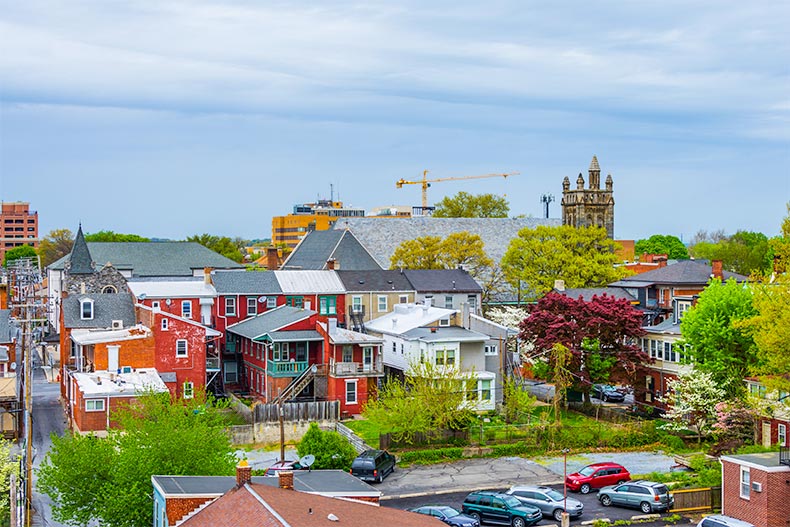 In September, 55places named the Lancaster, Pennsylvania area one of the 20 best places in the United States to retire. However, it's not only us who think Pennsylvania has some great retirement options.
U.S. News surveyed a large group of people age 45 and up to learn about how and where they wanted to retire. The study focused on the 100 largest metro areas in the U.S. and considered topics like taxes, health care, housing prices, and basic happiness. Here's a look at the best places to retire in Pennsylvania.
Ranked No. 8 on our list because of its affordable homes and its location in the heart of Pennsylvania's Dutch Country, With Amish markets, historic landmarks, and outstanding medical facilities like Penn Medicine at Lancaster General Health, it's no wonder active adults enjoy the area. Here are two of the top active adult communities in and around Lancaster.
Retirement Communities in Lancaster
Low $200s - Mid $300s
Village Grande at Millers Run is a newer active adult community of 241 single-family resale homes built by D.R. Horton between 2006 and 2014. The neighborhood features a modern clubhouse with a fitness center, an outdoor pool, putting green, tennis and bocce ball courts, and nature trails. It has a slew of activity groups and frequent special events, there is even a full-time activities director who keeps the social calendar full.
There are four home models ranging from 1,558 to 2,261 square feet with two bedrooms, two or more bathrooms, and attached two car garages. One model also has a den.
Mid $200s - Low $300s
Gordonville is about 10 miles east of Lancaster and is home to Watson Run. Berks Homes broke ground on this property in 2007, upon completion it will have 190 new and resale, single-family homes. Homeowners can enjoy a large clubhouse with an activity room, billiards, a cozy lounge, and outdoor walking and biking trails, plus an outdoor pool.
Watson Run has seven floor plans ranging from 1,348 to 2,471 square feet, and include one to three bedrooms, two to three baths, and attached two-car garages. Every home has a first-floor master suite.
Pittsburgh's affordable cost of living also attracts the active adults, and it also has top schools for continuing education like The University of Pittsburgh and Carnegie Mellon, as well as excellent health care.
The city is known for popular sports teams and loyal fans as the Steelers, Penguins, and Pirates all call Pittsburgh home. Here's another bonus for Pittsburgh residents, adults ages 65 and over can get free transport on public rail and bus systems. Read about one of our favorite Pittsburgh area 55+ communities:
Retirement Communities in Pittsburgh
Low $300s - Mid $300s
This 55+ neighborhood sits about 20 minutes north of Pittsburgh. It was built from 2009 to 2013 by Epcon Communities as part of the larger, master-planned community of BelleVue Park. There are 104 dwellings with two models from 1,716 to 1,816 square feet. These have either two or three bedrooms, two bathrooms, and a two-car garage.
The Villas at Isleworth is surrounded by a variety of shopping centers, lovely North Boundary Park, and Cranberry Highlands Golf Course. On-site amenities feature a clubhouse, exercise room, and an outdoor pool. Residents also have access to additional amenities at BelleVue Park, including their clubhouse, pool, trails, and retail shops.
Lehigh Valley's Allentown is redeveloping its downtown area and has a low cost of living. It is situated in the beautiful Lehigh Valley, between the South Mountain and the Blue Mountains. Local attractions include the Allentown Art Museum, Liberty Bell Museum, a thriving farmers market, and trendy shops and restaurants. Area residents are served by the Lehigh Valley Health Network hospital system. Below are two of the top active adult communities near Allentown.
Retirement Communities in Allentown
$200s - Mid $300s
Briarwood Commons has the best of both worlds: A quiet, private setting that is just five miles outside of desirable Allentown. With just 63 attached new and resale homes, this newer active adult community offers five floor plans ranging from 1,382 to 2,650 square feet.
They include one to three bedrooms, two or three bathrooms, and attached two-car garages. These homes have special upgrades throughout, like granite countertops, cathedral ceilings, stainless steel appliances, and first-floor master suites. Homeowners enjoy a private clubhouse, exercise room, and an outdoor deck and a gazebo.
Low $200s - Low $300s
The Vineyards is about a 30-minute drive south of Allentown, right near Macoby Creek and Macoby Run Golf Course. Built from 2004 to 2007, it has 200 attached, resale homes. Floor plans are sized from 1,761 to 2,130 square feet with one or two bedrooms, dens, one-and-a-half to two baths, and attached garages.
There are myriads of social opportunities here, the popular Vineyards clubhouse has a library, activity rooms, a sunroom, and an exercise room. Outdoors, residents spend time together on the patio, a chip-n-putt golf course and putting green, and nature trails. Special events like bingo, Nights at the Races, picnics, and holiday parties are also very popular here.
The White Rose City is a flourishing city in Central Pennsylvania. A local college, York College of Pennsylvania, brings in plenty of shopping and entertainment options for locals to enjoy, while maintaining affordability and close proximity to larger cities like Baltimore.
York has an abundance of recreational activities to offer active adults, including a number of natural parks and several festivals that are held throughout the year. Local medical center, Wellspan York Hospital, provides York residents with advanced health care close to home.
Retirement Communities in York
Mid $100s - High $200s
The Paddock at Equine Meadows is a new development of 174 attached homes by Benzel Construction from 2016 to present. This 55+ community is conveniently located just eight miles away from York. Residents have access to a new clubhouse, walking and biking trails, and natural space. Red Lion Country Club is a short distance away from the Paddock at Equine Meadows.
There are a number of activities for residents to choose from including bocce, water aerobics, and yoga. The homes in the community have seven different layouts that range from 1,300 to 3,000 square feet. Floor plans include either two or three bedrooms, as well as two to three-and-a-half bathrooms. Six out of the seven models have a two-car garage and a den, while one model has a one-car garage and does not have a den.
The state's capital has plenty to offer retirees, from its historic architecture to the number of entertainment options available. Situated along the Susquehanna River, Harrisburg residents have access to stunning views and lots of opportunities for outdoor recreation.
Museums like the National Civil War Museum and the State Museum of Pennsylvania provide Harrisburg residents with lots to do. The city's low cost of living is another reason active adults consider Harrisburg a great retirement destination. UPMC Pinnacle is the area's local hospital, which is rated as one of the best hospitals in Pennsylvania.
Retirement Communities in Harrisburg
Mid $100s - Mid $200s
Roughly 35 miles outside of Harrisburg, Creek View is a 55+ community located in Carlisle. Construction on Creek View began in 2004 and, when finished, there will be 305 homes in the community. Amenities include a 2,100 square-foot clubhouse, a multipurpose room, walking trails, and an outdoor patio. Fishing is available in the fishing pond, and the community offers other activities like potluck dinners and planned events.
There are 18 different floor plans offered at Creek View that range from 1,202 to 1,750 square feet. The homes at Creek view range from two to three bedrooms, with one to two-car garages. All homes at Creek View have two bathrooms.
While the most populous city in Pennsylvania is famous for its food options, it's also a prime location for retirees that want to explore the city life. With outstanding shopping and entertainment, active adults are presented with plenty to do in Philadelphia.
The city is also home to two of the top hospitals in the state, Hospital of the University of Pennsylvania Penn Presbyterian and Thomas Jefferson University Hospital. Philadelphia also boasts plenty of outdoor recreational opportunities, as residents can take a trip out onto the Delaware River or visit one of the area's many parks.
Retirement Communities in Philadelphia
High $200s - Mid $500s
Westrum started construction on the Arbours at Eagle Pointe in 2008, and when finished, there will be 398 homes in the community. The 55+ community offers residents resort-like amenities including a 5,000 square-foot clubhouse, parks and natural space, a bocce ball court and a shuffleboard court, as well as an outdoor pool and spa.
There are plenty of activities available in the community including football parties and billiards. Being in Philadelphia, there are a number of shopping and dining opportunities close by. The community offers two attached home models and six single-family home models. The homes offer one- or two-car garages, with two or three bedrooms, and two to three bathrooms.
Mid $200s - Mid $300s
This 55+ community offers 90 condominium homes that were constructed from 2006 to 2007. The community provides active adults with a number of amenities, including a movie theater, outdoor pool, and clubhouse. Activities like game nights, yoga, and social events are offered at the Villages at Pine Valley.
There are six different floor plans which range from 800 to 1,400 square feet. They offer one to two bedrooms and one to two bathrooms. One of the one bedroom floor plans also offers a den. Nearby, the area offers a number of golf courses, shops, and restaurants, providing residents with plenty of recreational opportunities close to home.
Known as "The Pretzel City" due to its number of pretzel shops, Reading is an affordable option for those looking to retire in Pennsylvania. Home to several museums and restaurants, Reading offers residents a variety of things to do.
The Pagoda, Reading's famous landmark on Mt. Penn, offers a breathtaking view overlooking the city. Reading residents have easy access to health care needs at the highly rated Reading Hospital.
Retirement Communities in Reading
Mid $100s - High $100s
Construction on Douglass Village began in 2005, upon completion the community will host 302 single-family homes. Douglass Village offers several amenities to its residents, including a clubhouse, a heated outdoor pool, and walking and biking trails.
There are eight different home models that range in size from 1,238 to 1,640 square feet. Each model offers two bathrooms, one- to two-car garages. All models except one have three bedrooms, while the one has two bedrooms and a den.
Mid $200s - High $200s
Construction was started on Meadow View Farms in 2009 by Judd Builders. When the community is finished, there will be 117 single family homes total. Just eight miles away from Reading, Meadow View Farms offers its residents a welcoming great room that includes a fireplace, as well as a community center and fitness center.
There are six models to choose from, which all offer two-car garages and two to three bathrooms. The homes offer two or three bedrooms, while some also include a den. Homes at Meadow View Farms range from 1,561 to 2,434 square feet.