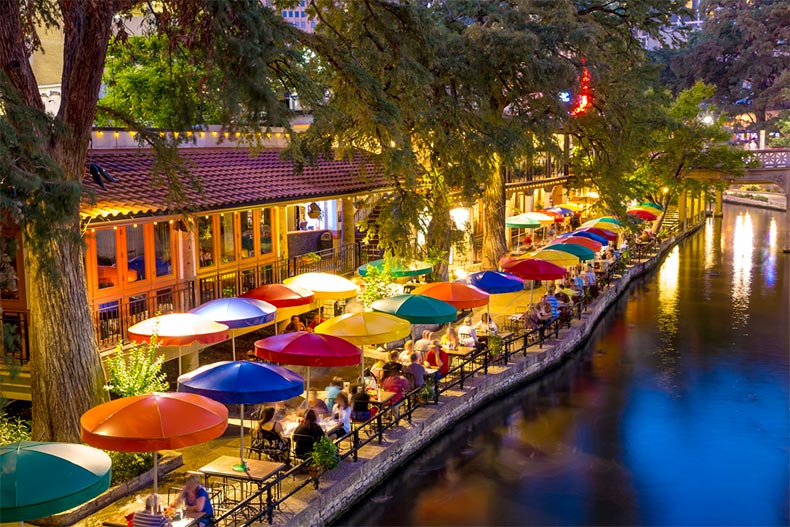 As the nation's second-largest state, Texas is full of regions that appeal to all different types of active adults. Whether retirees want to escape the cold, move closer to family, or enjoy a culture of Texas pride that's unlike anywhere else, the state offers an abundance of choices for active adults.
One of the great things about Texas is that it is a no-income tax state; all forms of retirement income, including Social Security benefits are not taxed.
Texas is a great option for retirees who enjoy diverse landscapes. Home to mountains, rivers, and peaceful pastures with grazing cattle, Texas also has four of the country's largest metropolitan areas: Houston, San Antonio, Dallas/Fort Worth, and Austin. Texans can savor world-class restaurants, entertainment, and shopping while pausing to smell the yellow roses or sip a sweet tea. Take a look below at some of the best places to retire in Texas.
Austin
As the Live Music Capital of the World, Austin stands apart among Texas cities. Active adults can relish their retirement at the city's many art and music festivals or enjoy more refined entertainment at the Austin Lyric Opera and Paramount Theatre.
One of the most popular sites for residents and tourists alike is Lady Bird Lake. Located in downtown Austin, Lady Bird Lake offers unique views of downtown with water activities like rented kayaks, canoes, and paddleboards. Congress Bridge spans Lady Bird Lake and is home to 1.5 million bats which is the largest urban bat colony in North America. For nine months out of the year, residents can watch the bats take flight in the evening from land or water.
St. David's Medical Center is ranked No. 1 in Austin and high performing in nephrology and seven procedures and conditions.
San Antonio
Those looking to retire in comfort and style need look no further than San Antonio, which is experiencing the nation's largest population boom, according to a U.S. Census Bureau report.
The cost of living in San Antonio is 14 percent lower than the national index, and lower than the state average according to Payscale. When compared to Houston and Dallas, San Antonio has the lowest cost of living rate.
People are flocking to this historic city for its welcoming culture, exciting nightlife, and overall relaxed pace. Retirees can escape to the scenic oasis of cypress-lined paved paths and arched stone bridges of the world-famous San Antonio River Walk.
Central Texas Retirement Communities
North Texas
Active adults who desire easy access to big-city amenities but want to be surrounded by nature will find the best of both worlds in North Texas. Here, retirees can find dozens of natural and man-made lakes, including the serene waters and breathtaking views of Possum Kingdom Lake, just two hours west of Fort Worth.
Dallas
As the third most populated city in Texas, Dallas offers a wide range of recreation that are sure to keep residents busy. Lewisville Lake and Lake Grapevine beckon to boating and outdoor enthusiasts. North Texas is also home to exciting events such as the State Fair of Texas and the Cotton Bowl. Locals can soak up natural beauty at the Dallas Arboretum and Botanical Garden or take a stroll back in time at the Will Rogers Memorial Center.
UT Southwestern Medical Center is ranked No. 1 in the Dallas-Fort Worth area. The hospital is nationally ranked in seven specialities, high performing in five adult specialties and six procedures and conditions.
The cost of living in Dallas is slightly above the national index.
Fort Worth
In Fort Worth, there are more than 200 parks and public spaces where residents can work and relax.
Though Austin is known for its musical history, Fort Worth has its own deep roots; live music venues in the city range from roadhouses to concert halls. Fort Worth is known for rodeos; Stockyards Championship Rodeo offers an authentic Western experience with bull riding, roping, barrel racing, and more.
Texas Health Harris Methodist Hospital Fort Worth is ranked No. 4 is the Dallas-Fort Worth area. The hospital is high performing in four procedures and conditions.
The cost of living in Fort Worth is slightly lower than the national index. Housing is the main factor in the cost of living difference.
North Texas Retirement Communities
Coastal Texas
For retirees who dream of pursuing their passion for boating or fishing, or for those who simply want to enjoy a sunset over the sea, Texas' coastal cities don't disappoint. Palm tree-lined League City and the legendary Kemah Boardwalk provide plenty of recreation opportunities, whether retirees want to take in the sights and sounds, or indulge in some of Texas' best seafood.
Houston offers copious amounts of free activities and events, including Houston Arboretum and Nature Center, strolling through Urban Houston Farmers Market, and visiting many art museums that offer free admission. Miller Outdoor Theatre hosts many free live performances ranging from music concerts to Shakespeare plays.
Houston Methodist Hospital tied No. 20 on U.S. News 2019-20 Best Hospitals Honor Roll. Closer into Houston, the suburb of Katy was recently named the best place to retire in Texas by SmartAsset, thanks to the city's abundance of medical care options and recreation centers.
Coastal Texas Retirement Communities
South Texas
The stars at night seem to shine bigger and brighter in Texas' Rio Grande Valley, an area rich in culture and tradition. Here, retirees can bask in the tropical climate all year long and enjoy plentiful recreational activities including golfing, fishing, and boating.
South Padre Island is a resort town known for its beautiful beaches and home to a sea turtle rehabilitation center. The town serves as the perfect weekend getaway for Texas residents.
Active adults will particularly enjoy the offerings in Harlingen, which became the first South Texas town to achieve Texas Certified Retirement Community status. Downtown Harlingen is filled with unique boutiques and restaurants, art galleries, and the Harlingen Farmers Market. Harlingen Performing Art Theatre hosts several musicals and plays throughout the year.
South Texas Retirement Communities