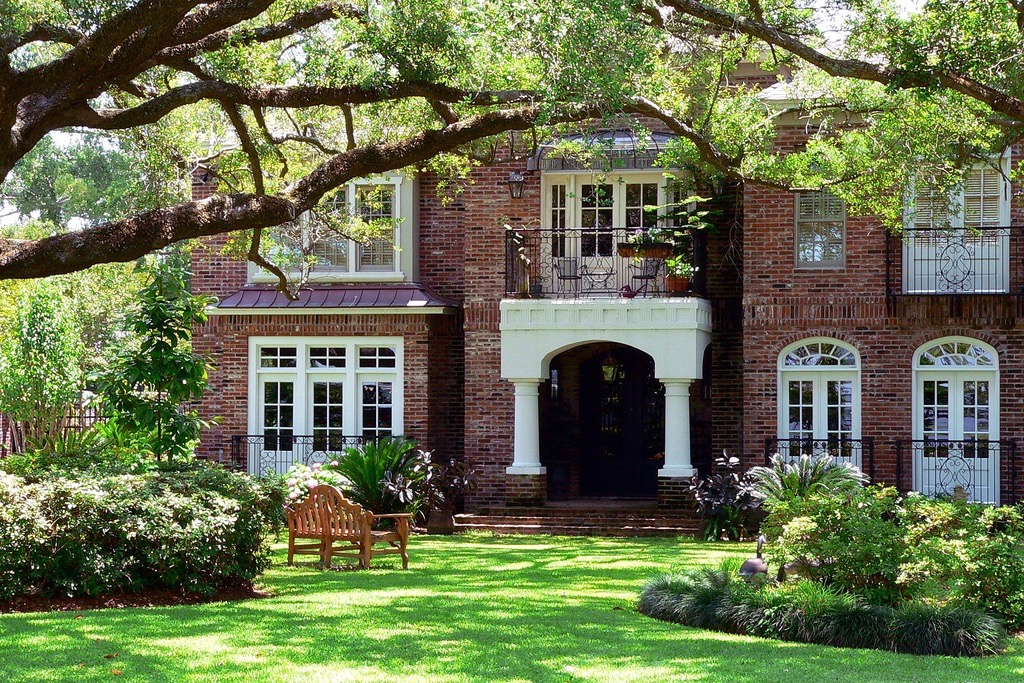 If you dream of sipping sweet tea while rocking back and forth on a porch through a balmy winter afternoon, you might consider a retirement in the South. These communities are sure to welcome you with hospitality and keep you well-fed and entertained with their own distinct character.
Located on Port Royal Island in South Carolina's Lowcountry, Beaufort is renowned for its scenic coastal parks and historic downtown waterfront. Much of the town's antebellum architecture has been preserved through the years, including some remains of the original English colonial settlement. Beaufort's Tidalholm, a 7,381 square-foot mansion built in 1853, can be seen in two movies, "The Great Santina" and "The Big Chill." The Beaufort River contributes to the town's beauty, but it also offers up plenty of shrimp, crab, and oyster for residents to enjoy.
The new Spanish Moss Trail is also quickly becoming a hit — the paved path opens up miles of the Lowcountry's water and marsh for walking, running, or biking. Although there are no 55-plus communities in the city proper, the surrounding area has eight neighborhoods catering to the active adult lifestyle, including the renowned Sun City Hilton Head.
Thanks to the high calcium content in the soil of the Inner Bluegrass Region, thoroughbred horse breeders came to Lexington in the 18th century to raise their prized possessions with strong bones. Now the Horse Capital of the World, Lexington is home to two famous horse racing tracks, Keeneland and the Red Mile, as well as The Kentucky Horse Park, a museum and horse farm housing famous retired horses, like the 2003 Kentucky Derby winner Funny Cide.
The park's campground hosts the annual Festival of the Bluegrass featuring live performances and a music camp for kids ages 6-18. The University of Kentucky also has one of the longest-running lifelong learning programs, allowing residents to enroll in classes free of charge whenever there are open seats. Those wanting to be near the charm and history of Lexington will love The Villas at Ridgefield Farm, developed by well-known homebuilder Epcon Communities.
Golf fanatics across the country find plenty of reasons to retire in the home of the Masters Tournament. In addition to its world-class golf courses, Augusta also boasts a scenic towpath along the Augusta Canal that's open for quiet walks and bike rides. Augusta University also offers free classes in any subject to retirees on a space-available basis, allowing residents to enrich their minds as well as improve their golf swing.
The Sacred Heart Cultural Center, a beautiful former Roman Catholic Church built in 1900, now hosts wine festivals, choral concerts, and art exhibits. The historic Miller Theater will soon reopen after renovations to house the Symphony Orchestra Augusta. Located between Atlanta and Savannah, active adults who want to have all this history at their fingertips have plenty of 55-plus communities to choose from.
In much of Louisiana, Cajun and creole culture is king, and Lake Charles is no exception. Every spring, the town's Contraband Days event brings a 12-day pirate-themed festival highlighting the area's best Cajun food and promoting Southwest Louisiana's joie de vivre, or joy of life. The town also puts on an incredible Mardi Gras celebration, with parading krewes in outlandish costumes lighting up the downtown at the Royal Gala.
When the festivals die down, Lake Charles residents relax and let loose at the largest casino market in the state, featuring golf courses, spas, a beach, and live entertainment. With so much to do, retirement in Lake Charles is as active as you want it to be. Nearby Baton Rouge boasts two terrific active adult communities.
With a historic downtown, scenic waterfronts along the May River, amazing seafood, and plenty of festivals, museums, and preserved architecture, Bluffton checks all the boxes for a charming Southern environment. Bluffton Oyster Co, South Carolina's last full-time oyster shucking business, provides the town with fresh oysters, clams, mussels, fresh fish, shrimp, and blue crabs at the market and at their restaurant.
The active Old Town area hosts Mayfest, a gathering of local artisans and musicians, as well as the Shag & Drag classic car show. For a lesson on heritage, visitors start at the Heyward House and Historical Center, an early Carolina farmhouse featuring an impressive collection of Civil War-era clothing, furniture, dinnerware, and tools. Bluffton also has no less than five communities for residents to choose from, including the luxurious Hampton Lake.
Starting as a summer resort town, Bella Vista became a retirement paradise as more and more people moved there permanently. Seven lakes in the area host fishing, boating, and swimming year round, exclusively for Bella Vista residents.
A popular trail along Tanyard Creek features a footbridge and waterfalls, and residents also stay active at several scenic golf courses in the area. Thanks to a high number of doctors, amenities, and businesses, this quiet mountain town in the Northwest Arkansas Ozark is highly recommended for its healthy lifestyle. Bella Vista Village is a sprawling, 36,000-home community that provides numerous amenities.
Jackson certainly lives up to its reputation for Southern music and art. The city is an epicenter for gospel music and the blues, with plenty of music venues and theaters hosting a good time.
Retirees who want to stay on the move in a cultural and historical hotbed will find plenty to do here, including the Mississippi Blues Trails, the Smith Robertson Museum, and the annual Rhythm and Blues Festival.
As far as soul food goes, Jackson has plenty. Mama Hamil's restaurant is just one staple that has grown from a small cabin in 1977 to an institution with 300 seats, with classics such as turnip greens, fried chicken, pulled pork, fried catfish, and peach cobbler served up daily. In the northern part of the state are a handful of communities, including The Oaks at Parkview.
Looking out from a plateau between the Blue Ridge and Allegheny Mountains, Blacksburg is a prime location for outdoor enthusiasts. The Appalachian Trail and the Washington-Jefferson Natural Forest are easily accessible and when you get back to town, there's no shortage of Southern charm. Nine properties standing in the original sixteen blocks of the town are listed on the National Register of Historic Places, including the Lyric Theatre, the Thomas Conner House, and the Alexander Black House.
The downtown never runs out of events and festivals, keeping socialites on the move with events like the Summer Solstice Festival, the Steppin' Out street fest, and Winter Lights. Virginia Tech University is also located in Blacksburg and enriches the community with cutting edge technology, but the town is committed to smart growth. They earned a "Cool City" designation in 2007 for their efforts to reduce carbon emissions and recycling efforts. Those wanting to retire near the charm and attractions of Blacksburg have plenty of communities in the nearby Richmond area.
Brevard, North Carolina
Enjoying an average yearly high of 67 degrees and an average low of 42 degrees, residents in Brevard maintain their warm, cheerful dispositions with ease. The comfortable climate also allows residents to visit the nearby Pisgah National Forest year-round for 500,000 acres of hardwood forest, whitewater rivers, waterfalls, and hundreds of miles of trails. Brevard doesn't want for arts and culture, either. The Brevard Music Center Summer Institute & Festival attracts 400 musicians every year for 80 concerts from June to August.
The Whittington-Pfohl Auditorium and Brevard College's Scott Concert Hall at the Paul Porter Center for Performing Arts fill out the rest of the year with concerts, attracting talent from across the globe. Brevard is also known for its population of white squirrels. According to lore, the peculiar critters originated from a pair that escaped from an overturned carnival truck. They began breeding in the wild and became part of the town's identity, with the city council establishing sanctuary for squirrels in 1986. Those wanting to retire in Brevard will love all that Connestee Falls has to offer.