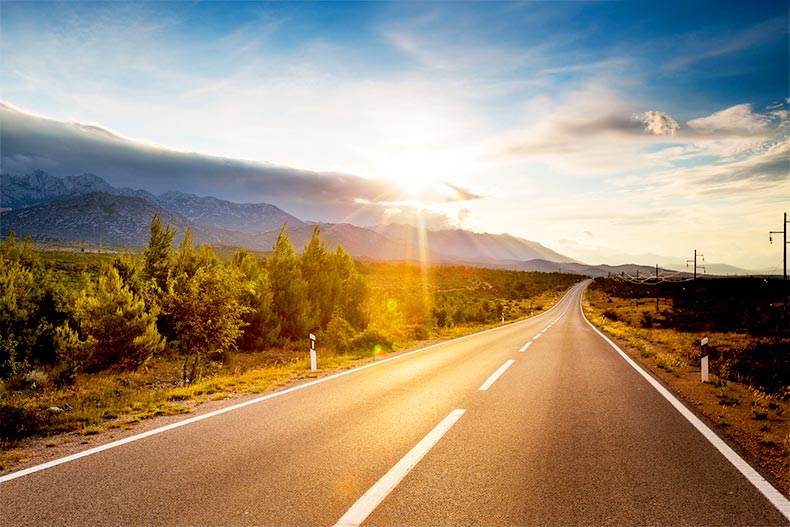 Latitude Margaritaville Watersound is uniquely located near the shores of Panama City in Florida's panhandle. This spot on the Emerald Coast provides residents with some great road trip opportunities.
It's never too early to start your vacation planning, so consider these five destinations that are less than a day's drive from one of Northwest Florida's most anticipated and desirable 55+ communities.
Road Trip to Atlanta for Braves Baseball
Atlanta is about five hours away by car, and if you're a baseball fan, try to plan a visit on game day, when you can watch the Atlanta Braves play at SunTrust Park. Take a behind-the-scenes tour, even in the off-season. Close to the field is The Battery Atlanta, which provides great opportunities for shopping, eating, and general tomfoolery. Do some bowling, ride a bull, or grab a drink with locals and fellow visitors.
You'll also want to go downtown and check out the Centennial Olympic Park, which opened in 1996 for the Centennial Olympic Games, and the nearby Georgia Aquarium which is home to more than 100,000 sea creatures.
If you're wondering where to stay, every hotel and motel chain is represented in and around Atlanta. For something more unique, consider a stay at The Social Goat Bed & Breakfast, where you can lodge in a Victorian home built before 1900. It's close to downtown and guests can visit the farm animals in the barn. On the drive to Atlanta, consider a stop in Montgomery, Alabama, which is right off Interstate 85.
N'Awlins…Which You May Know as New Orleans
One of the closest and most exciting places to visit from Watersound is New Orleans. It's magical; a city inhabited by rich French pastries, palm-reading psychics, and a lot of culture, cuisine, and nature. You can get there in about four-and-a-half hours heading west on Interstate 10. For nightlife, jazz, and some of the best creole cooking you can find, head to the French Quarter. Visit any of the local art galleries, take some pictures from one of the iconic iron balconies, and sip on a hurricane as you walk down Bourbon Street (you can get them in a to-go cup).
The city is Bohemian and boozy if you like that kind of thing, and if you don't—no worries. There's still plenty to do. Sip a strong, milky coffee and enjoy a sweet beignet at the original Café du Monde on Lafayette Street. Visit the 18th century St. Louis Cathedral, and check out the artists working in Jackson Square. The Garden District is also fun to visit, particularly Magazine Street with its strange little shops and charming cafés.
History and Hiking in Jackson, Mississippi
To get to Jackson, Mississippi from Watersound, you'll start on Interstate 10 and then hop on U.S. 98. In just over five hours, you can experience southern hospitality at its best. The Old Capitol Inn is the best place to stay, especially if you want specific directions on how to spend your time in and around Jackson. The staff is happy to make a lunch recommendation or create a complete itinerary for your time in their town.
The Mississippi Freedom Trail should not be missed. It includes historic sites that honor the civil rights movement, such as the Medgar Evers Museum and the Mississippi State Capitol building where rallies and demonstrations were led by prominent leaders like Dr. Martin Luther King, Jr.
For some nature, check out LeFleur's Bluff State Park where there's hiking and fishing as well as golf. You can camp there if you roll into town in a recreational vehicle or you don't mind pitching a tent. Located right on the Pearl River, the park is also home to a museum dedicated to natural sciences.
A Little Bit Country: Nashville, Tennessee
From the Grand Ole Opry to the Country Music Hall of Fame, don't go to Nashville without a tolerance for twang and a good pair of cowboy boots. You'll find out the Opry, in addition to hosting the most famous radio show of its time, was initially meant for local barn dances. Catching a show there is a huge musical experience—even when country isn't your favorite genre. Enjoy a family-style meal at The Catbird Seat, where everyone has a view of the kitchen and each other.
Another not-to-miss attraction in Nashville is The Parthenon, a full-size copy of Greece's original. Why is it here? Because Nashville needed an art museum, and this gem was built in 1897 for the Tennessee Centennial Exposition.
Nashville is about a seven-hour car ride from Watersound so pack some snacks, and consider a stop in Alabama, either Montgomery or Birmingham. Each city brims with history, good food, and some great walking when you need to stretch your legs.
Up and Coming Southern City: Greenville, South Carolina
Seven-and-a-half hours north of Latitude Margaritaville Watersound is Greenville, South Carolina. You may be wondering why in the world you should go to Greenville, and we have a short list of excellent reasons.
First, it's not Charleston or Myrtle Beach, which is where all the other tourists will be. Second, the art scene is really happening in Greenville. You don't even have to visit a museum; artwork shows up here and there around the city as part of the Art in Public Places program. Nine bronze sculptures throughout the downtown area are an installation tribute to the children's book "Goodnight Moon." A large glass sculpture by Dale Chihuly is also on display. However, if you do love museums, some of the best southern artists are on display at the Greenville County Museum of Art.
Greenville is also an excellent place to eat. Foodies will want to visit the city's west side, where old style barbecue and "New South" cuisine mingle easily. Get the leanest butt in town (their words, not ours) at Henry's Smokehouse with its mouthwatering, homemade marinades and sauces. There's a food and wine festival in September which attracts more people from around the country every year. Greenville will surprise you, and if you get an early start from Watersound, you can be there by lunch.