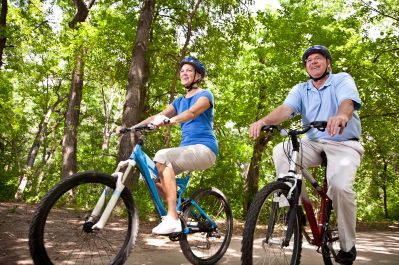 Active adults are used to having on-the-go lifestyles, and for many, biking is a favorite pastime. Some of these avid cyclists have been riding for most of their lives while others haven't been on two wheels since childhood. With both physical and social benefits, there are many reasons active adults are heading into bike shops.
Health Benefits
Bicycling is an active hobby with many health benefits, making it a perfect fit for adults aged 55 and older. Riding a bike is easier on aging knees than jogging or running. Through cycling, active adults can maintain a healthy weight, burn calories, and build up cardiovascular endurance. When biking outside, they can also soak up plenty of fresh air and sunshine.
Bicycle Styles
Though experienced riders may not be ready to give up their mountain bikes or stylish street bikes, many active adults are turning to bikes specifically designed for older adults. These easy-to-ride "comfort bikes" have wider saddles, higher handlebars, and upright riding positions. With more manufacturers beginning to cater toward older riders, many comfort bikes are designed with their own, distinctive sense of style.
By choosing a bike with special features, active adults can enjoy longer rides without putting unnecessary strain on their bodies. The upright position of a comfort bike is easier on the back, and it also gives better visibility. It's easy to find comfort bikes with tires that are a cross between those found on a mountain bike and standard road bike, which makes them a great option for riding the paths and trails found in many active adult communities.
Cycling Community
There is also a social aspect to biking which appeals to many active adults. Adults aged 55 or older can meet up with friends for casual group rides, take part in scenic tours, or participate in bike-a-thons and community events.
Biking can also be a great way to meet new people. It's easy to strike up a conversation while out on a trail, or while taking a break in a public park. Even bike shops can be a good place to meet other retirees who share the same interests.
While biking can be a great low-impact aerobic exercise for older adults, enthusiasts can also push themselves to compete in bike races or even in triathlons. According to USA Today, adults aged 55 or older make up almost one-fourth of the membership in the USA Triathlon and more than a quarter of the membership in USA Cycling. Many active adult communities also have their own social clubs for cycling enthusiasts.
For many active adults, bicycling has been a favorite pastime since childhood. Those who have gotten away from cycling are often surprised at just how much fun it can still be, and the health benefits bring countless rewards. Even when significant time has passed since your last ride, getting back into this hobby is as easy as riding a bike.