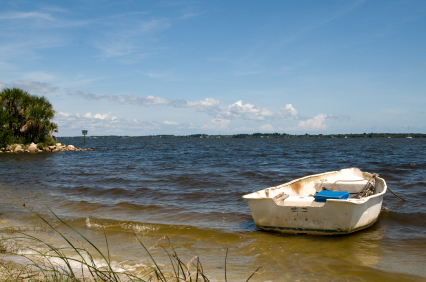 Florida is famous for many things: beautiful beaches, theme parks, and sunny skies. It's true that researching Florida retirement communities along the Space Coast is the first step toward finding the home of your dreams; however, it's not always as simple as you'd like it to be. That's why 55Places.com is here to help.
Florida's Space Coast
The state is home to the Kennedy Space Center and Cape Canaveral Air Force Station. These unique landmarks lie at the heart of space exploration as the sites where NASA launched space shuttles, satellites and other military and civilian space projects. Known as the Space Coast, this area is also home to great beaches, fun attractions, diverse restaurants, and shopping centers, and several of Florida's active adult communities.
The Space Coast spans 72 miles on Florida's Central Atlantic Coast. The area includes popular destinations like Cocoa Beach, Melbourne Beach, Palm Bay, and Titusville. This sunny stretch of Atlantic coastline offers the closest beaches to Orlando, and the area is a popular spot for tourists from all over the world.
Climate
Like other parts of Florida, the Space Coast has a subtropical climate with hot, humid summers and mild winters. Though residents certainly feel the heat during the humid summers, the area's average temperatures are comfortably warm throughout most of the year. Daytime highs in the winter are in the low 70s, while summertime temperatures generally rise to the low 90s. Nights are cooler, yet even in the winter, they typically stay over 50 degrees.
Things to Do
Beaches
Though NASA will not be launching any more space shuttles in the foreseeable future, the Space Coast still offers plenty of exciting attractions. One of the most popular is, of course, the beautiful beaches. Here visitors and locals can swim, surf, fish, kayak, collect seashells or just soak up some sun. Each beach in the Space Coast offers its own attractions, like the bustling boardwalk and fabulous fishing at Cocoa Beach Pier.
Outdoor Adventure
Animal lovers will enjoy visiting the Brevard Zoo or the Merritt Island National Wildlife Refuge. The Brevard Zoo is home to over 550 animals, featuring those from Latin America, Native Florida and Australia. The Merritt Island National Wildlife Refuge spans 140,000 acres, offering visitors plenty of opportunities to observe the local animals and plants. The park offers three nature trails, one of which is handicapped accessible.
Entertainment
Shopping, dining and live entertainment can be found in the Space Coast's various historic downtown districts, which are located in Melbourne, Cocoa, Cocoa Beach, Titusville, and Eau Gallie. While each area has its own attractions and unique Florida retirement communities, they are all great places to find unique shops, enjoy a good meal, see a play or visit local galleries.
Museums
Of course, those interested in the space program will love touring Kennedy Space Center. Visitors can learn about the history of American space exploration, and discover more about the program's current and future plans. History buffs will also be interested in local museums, like the American Police Hall of Fame and the Valiant Air Command and Vintage Warbird Museum.
55+ Communities
In addition to all these great attractions, the Space Coast is also home to several of Florida's premium active adult communities with homes in a range of styles and prices. There are larger age-restricted communities, like Heritage Isle in Viera, which contain over 1,000 homes.
Smaller, more intimate communities, like Alamanda Key in Melbourne, offer active adult living with 300 homes or less. Whatever your interest or budget, Florida's Space Coast has the attractions and communities to meet your needs. It's no wonder this versatile area has become so popular with active adult retirees.