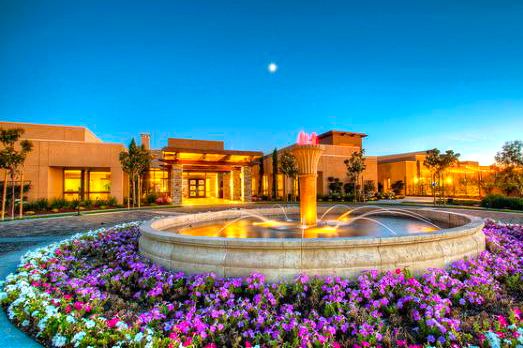 Set in California's popular San Francisco Bay Area, Brentwood is a suburban area which offers an appealing setting for many active adult retirees. The area features many attractions, including restaurants, shopping centers, golf courses, and wineries. Brentwood is also within an hour of major cities, including Oakland, San Francisco, and Sacramento.
Climate
Brentwood is located within Contra Costa County. The area offers its own scenic charm with rolling hills, vineyards, orchards and views of Mount Diablo. Due to its proximity to to Mount Diablo, Brentwood typically receives less rain than other parts of the area, and most rain falls during a wet season which lasts from October through April. Otherwise, Brentwood's climate is hot and sunny. Average summertime highs are in the low 90s, although temperatures can climb to well over 100 degrees. Winter months are more temperate with daytime highs ranging from the mid-50s to low 70s.
Attractions
While Brentwood is largely a suburban area, it offers many local attractions beyond its inviting neighborhoods. Wine lovers may enjoy tours and tastings at area wineries, including Hannah Nicole Vineyards and Tamayo Family Vineyards. Brentwood features many farms and orchards where locals can pick their own fruit, and a summertime farmers' market that brings a variety of fresh produce to one convenient location. Department stores, specialty shops, restaurants, and movie theaters can also be found at retail centers like The Streets of Brentwood or Sand Creek Crossing.
There are also many specialty boutiques and family-owned restaurants in Downtown Brentwood and throughout the city. Just a few of Brentwood's popular eateries include MJ's Downtown Cafe and Bakery, The Wishing Crab, Tamale Lovers, Kanpai Sushi, and Pho Vietnam.
City and neighborhood parks provide open spaces where residents and visitors can enjoy the beautiful California weather. City Park in Downtown Brentwood includes playgrounds, barbecue and picnic areas, and an outdoor performance area. The City Park is also conveniently located next to the Brentwood Library and the Brentwood Community Center.
Golf
Area golfers will also love playing Brentwood's three golf courses: Deer Ridge Golf Club, Shadow Lakes Golf Club and The Golf Club at Brentwood. Each of these courses highlight rolling hills and views of Mount Diablo, while offering play that is challenging for golfers of any skill level. Active adults who love golf and other resort-style amenities may also want to settle in one of Brentwood's impressive age-restricted communities. Summerset, by Del Webb, features four clubhouses, an 18-hole golf course, four outdoor swimming pools, and a variety of sports courts.
Trilogy at the Vineyards, by Shea Homes, does not have its own golf course, but has a wide range of resort-style amenities, including a 34,000 square-foot clubhouse, indoor and outdoor pools, the full-service Sawa Day Spa, and the Kirkland Center for Higher Learning. With its suburban setting, golf courses, wineries, orchards, shopping districts, and resort-style communities, Brentwood, California, may be an ideal destination for many active adult retirees.