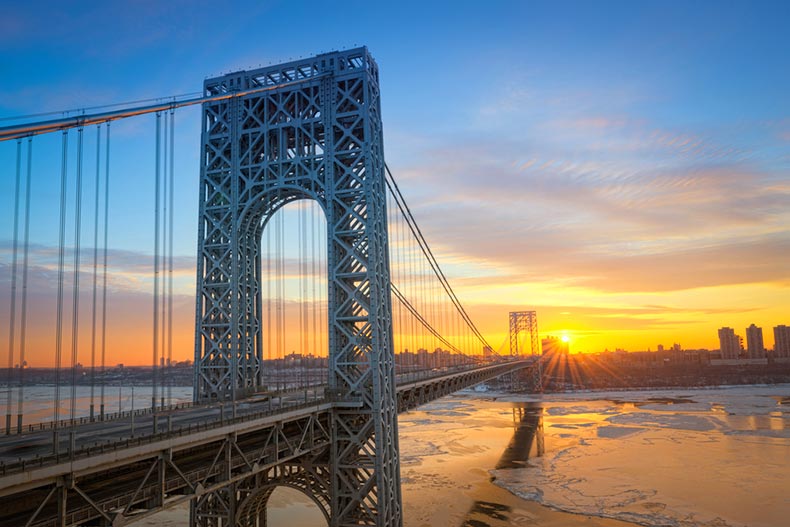 There's a lot more to New Jersey than the Turnpike, beaches, and shopping malls. After all, why would so many baby boomers choose to retire here? At last count, the Garden State had 275 active adult communities, and before you know it, there could be even more in the works.
Historically, folks have separated the state into North and South Jersey, but a more accurate representation divides it into thirds: North, Central, and South Jersey. It's a densely populated state after all, and each region is distinct, intriguing, and appealing.
If you're interested in New Jersey real estate as a retirement option, it helps to compare what it's like to live in these areas. For our purposes today, we're going to compare Central and South Jersey in terms of location, weather, cost of living, and other factors.
Location
Although its borders are not clearly defined, Central NJ includes Hunterdon, Mercer, Middlesex, Monmouth, Somerset, and Union Counties. It spans from the Lower Hudson River to the Delaware River in Trenton. Union is its northernmost county, and it's about 28 miles from Manhattan. One of its southernmost 55+ communities in Monmouth County, Four Seasons at Wall, is about 63 miles from NYC.
South Jersey is a cousin to Philadelphia; residents are fond of driving into the city, and they're loyal to its sports teams (especially the Eagles and Phillies). It's comprised of Atlantic, Burlington, Camden, Cape May, Cumberland, Gloucester, and Ocean Counties, and many agree that its northern border is at the top of Burlington and Ocean Counties.
Cost of Living
It's no secret that NJ's cost of living is high, and the old adage says that the closer you get to NYC, the more expensive things get. According to SmartAsset.com, Central Jersey's Hunterdon and Somerset are two of the wealthiest counties in the country.
Looking at the retirement communities in the two regions, South Jersey's home prices range from below $100k to the upper $500s, while Central Jersey's range from below $100k to the Low $2Ms. You can also expect to pay more for groceries, gas, clothing, and other necessities as well.
And another thing: In South Jersey, you have to pay tolls to drive on the Turnpike, the Atlantic City Expressway, and the bridges into Philadelphia, but Central Jersey has more toll roads, including the Garden State Parkway.
Weather
Westfield is one of Central Jersey's northernmost cities, and its average January highs and lows hit 39 and 24 degrees, respectively. In July, it averages 86 degrees for the high and 69 degrees for the low. The state's southernmost town, Cape May, isn't very different, with an average January high and low of 42 and 28 degrees. July's high and low are 85 and 68 degrees.
Since all of New Jersey's eastern coastline meets the Atlantic Ocean, low-lying beach towns all along the shore are more susceptible to flooding when there are severe storms. Slicing through parts of Central Jersey, The Raritan River has also flooded in the past. Both Central Jersey and South Jersey experience all four seasons, with cold winters, hot summers, and the occasional snowfall.
Health Care
Depending on where you live in Central NJ, you can take advantage of the top university hospitals in New York City and Philly. Top local performers include Hunterdon Healthcare System, RWJBarnabas Health, and Hackensack Meridian Health.
Many South Jerseyans prefer the Philadelphia hospitals, but there are many excellent nearby choices like MD Anderson Cancer Center and Our Lady of Lourdes; Hackensack Meridian Health is here as well.
Leisure Time
Central Jersey has a wealth of museums, theaters, and galleries. If you want to go big, there's the PNC Bank Arts Center in Holmdel; smaller venues include the Westfield Symphony Orchestra and the Raíce Cultural Center. Princeton has its world-renowned university as well as a selection of local shops and restaurants. If you like spending time outside, you can join Cherry Valley Country Club, explore Duke Farms, and go antiquing or bicycling in Frenchtown. And we can't forget those wonderful beach towns, like Long Branch, Asbury Park, and Sea Bright.
South Jersey is home to one of the most famous beach resort towns in the world: Atlantic City. Those who prefer not to gamble head out to Ocean City, Cape May, Stone Harbor, and Sea Isle. Two of its most popular public golf courses are RiverWinds and Scotland Run, and there's an abundance of greenspace at Wharton and Bass River State Forest. You can also take in some culture at theaters and museums like Wheaton Arts Center and the Burlington County Historical Society & Museum. Or, grab the grandkids and spend the day at Camden's Adventure Aquarium.
Central Jersey Active Adult Communities
Low $400s - Mid $700s
This gated, established community offers 1,200 new and resale upscale single-family homes, an impressive clubhouse, a 9-hole golf course, and other top-drawer amenities.
High $300s - High $400s
Built from 2001 to 2003, this refined, gated neighborhood has 168 resale single-family homes as well as a lovely clubhouse with a pool and patio.
Low $100s - High $100s
Geared for downsizing, Carriage Park is an affordable property with 210 resale condo homes completed in 2008. Amenities include a private clubhouse and an outdoor pool.
Low $200s - High $400s
This friendly community has 185 resale condo, attached, and single-family homes as well as a clubhouse with an outdoor pool and sports courts.
Low $500s - Mid $700s
Located in Western Central Jersey, Regency at Readington offers 209 well-appointed attached and single-family homes. A state-of-the-art fitness center and other amenities are in the works.
South Jersey Active Adult Communities
Low $200s - High $200s
This established 55+ community of 385 resale single-family homes is near the Metedeconk River, and it offers homeowners a private clubhouse, a pool, and a boat storage facility.
High $100s - Low $200s
Brookhollow is perfect for homebuyers who want an affordable, smaller neighborhood. It was completed in 2000 with 53 resale homes in a less-developed region of Gloucester.
Mid $300s - High $500s
Completed in 2017, Wyngate has 259 exceptional resale single-family homes. Homeowners enjoy its modern clubhouse, outdoor pool, and bocce ball courts.
Mid $300s - Mid $500s
This established, gated property offers 100 resale single-family homes, a welcoming clubhouse, and some fun events and activity groups.
High $200s - Low $300s
Close to the beaches, Legacy at Cape May was completed in 2014 with 141 resale attached homes as well as indoor and outdoor amenities at its clubhouse.