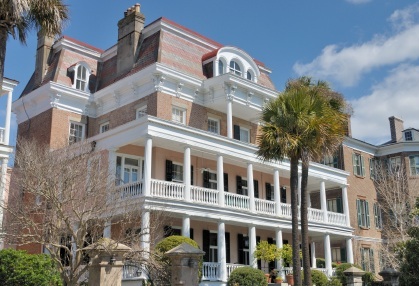 When Tina and Louie Haagen of Staten Island, New York recently visited Charleston, South Carolina they felt as if they had stepped into a picture postcard. "There were beautiful historic buildings at every turn and when walking the city, flowers from lush private gardens overflowed along the sidewalks."
During their visit, Tina and Louie found that the Charleston locals were very friendly and eager to give recommendations for restaurants, tours, and shopping districts. Being thrifty travelers, the Haagens had already found that they could save money by staying at a lovely hotel in the Historic Summerville area and were happy to find more ways to save.
One useful tip they learned early on was to check for street parking along Bay Street near The Battery before paying money to park in the Visitor Center parking.
For first time visitors, choosing where to begin can be difficult as there are so many things to see and do. There are an amazing number of historic landmarks in Charleston, as well as museums, shops, and great restaurants. Taking a bus tour around the city is a wonderful way to get started.
Historic Sights
The Haagens began their visit by taking a city tour arranged through the Charleston Visitor Center and they found that this made it easier to venture out on their own during the rest of the trip. Visitors to Charleston often enjoy walking along the famous promenade of Battery Park, which lies along the shores of the Charleston Peninsula between the Cooper and Ashley Rivers and includes a park called White Point Gardens. Battery Park, also known simply as The Battery, is famous for its stately antebellum mansions and the brightly colored homes of Rainbow Row.
Fort Sumter, an island fortress and site of the start of the American Civil War, can be seen from the Cooper River section of The Battery. For those who want to visit this famous fort that was captured by the Confederates in 1861, Fort Sumter can be reached by ferries that depart from both Liberty Square and Patriots Point Naval and Maritime Museum.
Seafood Galore
Charleston is also known for its excellent seafood. Their tour guide was sure to encourage the Haagens to not leave the city without trying the traditional Charleston Shrimp and Grits. They took him up on the recommendation at the famous Hominy Grill and were not disappointed.
"The restaurant was cozy and homey," Tina said. "The meals were well-priced and the food was excellent!"
Historic Homes, Shopping, and Good Weather
Historic homes are plentiful in South Carolina including Charleston's Magnolia Plantation which was founded in 1676 by the Drayton Family. There is much to see at Magnolia Plantation, from the centuries-old plantation home to the beautifully lush gardens, Petting Zoo, and Wildlife Observation Tower.
Charleston is a beautiful town to visit and a popular retirement area as well. While shopping for Charleston sweetgrass baskets, the Haagens met a woman who had moved to Charleston from Long Island, New York. While speaking with her, she recommended coming to Charleston in September or October, particularly for those who are relocating from the north.
She told them that people who relocate at the beginning of the summer have more difficulty adjusting to the hot temperatures and high humidity, while those who move in the fall have an easier time acclimating.
Communities
Whether relocating or visiting, Charleston is a wonderful destination for active adults. Tina and Louie Haagen enjoyed every moment of their South Carolina vacation and would happily recommend Charleston to their family and friends.
Looking for an active adult community in Charleston, SC? Check out these great options: