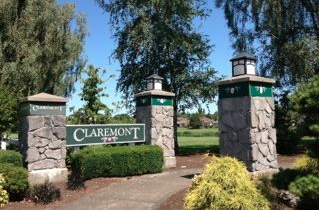 Active adults looking for a small-town retirement in the Portland area may find the home of their dreams at Claremont. This Western Oregon community is a great option for those who want a smaller neighborhood with plenty of on-site amenities. It features 556 homes, a spacious clubhouse and many outdoor recreations. It is also located just 10 minutes from downtown Portland.
Built between 1990 and 2000, by George Marshall, Claremont is a charming community which welcomes active adults aged 55 or better. It contains 556 residences, including both attached townhomes and single-family designs, which are now available on a resale basis. Claremont also features a variety of indoor and outdoor amenities to support a healthy, active lifestyle.
Every resident in Claremont has access to the main clubhouse. This 12,000 square-foot facility is the perfect place for socializing with friends and taking part in activities and special events. It includes a fitness center, a library, multipurpose room and catering kitchen. The clubhouse's outdoor recreations also keep residents busy with tennis courts, lawn bowling, croquet and a swimming pool.
Beyond these amenities, the main clubhouse has plenty of space for club meetings, group activities and community events. Special interest groups include men's and women's social clubs, as well as clubs for dining out, golf, cards and games.
For an additional fee, resident golfers can also enjoy access to the Claremont Golf Club. It includes a 9-hole golf course which is ideal for golfers of any skill set, a putting green and a pro-shop where residents can stock up on supplies.
A second clubhouse, the Terrace House, is also available for residents who live on the east side of Bethany Boulevard. This second clubhouse includes its own outdoor swimming pool, as well as an 18-hole golf course.
Built over a ten year period, the 556 homes in Claremont were built to suit the needs of many different active adults. There are 100 attached townhomes which include single-story models and two-story designs with first-floor master bedroom suites. At a minimum, each townhome features two bedrooms, two bathrooms and a garage.
The remaining 456 residences are detached single-family homes. They were built in six floor plans, ranging in size from 1,690 to 3,248 square feet. These versatile homes include both one-story and two-story designs. They have one to three bedrooms, one-and-a-half to three bathrooms, and one- or two-car garages. Many models also have a separate den.
With all of its amenities and recreations, Claremont is a great community for active adults. Its close proximity to downtown Portland also allows plenty of activity just outside of the community.
For more information on this community click here: Claremont - Portland, OR