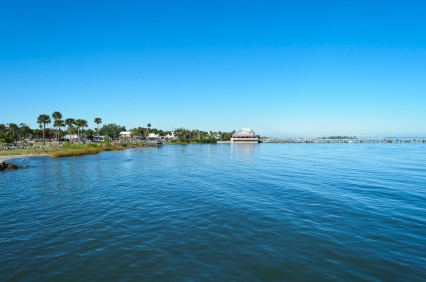 Located along the state's Central Atlantic Coast, Florida's Treasure Coast stretches from the Sebastian Inlet down to North Palm Beach. Its beautiful shoreline is protected by sandbars and barrier islands, and the area also features many rivers, lagoons and nature preserves. This gorgeous region is a draw for beach lovers and a popular destination for active adult retirees.
The Treasure Coast winds its way along Florida's Atlantic Coast including popular destinations like Vero Beach and Port St. Lucie. The region lies between the Space Coast to the north and the Gold Coast to the South. Its nickname was coined in the early 1960s when salvagers began discovering Spanish gold just off the coast. The treasure was part of the 1715 Treasure Fleet which had been lost in a hurricane near the Sebastian Inlet.
Climate
Weather along the Treasure Coast is typically hot and sunny with a humid subtropical climate. Daytime temperatures in the height of summer rise to the mid-90s and can climb over 100 degrees. Winter's coolest months are still relatively warm, with daytime temperatures in the mid-70s. Hurricanes have been known to strike the area, such as Hurricanes Frances and Jeane in 2004 and Hurricane Wilma in 2005.
Location
The Treasure Coast is best known for its miles of beautiful beaches. The region is far enough away from Florida hot spots like Miami and Fort Lauderdale to keep it from being too busy, but close enough to make it easy to travel into larger cities for day or weekend trips. The Treasure Coast is also just north of West Palm Beach, another popular retirement destination. With a small-town feel, the Treasure Coast has many towns and small cities with charming town squares and picturesque shopping districts. Port St. Lucie is home to various retail centers, restaurants, and golf courses.
55+ Communities on Treasure Coast
It is also the setting for several beautiful active adult communities including Kings Isle and Cascades at St. Lucie West. Farther north, Vero Beach is becoming a well-known tropical destination for wealthy tourists and seasonal residents. This gem of the Treasure Coast includes a historic city district on the mainland and a quiet village on the tropical barrier island, separated by the Intracoastal Waterway. Amenities in the area include three championship golf courses, oceanfront country clubs, and elegant restaurants. Yet active adults can still find affordable communities in Vero Beach, such as Woodfield and Waterway Village.
Though the Treasure Coast is a small, quiet region, it is slowly becoming a more popular stretch of Florida's Central Atlantic Coast. Plan a trip to see its pristine beaches, quaint towns, and fine restaurants. You may just find your own ideal retirement destination.