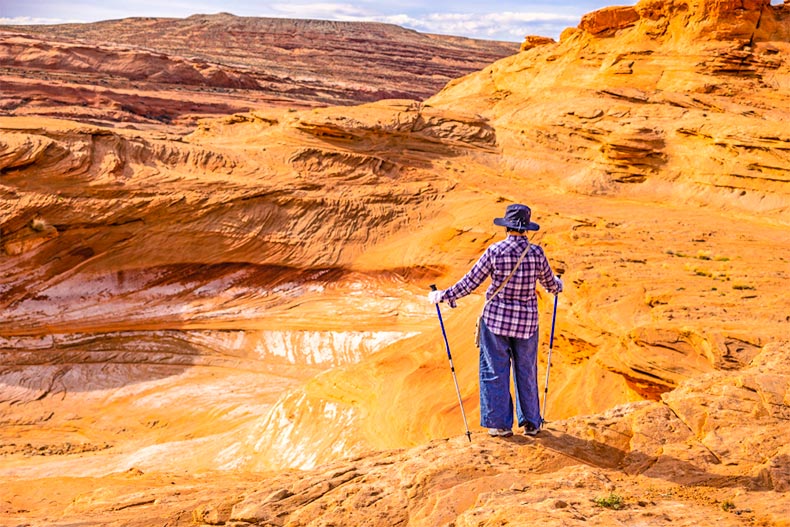 Arizona is consistently one of the top states to retire to. With sunny weather, a low cost of living, and attractions that appeal to modern active adults, it's easy to see why. For those dreaming of retiring to Arizona, our quick guide explains how to make it a reality and what to expect.
Before You Retire
If you are a government worker in Arizona, head to Retirement Central on the Arizona State Retirement System website. This state agency provides many helpful tools and resources. While the Arizona State Retirement System is specifically for government workers, most people considering retiring in Arizona will find the website helpful.
One of the first tools you'll want to look at is the Can I Afford to Retire page. The graphs on this page give a better idea of how much money is actually needed for retirement, and how much money will remain every month after health insurance and taxes.
The Benefit Estimator is another helpful tool when considering retirement. This estimator can easily be customized to your specific age and situation. There is also a handy retirement checklist to make sure you don't miss any important steps during the last few years before retirement.
Important Tax Information
Social Security retirement benefits are not taxed in Arizona.
Other types of retirement incomes, such as distributions from a 401(k) or IRA, are taxed.
The state of Arizona is moderately tax-friendly for retirees.
To get a better idea of how Arizona's taxes will affect your retirement, use this helpful calculator that can be customized to your age, location, retirement income, and more.
Making the Most of Your Arizona Retirement
Arizona's great weather and popular attractions appeal to those who want to embrace an active lifestyle during their retirement years. Explore what makes Arizona a fantastic place to retire:
Thriving Art Scenes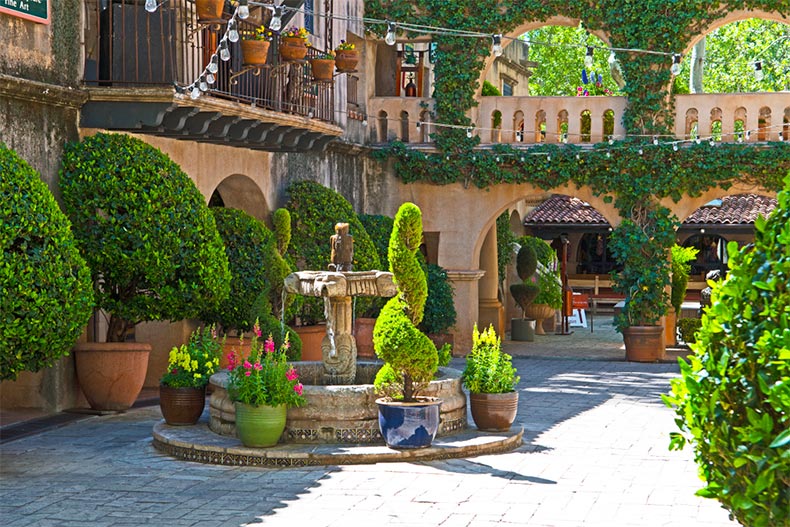 Art is an important part of culture in Arizona, from its small bohemian towns to its bigger cities. Sedona is regularly recognized as one of the best towns in the country for the arts, and it frequently holds art festivals throughout the year. Its charming downtown streets are lined with eclectic galleries featuring pieces by local artists, Native American works, and more. Phoenix also has a thriving art scene. Roosevelt Row is Phoenix's walkable arts district in the downtown urban core area, where you'll find vibrant street art, studios, and galleries.
A Haven for Outdoor Enthusiasts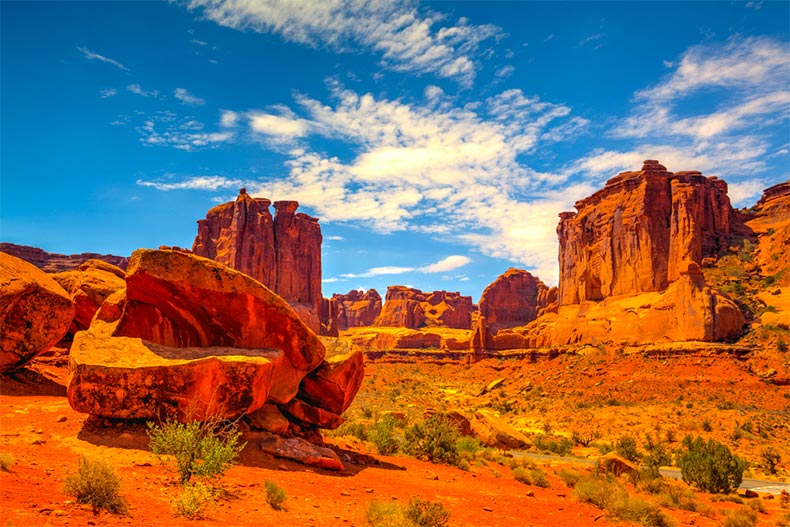 Outdoor lovers have plenty of options in Arizona, including Red Rock State Park.
In terms of outdoor recreation, it doesn't get much better than Arizona. From the Grand Canyon to Sedona's Red Rock State Park, Arizona is home to some of the most well-known natural attractions. No matter where you live in Arizona, outdoor recreation is always within reach. While the state is known for its deserts, Arizona even has ski resorts. Locals can enjoy skiing and other snow sports at Mount Lemmon Ski Valley, which is only about an hour-and-a-half from Tucson.
Great for Sports Lovers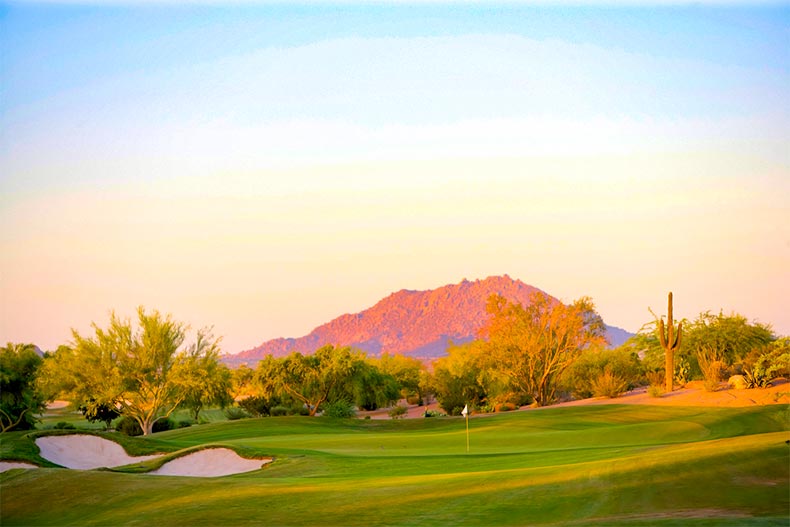 Active adults who enjoy sports will feel right at home in Arizona. Watching a Cactus League spring training game is the perfect way to enjoy the state's great weather and meet like-minded locals.
Arizona is also known for being a top golf destination in the Southwest. There are more than 300 golf courses across the state, all offering a unique experience and a challenging game for different skill levels. The highest-attended event on the PGA Tour also makes a stop in Phoenix, allowing residents to see some of the sport's best golfers in action.
Finding a Community to Call Home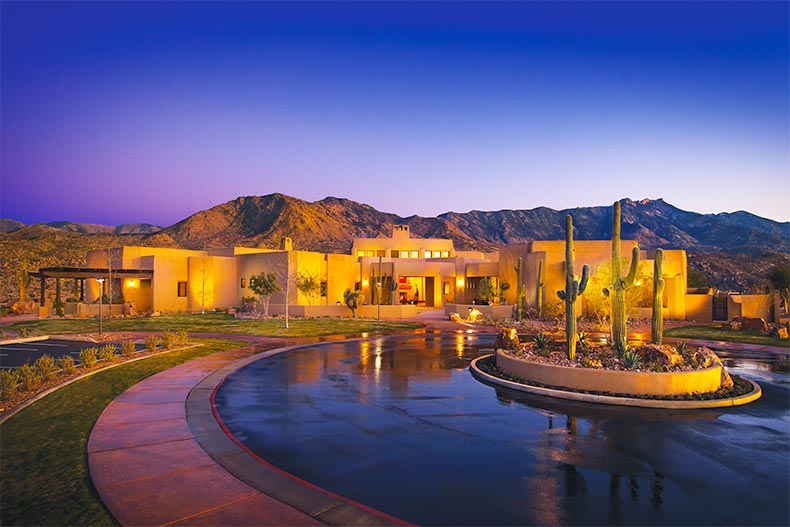 From resort-like developments to no-frills options, Arizona has many age-restricted communities fit for nearly any lifestyle and budget. Here are just a few of the fantastic active adult communities in Arizona.
SaddleBrooke - Tucson
SaddleBrooke is a 40+ community known for its world-class amenities. Development began in 1986, but new homes are still being added. Upon final build out, SaddleBrooke will be home to 4,589 residences, including single-family homes and attached homes. Prices range from the high $100s to the high $900s.
There are several recreation centers in SaddleBrooke, including the 28,000 square-foot MountainView Country Club. This clubhouse has a bistro, top-notch fitness center and aerobics rooms, studios for ceramics and other hobbies, and two outdoor pools. The community also has a performing arts theater, 18-hole golf course, and sports facilities.
Robson Ranch - Eloy
Robson Ranch is a gated 40+ community that appeals to modern active adults. Upon completion, there will be 4,600 residences, consisting of single-family homes and attached homes. Prices begin in the high $100s and reach the low $400s.
Residents are served by a 39,000 square-foot recreation center, which has a ballroom, fitness center, restaurant and bar, two swimming pools, and more. There is also an 18-hole golf course, several swimming pools, and many outdoor amenities to enjoy an active lifestyle.
Sun Village - Surprise
For active adults seeking an affordable option in Arizona, Sun Village is a great choice. This 55+ community consists of 1,382 single-family homes and attached homes. Prices begin under $100k and reach the high $200s.
Sun Village's large community center ensures residents always have a way to stay social and active. The community center has a ballroom, woodworking shop, hobby studios, restaurant, fitness center, and more. Residents also have access to an 18-hole golf course, multiple sports courts, a pool and spa, and scenic ponds throughout the grounds.