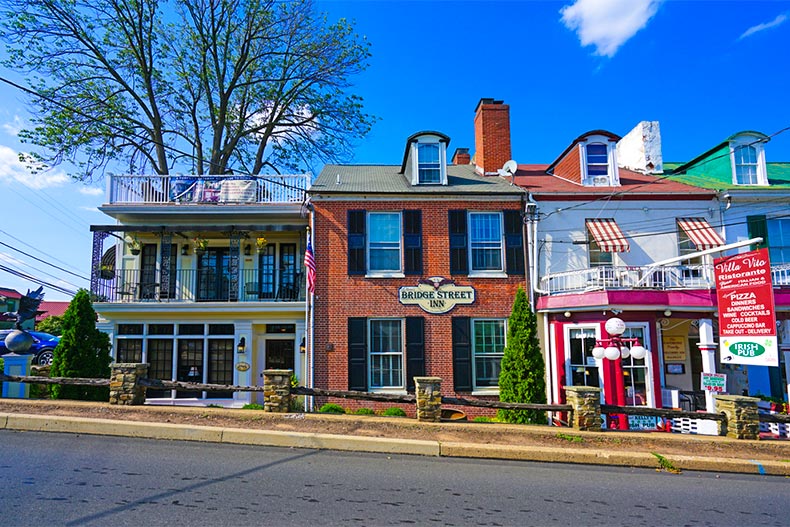 "Let's head to Bucks County this weekend!"
These words are music for the ears, and a harbinger for good things to come. Bucks County, Pennsylvania is a top tourist destination renowned for its rolling hills, farmlands, Colonial-era history, and plentiful food and drink. It has a wine trail, a brewery trail, and distilleries. Every stop along the way features locally crafted beverages served by folks that enjoy sharing their stories with their guests.
One of the best parts about the Bucks County trails is getting to the destinations. Charming towns like Fairless Hills, Quakertown, New Hope, Doylestown, and Lahaska make up the bones of this region, with captivating main streets, landmarks, restaurants, and other points of interest.
Of course, visitors twho choose to sample the drinks should have a designated driver or book one for a tour. Operators like Tastings & Tours drive passengers to the wineries, breweries, and distilleries in 14-passenger buses that promise a day of fun and camaraderie.
Top Bucks County Wineries
George Washington and his troops spent time in Bucks County on Christmas Day in 1776 before they crossed the Delaware River. Were they drinking? Perhaps, but less than one mile from their encampment now stands Crossing Winery in Washington Crossing. It was built at a historic estate, and guests can sample many of the "Best of Bucks" award-winning wines and tour the scenic grounds.
Their winery features around eight reds and eight whites, plus specialty wines. Tastings are $10 per person and should be made in advance; walk-ins are $15. There are seven other wineries on this tour, and they are fairly close to one another. Here are two more for your consideration.
Buckingham Valley Winery
Buckingham Valley Winery is one of the largest in Pennsylvania, and has also received honors for its wines. Touted as a family-and-friends run operation, they make over 20 kinds of red and white wines, with some less common varieties like a Seyval Blanc, a sparkling Muscato, and their 2016 Chancellor. These are priced at $17 per bottle and under, while tastings are $5.
Bishop Estate Winery
Bishop Estate Winery is in Perkasie located at a rustic farmhouse. They produce 16 wines, including their "El-If-I-Know" white blend, the Dark Bishop Cabernet Sauvignon (aged inside of a rye whiskey barrel), and Applenoonie apple wine. They host special events including live acoustic music and chocolate pairings. Tastings and wine flights are available with tastings priced at $6 per person.
The Bucks County Ale Trail
There are 15 breweries in Bucks County with rotating beer selections on their taps. The breweries range in size from larger, more established ones to local start-ups that are quickly making names for themselves. Named after "Mad" King Ludwig II of Bavaria, Mad Princes Brewing in Buckingham has a loyal following for its small batch beers. It has community table seating, and dozens of brews ranging from wheat beers to English stouts to their barley wine, knowns as "Zombie Tree Rat."
Free Will Brewing Company
The highly rated Free Will Brewing Company's main location is in Perkasie, and they also have a taproom at the Peddler's Village outdoor mall. The Perkasie hub is open every day with 19 beers on tap and more for purchase. On weekends it morphs into a party atmosphere, with food trucks and tours. Free Will is known for their tasty fruit-infused beers, IPAs, and their very strong Sir Lamington, a chocolate-and coconut milk stout that is 10.8% alcohol.
Tower Hill Brewery
Tower Hill Brewery in Chalfont opened in 2015 and draws in guests that appreciate their fine brews, along with a burger-and-taco-heavy menu. They usually have at least half a dozen beers on tap, cider, plus a decent selection of red and white wines.
Bucks County Distilleries
Distilleries are now clamoring for attention and Bucks County has several family-owned operations that are making themselves known. Hewn Sprits in Pipersville and Peddler's Village uses local ingredients to create their hand-crafted rum, whiskeys, and "New Moon" moonshine. They won Best Local Distillery at Distilladelphia, a craft distillery showcase, and have a comfortable tasting room. Special events like Yoga & Spirits and live music round out their offerings.
Dad's Hat
Dad's Hat in Bristol is dedicated to purists who appreciate rye whiskey. They have five varieties and have won accolades form Wine Enthusiast and Whisky Advocate. There are other distilleries in the area, but not all have tastings and tours. This is an evolving art form, so keep an eye out for more distilleries and tasting rooms.
Before You Head Out
As already mentioned (and worth repeating), be sure to have a designated driver or arranged tour. If you are planning to make purchases, you may want to bring along a box or cooler.
Call ahead of time for operating hours, and ask if they serve food. If not, you may want to bring your own since drinking on an empty stomach is never a good idea. Head out early if you are visiting on a weekend, and be willing to try things you have never experienced, even if the flavors sound strange.
The final advice is to ask questions, and lots of them. People that work behind these bars usually enjoy talking about their products and you can learn a lot from them. If it is a smaller venue, you may end up chatting with the owner, racking up quality time and getting great recommendations for area restaurants and attractions.