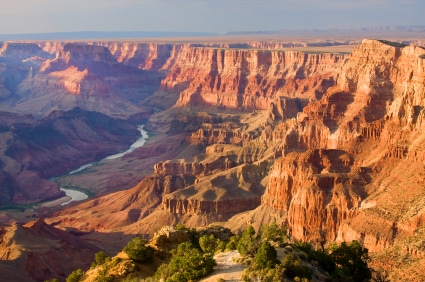 Each year, U.S. News and World Report features many of its top picks for retirement destinations. Those who love the distinctive beauty of Northern Arizona will be pleased to know that Flagstaff, Arizona, has topped the list for 2012.
There are many factors that go into choosing a list of top retirement destinations, especially since retirement means many different things to many different people. To put together their list of the Best Places to Retire in 2012, U.S. News used data from Onboard Informatics (a company which provides real estate information services) to identify 10 key attributes that people would like to have during retirement.
Benefits of Flagstaff
While other areas made the list for their own retirement attributes, Flagstaff was picked primarily for its pleasant year-round weather. In the Flagstaff area, weather is typically sunny 78 percent of the year. Yet, all of this sun does not come with the oppressive heat of some other sunny locations. In Flagstaff, the days are comfortably warm, with temperatures climbing above 90 degrees an average of just three days each year.
Winter months do bring some snow, but the sunny days help melt it away quickly. This pleasant weather is due in part to the area's location at an elevation of 7,000 feet and its relatively low humidity.
In addition to its comfortable weather and sunny skies, the Flagstaff area features spectacular mountain vistas with impressive views of the San Francisco Peaks. The city is set along the southwest edge of the largest Ponderosa Pine forest in the United States, and it is in close proximity of the Grand Canyon. This scenic beauty creates a tranquil environment for retirees who enjoy a more relaxed, natural setting.
Flagstaff Communities
Retirees who are looking for a home in Northern Arizona will find beautiful communities in Flagstaff and in the nearby Prescott area. Both Flagstaff and Prescott offer pleasant weather, scenic beauty, and quaint, small-town charm. Prescott in particular is home to hundreds of buildings listed on the National Register of Historic Places, including many picturesque Victorian homes.
Active adult communities in the Northern Arizona area include developments with age restrictions as well as those open to residents of all ages. Prescott Lakes and Hassayampa Village are two open-age golf communities which are sure to appeal to active adult retirees. In addition to challenging 18-hole golf courses, each of these communities offer amenity-rich clubhouses, swimming pools, and sports courts.
Retirees who prefer an age-restricted community may enjoy living in a more intimate community like Gardens at Willow Creek. While active adults look for many different attributes in their own ideal retirement destination, Northern Arizona's Flagstaff area offers pleasant weather and plenty of scenic beauty.