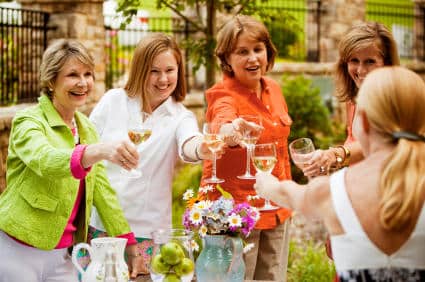 For some social butterflies, meeting new friends is one of the most exciting aspects of moving to a new place. Other retirees may be nervous about building a new social circle at their retirement destination. Fortunately, relocating to an active adult community often makes it quite a bit easier to find friends who share similar interests.
One of the major selling points of any active adult community is that it lets older adults live among their peers. In fact, retirees generally choose to live in active adult communities because of the social opportunities they offer. Current residents are happy to welcome newcomers and encourage them to join social clubs, take classes, and participate in community events, making it easy for them to meet more neighbors and make new friends.
Lifestyle Directors Are There To Help
In some active adult communities, lifestyle directors coordinate community events and activities. They can help new residents find out about the social clubs which appeal to their interests and offer advice for settling into the community. Not every community employs a lifestyle director, but if there is one available, she can be a great resource for new residents. Even without a lifestyle director, newcomers can find out about upcoming events and activities through the community's newsletter or website.
Social Clubs At Active Adult Communities
Parties, classes, tournaments, and other community events are ideal places to mingle and meet people. Most active adult communities also offer a variety of social clubs specifically designed to bring people together. Social clubs in active adult communities might be focused on a particular interest like gardening, knitting, travel, or wine tasting. They may be designed for residents who relocated from a specific area, or they might offer support for particular illnesses or disabilities.
Communities may also have social clubs for women and men, such as the Red Hat Society or a R.O.M.E.O Club (Retired Old Men Eating Out).
Volunteering
Another great way to make new friends is by volunteering. Active adult communities commonly rely on the efforts of many volunteers to keep the community running smoothly. Newcomers can join committees, help organize social events, participate in service groups, and eventually run for elected positions to help govern the community.
No matter how many activities and events are offered, newcomers will have a hard time making friends if they don't get out and explore the community. Simply walking around the grounds and offering friendly smiles and waves can open the door to meeting new people. Community clubhouses and amenity centers can be a great place to strike up conversations and get to know more people.
It takes time to adjust when moving to a new city, but meeting new people will make it easier to begin to feel at home. By getting involved in the community, newcomers can stay active, learn more about their neighbors, and make lasting friendships.