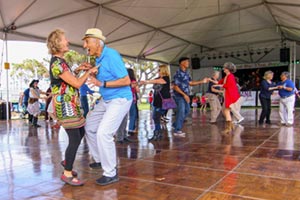 Gator By The Bay will be serving up some tasty blues and crawfish in the San Diego area. Photo by Gator By The Bay.
Normally, if you want to experience an authentic Cajun festival serving up gumbo and crawfish while listening to authentic Bayou blues music, you'd have to book a ticket to New Orleans. However, for one weekend every year, residents of the San Diego area get to experience Louisiana without leaving the county.
May 10-13, 2018, the 17th annual Gator By The Bay festival will take place at Spanish Landing Park. As it does every year, the event will feature four days of live music, an array of traditional Southern foods, dance events, and plenty of family-friendly festivities to keep everyone smiling.
Music
The festival kicks off on Thursday night with a concert featuring a trio of talented musical acts. Known for their Gypsy Jazz music, San Diego's Zzmzzy Quartet harkens back to the glory days of Louis Armstrong and Duke Ellington but is also influenced greatly by French Gypsy jazz legend Django Reinhardt. Irish-American singer-songwriter Shana Morrison brings her unique and wide-ranging voice to the stage next. Finally, Southwest Louisiana-based slide guitarist, songwriter, and singer Sonny Landreth, who is coming off of his second Grammy nomination and has collaborated with legends like Eric Clapton and Mark Knopfler, wraps up the evening with a zydeco-influenced performance.
Even if you can't make it out on Thursday, the weekend is full of great jazz, blues, and zydeco artists, including the Grammy-nominees Pine Leaf Boys, The Revelers, and San Diego's own Earl Thomas. Check the website's musical lineup for the full list.
Food
If there's one aspect of Gator By The Bay that can be said to be the most authentic, it might be the food. Some of the vendors on hand in the French Quarter Food Court have actually traveled cross country just to serve up authentic Cajun cuisine. In fact, 10,000 pounds of crawfish are trucked in from Louisiana each year just for this weekend.
That's just the beginning, however, as some of the authentic offerings you'll be able to sample include boudin sausage, catfish, alligator, and oysters. Of course, iconic Louisiana dishes such as gumbo, jambalaya, po' boys, and etouffée will also be available. Save room for dessert so you can try out the beignets, sweet potato pie, homemade ice cream, pralines, and bread pudding.
Interested in learning how to cook these classics yourself? The festival will feature eight different cooking demos across Saturday and Sunday, everything from how to make your own beignets to how to make a crawfish etouffee. See the full schedule here.
Dancing, Activities, and Shopping
There's only so much of this great music you can listen to before you just have to get up and start dancing. Everyone is encouraged to hit the dance floor and join in the fun. If you're feeling nervous, there will even be free dance lessons offered. Allons Danser! (Everybody dances!).
If you're attending the festival with grandkids, the good news is that kids 17-and-under get in free. Once inside, they'll be able to take advantage of tons of fun activities. They can meet the gator and crawfish mascots, get their face painted with colorful glitter, enjoy a costumed Mardi Gras parade, and make wacky hats with the Rad Hatter, just to name a few fun things.
Looking to do some shopping? Head to the Gator By the Bay Marketplace where you'll find clothing, memorabilia, art, gourmet food, custom-made jewelry and more.
How to Get There
If you're coming from Escondido, such as the Seven Oaks or Oaks North communities, follow I-15 S and CA-163 S to Camino Del Rio W where you'll take exit 2B from I-8 W. From there, take Rosecrans St. to N Harbor Dr.
If you're coming from an Oceanside community such as Oceana or a Carlsbad community such as Rancho Carlsbad, take the I-5 to exit 20, then take Rosecrans St. to N Harbor Dr.
Once you've arrived, there are two paid parking lots on Harbor Island Drive for $20/day or you can park in the Long Term Airport Parking lot for $20/day. The airport lot also includes free shuttle service on the weekend.
If you'd like to take public transit, Route 992 will take you from Downtown San Diego directly to the festival.
Tickets
There are many ways to enjoy the festival depending on which kind of ticket you'd like to purchase. If you just want to stop by for one day, the Any Day Ticket is available for $40 each. There are also ticket options if you just want to attend the day portion or the evening portion of the festival. For those who want to make a weekend out of it, there's a 3 Day Festival Pass ($115) and the 4 Day Festival Pass ($150).
There's also the Patron Pass for the V.I.P. treatment, which gets you admission, special access, reserved seating, discounts, and artist meet and greets. You can get a pass for one weekend day for $120 or two-day pass for $200.
Children 17 & Under as well as Active Military with ID are admitted free of charge. See the full tickets options and prices here.