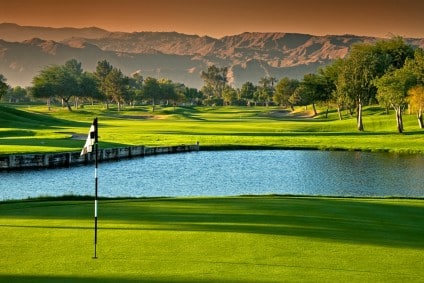 While searching for active adult communities, many people avoid those with golf courses because they assume the monthly Homeowners Association (HOA) fees will be higher or that they will have to buy a golf membership even if they never set foot on the greens. They don't want to pay for the maintenance of an amenity that they will never (or rarely) use. While that appears to be sound logic, it's a decision that is being made without all of the information.
What homebuyers may not realize, is that the operation of many community golf courses is completely independent of its community HOA. The general HOA fees do not contribute to the maintenance of the course and homeowners are not expected to buy a golf membership, unless they decide they want one.
Instead of ruling out all golf course communities, a better approach would be to find out more about each particular community's HOA fees, available golf memberships, and other recurring dues. By comparing communities, you will find that some golf courses are independent, some communities offer tiered golf memberships and others — particularly those marketed as County Clubs — do expect all residents to pay for the golf amenities.
Affordable Golf Course Communities
Homebuyers who like the idea of having golf available, but don't want to pay a membership, or for golf course maintenance, might want to find an active adult community with a public golf course. For example, Heritage Shores in Bridgeville, Delaware, includes a championship public golf course which was designed by Arthur Hills. Residents are eligible for discounted annual golf memberships, but only if they choose to purchase one.
Another option would be to choose a golf-adjacent community like The Fairways at Lake Ridge in Lakewood, New Jersey. This beautiful age-restricted development has many amenities, but it does not have its own golf course. Instead, residents are eligible for discounted memberships at the neighboring semi-private Eagle Ridge Golf Club. Some active adult golf communities offer tiered membership packages which let residents choose to pay for only the amenities they expect to use.
The Vineyards, in Naples, Florida, is an open-age community which appeals to many active adults. This amenity-rich community offers four levels of country club membership. Each membership offers a different level of golf (and tennis) ranging from full access to no access at all.
When comparing active adult communities, it's always important to understand what you will be buying. Be sure to ask about all of the HOA fees and other dues, and find out just what amenities these fees include. While no one wants to pay for a golf course they don't plan to use, you also don't want to miss out on a fabulous community just because you assumed it would have higher fees.