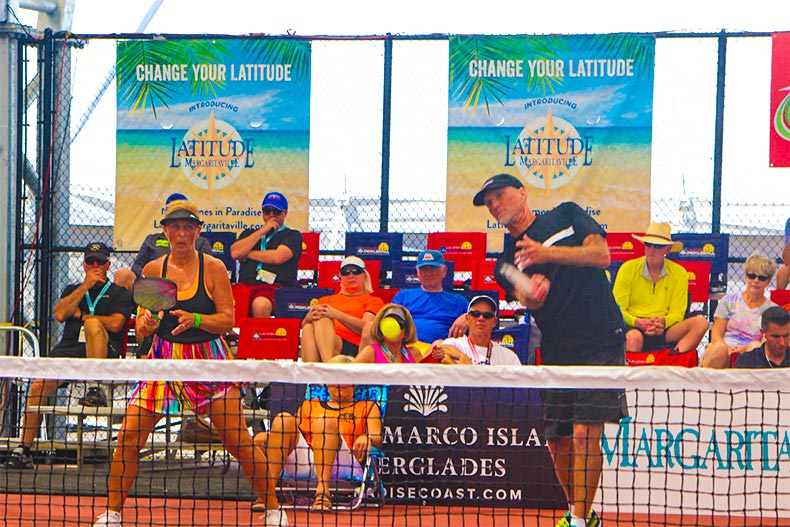 The Minto U.S.Open Pickleball Championships are shaping up to be even more successful and competitive than last year, when 2,000 players from 47 states and 20 countries showed up to serve, volley, and dink for fun and prizes.
Registration opened on January 9 for singles and doubles tournaments, and you'll need to know your skill level in order to get the right slot. If you need a partner for doubles pickleball, the registration page will direct you to a Facebook group where you can connect with other players looking for partners.
The event takes place from April 27 to May 4, 2019, at East Naples Community Park in Naples, Florida. You'll find 54 pickleball courts, a pickleball pro shop, and if you need some last-minute lessons, the Pickleball Academy of Southwest Florida. In addition to pickleball play, there's food, drinks, live music, craft tables, and a lot of community energy.
Join the Pickleball Party in Naples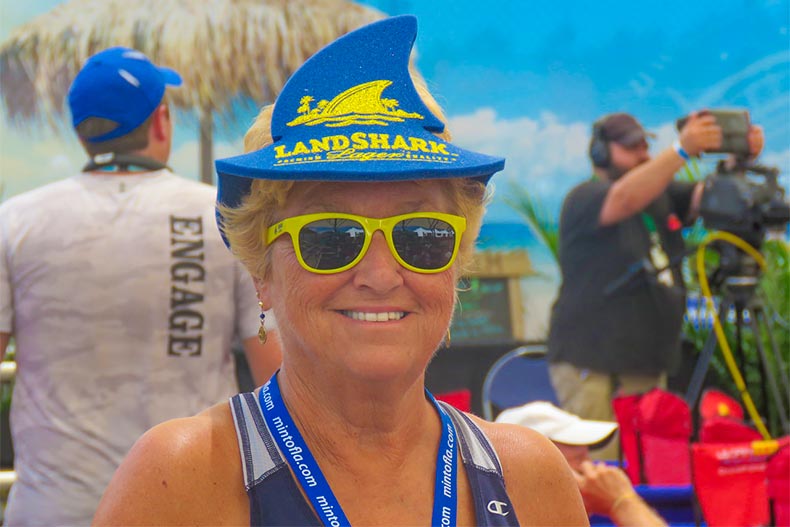 There will be lots of Landshark ready for spectators. (Photo via US Open Pickleball Championships)
Whether you're planning to show up with paddles blazing as a competitor or you're cheering on your favorite players as a spectator, you'll need to know where to be and how to go. We've got a few of the most important details, and you can always check out the event guide on the official website.
Parking is courtesy of the Kiwanis Club and will cost $5.00 per car. Shuttles from parking lot to the park are complimentary, and you're welcome to bring leashed dogs, chairs, umbrellas, and coolers (no glass or alcohol). Don't forget your cash. There's an ATM on-site, and most vendors won't accept plastic. Stop by the Naples Botanical Garden Welcome Center once you arrive, where you'll check in, ask questions, and gather maps and other information.
Travel Details and Hotel Options
If you're traveling by plane, fly into the Southwest Florida International Airport in Fort Myers. It's manageable and less than an hour to Naples. You can also catch a flight into Fort Lauderdale International Airport, but give yourself at least two hours to get to the park. Enterprise Rental Cars is offering pickleball discounts.
When you're booking a place to stay, be sure to mention the U.S. Pickleball Championships at the following hotels to get a group rate:
Events begin with Kids Day on April 26, 2019, and pre-tournament festivities on April 27, 2019, including live music, food, practice courts and clinics, and an opportunity to watch the pros warm up on center court. Things get serious starting on April 28 straight through May 4, 2019, when you'll be treated to singles tournaments and doubles tournaments at every level, including pro.
Athletes-Only Information and Credentials
Check-in starts at 9:00 a.m. on Saturday, April 27, 2019. You'll need to stop by and register each day that you're playing so you can get your credentials and a swag bag. Look for your designated Pod, where you'll have all the water you need. Food can be purchased at any of the local vendors on site and you can also bring your own.
The VIP experience is sold out, but if you were lucky enough to snag a ticket, you'll enjoy access to the Margaritaville VIP License to Chill Lounge, courtside seats, and a ton of free gifts including pickleball paddles and t-shirts.
Remember that you'll be playing according to your current rating. And, all events will be run as double elimination with a consolation bracket. The consolation bracket plays for the bronze medal while the winner's bracket will play for the gold and silver medals.
Pickleball is Kind of a Big Dill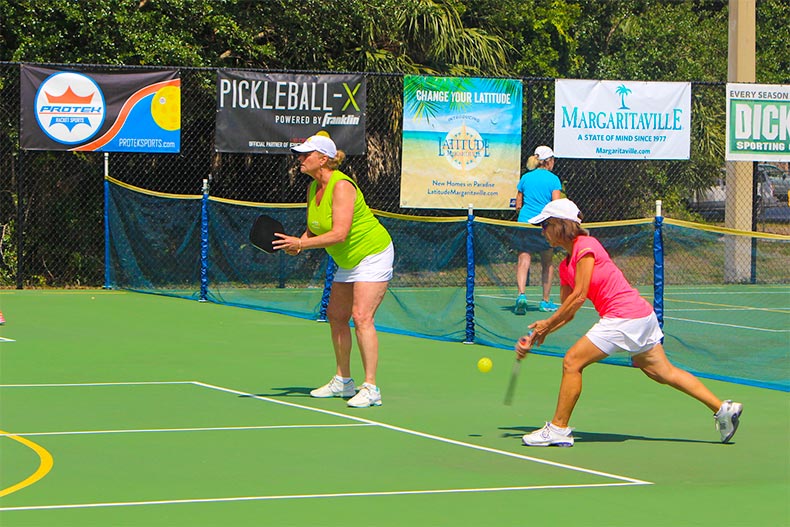 Pickleball's popularity among active adults has been a huge part of the sport's growth. (Photo via US Open Pickleball Championships)
This is the fourth annual U.S. Pickleball Championship tournament. In 2018, a total of $44,400 in prize money was awarded to players in each event. CBS Sports will live-stream the event for fans who cannot make it to Naples. ESPN3 will also show select matches live.
Pickleball has been an organized sport since 1965, according to the United States Pickleball Association. It's played on what resembles a tennis court, with a net that's 34 inches high. Every U.S. state now has pickleball courts, and they're especially popular at active adult communities for 55+ residents.
Sponsor Spotlight: Minto Communities and Margaritaville
Minto Communities is the title sponsor of the U.S. Open Pickleball Championships again this year, which is no surprise considering the builder's reputation for developing attractive 55+ housing communities for active adults all over the country.
In Naples, The Isles of Collier Preserve is a new Minto community which will have 1,649 luxury homes once construction is completed. The amenities are some of the best on the southern Gulf Coast, with a boat dock, indoor and outdoor pools, cabanas, and incredible views.
In Daytona Beach, residents are moving into Latitude Margaritaville, a Minto community for 55+ residents who appreciate a lifestyle that's not too far removed from the lyrics of a Jimmy Buffet song. Upon completion, the community will be home to several pickleball courts.