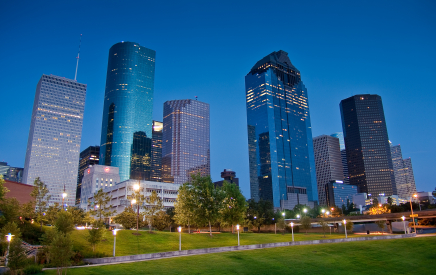 Just an hour from the Texas coast, Houston is the largest city in the state. The area's hot and sunny climate draws those who are tired of cold and snow, while its mix of urban attractions and outdoor recreations appeal to many diverse retirees looking for active adult communities. Houston is a great place to visit and, for some active adults, an ideal retirement destination.
Location
The City of Houston is located in Coastal Texas, just an hour from the Gulf of Mexico. It is about four hours south of Dallas and three hours east of San Antonio. Nicknamed Space City, Houston is known for being the location of NASA's Lyndon B. Johnson Space Center. It is also well-known for housing the Astrodome, which was the world's first indoor domed sports stadium.
Climate
Though Houston offers many urban attractions and a prime location near the beautiful Gulf Coast, its hot climate can be too much for some visitors and new residents. The Houston area has a humid subtropical climate which gets a mix of heat blowing in from the Mexican deserts and moisture from the Gulf of Mexico. Daytime highs often rise over 90 degrees in the summer months, and high levels of humidity can make it feel even hotter. However, winters are mild with temperatures rarely falling below the mid-60s.
Diversity
While the city's rich history dates back to the 1800s, Houston has grown into a sprawling cityscape with many sleek, modern skyscrapers. The area has an international diversity with residents from many different backgrounds and a large number of consular offices from dozens of countries around the world. Yet, the region also has a distinctly American flair with popular annual festivals like the Houston Livestock Show and Rodeo embracing Texas' cowboy roots.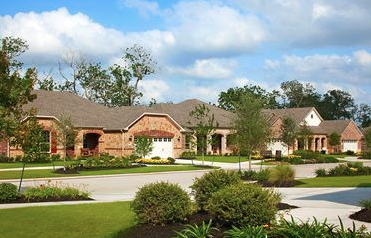 The homes of Del Webb Sweetgrass are designed to create a welcoming feel with attractive curb appeal.
Attractions & Recreation
Visitors and residents who are interested in Houston's role as Space City will want to plan a visit to Space Center Houston. This official NASA visitor center features numerous exhibits about its manned space program, astronomy and space exploration. Visitors can view moon rocks, try out a shuttle simulator and learn more about NASA's future.
For those who are more interested in arts and culture, Houston's Theater District includes 17 blocks of downtown entertainment venues including movie theaters, performing arts centers, restaurants, bars and nightclubs. Locals and visitors alike can enjoy performances by the Houston Grand Opera, the Houston Ballet, the Houston Symphony Orchestra, and the Alley Theatre.
Although Houston is a sprawling urban center, it also boasts many parks and outdoor recreations. Animal lovers will enjoy a trip to the Houston Zoo, while the Houston Arboretum and Nature Center pleases year-round botanicals. Just outside of the city, resident golfers can also enjoy a day on the links with a variety of public and private golf courses.
Of course, Houston is also a great place for sports fans with teams from nearly every professional league. Local fans can cheer on the Houston Astros (MLB), the Houston Rockets (NBA) and the Houston Texans (NFL). The city also hosts many other sporting events, such as the annual Grand Prix of Houston and the Shell Houston Open Golf Tournament.
Communities
Those searching for the best place to retire in the Houston area often choose active adult communities outside of the city. Just a few of the area's impressive developments include Del Webb Sweetgrass in Richmond, Heritage Grand at Cinco Ranch in Katy, and both Windsor Lakes and Windsor Hills in The Woodlands.
With diverse urban attractions, a rich history, and a sunny climate, the Houston area appeals to many active adults—both as a vacation hot spot and a favorite retirement destination.