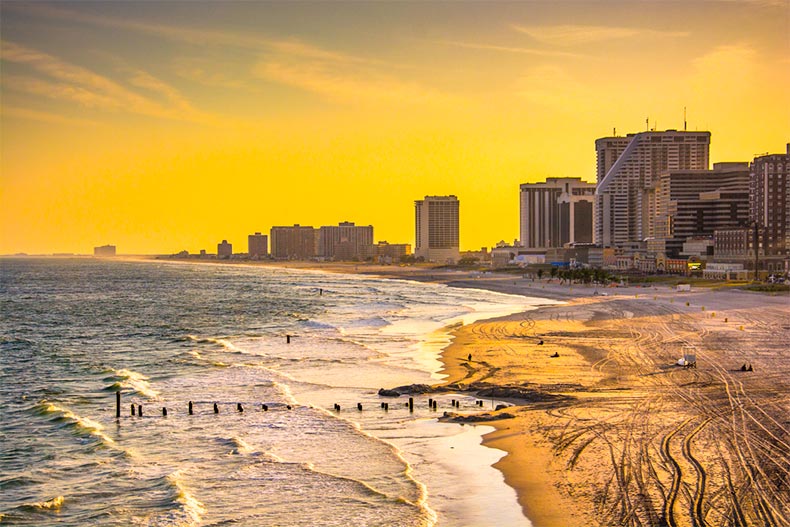 If you had $5,000 to spend in Atlantic City, what would you use it for? If you are like the majority of people, you would probably answer, "I'd spend it at the casinos!" But back in 1870, this chunk of change was the cost to build Atlantic City's entire original boardwalk. It was constructed in 12-foot sections, each at 10 feet wide. The boardwalk was built to accommodate the many well-to-do visitors that came to vacation in the new resort town who preferred not to walk on the sand.
Over the years the boardwalk was rebuilt and refurbished many times, and was expanded several years back. Today, it is a little over six miles, starting at Gardner's Basin and going to Ventnor City. It gives visitors access to gift shops, hotels, casinos, and its historic piers (more on that later). It is one of Atlantic City's most defining features, and it is just one of many ways to have fun in this town without losing your shirt at a casino.
Good Reasons to Lose Your Shirt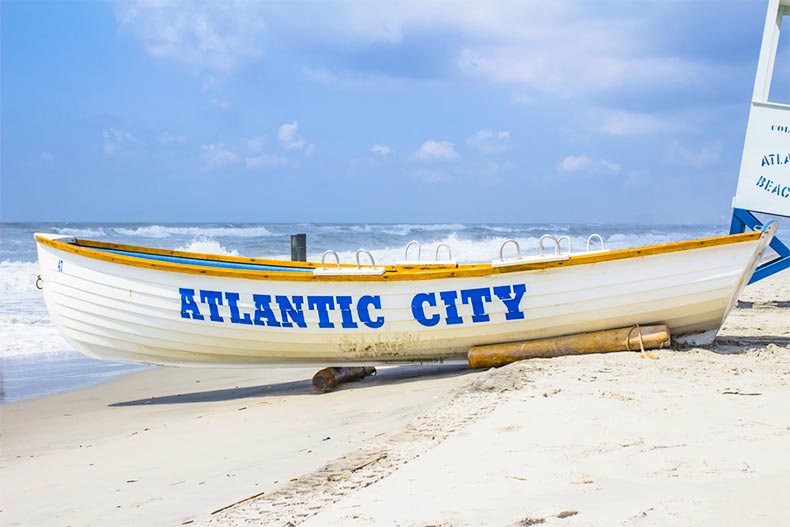 Atlantic City is one of the few resort towns on the East Coast that does not charge fees for using its public beaches. The beachfront casino hotels have private beaches which are more upscale, but in order to use them you must be a hotel guest. Otherwise, anyone is free to use the rest of the beach space.
If you are planning for sun and surf, ocean temperatures are normally at their highest from mid-July to the end of August. For those hearty souls that can take the chill, the yearly Polar Bear Plunge on New Year's Day is quite invigorating (and fun for everyone else to watch!).
Milder weather pursuits also include walking, running, and biking on the boardwalk. Bicycling hours are from 7:30 a.m. until noon, since the crowds increase later in the day (hours may vary). You can bring your own, or stop at one of the bike rentals shops, like AAAA Bike Shop. Atlantic City is also big on fishing. Fishing season runs from April through November, and catches include blackfish, cod, flounder, bluefish, striped bass, and more. Wots Up Dock offers fishing three seasons per year, with different charter and pricing options.
Steel Pier is a popular theme park located on the boardwalk that's home to the iconic Ferris wheel, bumper cars, and some pretty thrilling rides. There are also plenty of games, ice cream, popcorn, pretzels and other snacks. The Steel Pier Pub offers a more relaxed setting, with sit-down service, funnel cake, pizza, and hot dogs.
The Arts in AC
All of the casinos have theaters for live shows, with big acts like Tim McGraw, KC and the Sunshine Band, and Patti Labelle touring every year. There are also comedy shows, dance bands, and light shows. Concerts, festivals, and conventions can also be seen at Boardwalk Hall, which is also home to the Miss America contest.
Stockton State University in nearby Galloway Township manages some smaller venues in the area. Its Noyes Arts Garage has shops, artists' studios, a gallery, a museum, plus a branch of the Southern New Jersey African American Heritage Museum. The Dante Hall Theater is in a historic building, and holds improv workshops, community events, and shows.
Shopping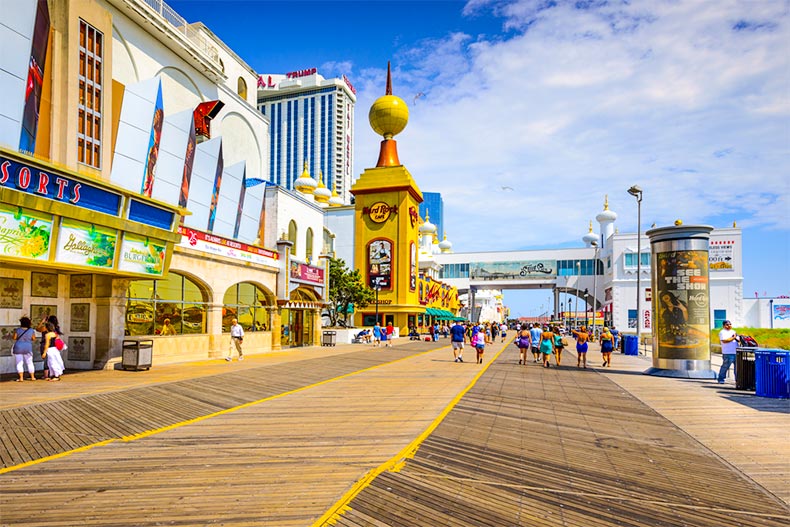 The boardwalk - and nearby outlets - provide plenty of opportunity for shopping. (Image via Shutterstock.com)
Everybody loves a bargain, and active adults can find them at the Tanger Outlets at 2014 Baltic Avenue. This popular hub for bargain seekers features brands like Lacoste, Old Navy, White House Black Market, Under Armour, a Polo Ralph Lauren Outlet store, plus dozens more. As it is not an indoor mall, the shops are all outside. During the colder months, bundle up before you head over here.
The boardwalk has plenty of souvenir shops, specialty stores, and goodies like fudge and the famous salt-water taffy, although many of these are seasonal. For upscale shopping experiences, fashionistas can head over to The Quarter at Tropicana or The Playground. The casino hotels also have some exclusive, high-end boutiques that are worth browsing.
Dining in Atlantic City's casino hotels also offers some of the top dining experiences in New Jersey, with big name restaurants like Morton's Steakhouse, Buddakan, and Ruth's Chris. Guests can also partake in treats like decadent gelato, designer tacos, buffets, and much more.
Some of the best local eateries also offer world-class cuisine. Opened in 1897, Dock's Oyster House is a local treasure that offers an extensive menu of fresh seafood and a stellar wine list. Capriccio and Chef Vola's are known for fine Italian dining, and the Knife & Fork Inn is another AC mainstay. If you're in the mood for some of the best hoagies in town, stop by White House Subs, where those in-the-know go to for incredible take-out submarine sandwiches. Atlantic City Restaurant Week is usually held every March, and there are other food and drink festivals held throughout the year.
Getting Here and Staying Here
The Atlantic City International Airport is a small facility with Spirit Airlines flights to Florida, Atlanta, and a few other cities. Philadelphia International Airport is just an hour away,and is easy to get to via the Atlantic City Expressway. NJ Transit provides train service at their terminal, which is right by the Atlantic City Convention Center, and there are many buses that travel from Philadelphia, New York City, and Washington, DC. Once you're in town, you can hop on a Jitney. These small, multi-passenger vehicles operate 24/7, taking passengers up and down Pacific Avenue.
Depending on your budget, you can stay at a luxury hotel casino, a budget motel, or somewhere in-between. Many offer off-season discounts, so you might be able to upgrade your lodgings. Be sure to check out each property's amenities, since some offer exclusive spas and unbelievable indoor swimming pool facilities, like The Water Club.
Atlantic City has 10 casino hotels, plus over 20 non-casino hotels. Many are right on the beach or boardwalk, like the inexpensive Days Inn by Wyndham Atlantic City Oceanfront-Boardwalk and the Atlantic Palace Suites.
Even if you don't gamble, this town is full of exciting options for a day, weekend, or a whole week. You can linger over brunch, hit the beach, shop, see a concert, and go to a show. Atlantic City really is like a playground for 55+ adults!