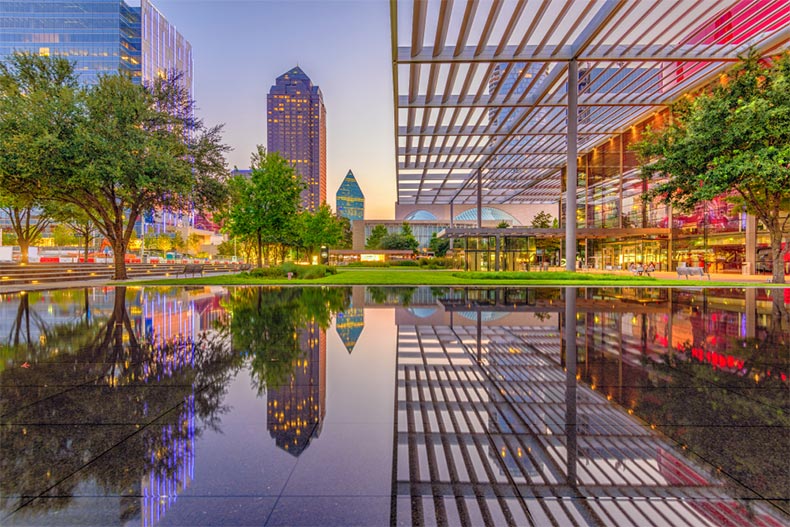 Dallas is a popular destination among people moving to Texas. According to The Dallas Morning News, North Texas has added more than one million people over the past eight years. Deemed one of the nation's five most diverse cities according to WalletHub, Dallas makes it easy for people of all ages, ethnicities, backgrounds and religious affiliations to feel at home.
Despite Dallas' diversity and welcoming culture, active adults sometimes miss their hometowns. Whether they've moved south from a big city in New York or New Jersey or they've relocated to Dallas from a small town in Pennsylvania or Ohio, active adults can find many ways to get in touch with their roots in Dallas.
If you've lived in Dallas for a long time or you're new to North Texas and you miss your home state, read on. This post offers some comfort for active adults suffering from homesickness in Dallas.
Places to Eat to Cure Homesickness
Dallas boasts a vibrant culinary scene, offering flavors from all over the world. Active adults who are craving a taste of home can explore restaurants all over the city, whether they have a hankering for Chicago-style Italian beef sandwiches or New York-style pizza.
Chicago Flavors
At Taste of Chicago in Addison, active adults who hail from the Windy City can enjoy a hearty Chicago beef sandwich that's loaded with mushrooms, onions, green peppers, and cheese. Joey O's, located in Corinth, serves fresh-cut meats, cheeses, and relishes in its Chicago-style subs.
NYC Flavors
Active adults in Dallas who are missing their favorite NYC pizza joint can stop in New York Pizza and Pints. This locally owned restaurant serves giant pies along with East Coast sandwiches such as the Cuban Reuben, which is packed with ham, mozzarella, Thousand Island, and spinach slaw. Vinni's Pasta and Pizza is another Dallas restaurant that satisfies cravings for hand-tossed, New York-style pizza. The restaurant also serves classic New York-style cheesecake and cannoli.
German Flavors
Active adults who have moved south and long for classics such as goulash or bratwurst can dine at the Bavarian Grill in Plano. This popular German eatery also offers the largest selection of German beer in North Texas.
Things to Do to Cure Homesickness
Living in Dallas opens the door to many exciting recreation opportunities. The city offers an abundance of fun things to do, whether your idea of fun is spending time outdoors, enjoying sporting events, or touring some of the world's finest museums.
Winter Activities
Active adults who have moved to Dallas from states in the north often miss their favorite winter activities. While Dallas' climate is much warmer than other parts of the country and the city doesn't often see snow or ice, active adults can still enjoy fun on the ice without needing to book a trip back to Ohio, New York, or Michigan.
At the Galleria Dallas Ice Skating Center, active adults who want to take a trip down memory lane or get some exercise in a new way can lace up their skates and go for a spin on this indoor rink. Also, when they're done skating, they can browse the shops in the Galleria.
Lakeside Activities
Active adults who grew up boating or fishing on Lake Michigan may miss their days on the water. Fortunately, the Dallas-Fort Worth area is home to several lakes, including Lake Grapevine, Lake Lewisville, and White Rock Lake. Active adults who miss doing yoga by the lake or enjoying a picnic with a waterside view can head to one of Dallas' lakes to cure their homesickness.
Sports
When it comes to sports, many Dallas transplants maintain their allegiance to their home team. Whether active adults root for the Cubs, the Bulls, the Knicks, or the Yankees, they can catch their favorite teams in the heart of Big D. The Dallas Mavericks, Rangers, Stars, and Cowboys often host teams from the north.
Casinos
Some active adults who live in Dallas may miss the exciting casinos they used to visit in the Northeast. While Dallas doesn't contain any casinos, Oklahoma is just a short drive away. The Sooner State allows active adults to beckon Lady Luck at places such as Winstar World Casino and Resort. Dallas is only 200 miles from the Oklahoma border, making it easy for active adults to plan a road trip with family and friends.
Ways to Feel at Home in Big D
No matter how long you've lived in Dallas, it's natural to miss your hometown sometimes. From local restaurants serving authentic fare to fun events that remind you of home, there are many ways to cure your homesickness in Dallas. The next time you feel a twinge of homesickness, check out the places above to feel better fast.