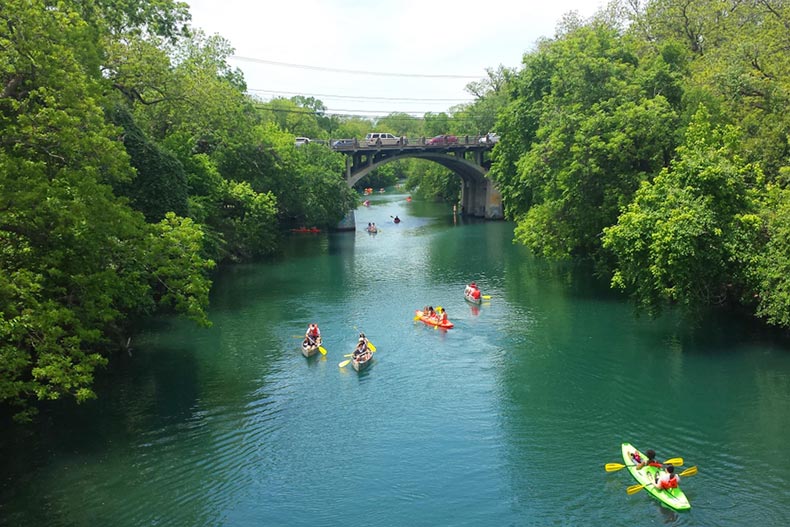 Active adults who live in Austin, Texas can enjoy a never-ending array of fun things to do. When South by Southwest (SXSW), an annual 10-day film, music, and media festival, kicks off, locals know where to go to make the most of their city.
Whether you're visiting Austin for SXSW and want to see a bit more of the city or you're an Austinite who wants to escape the crowds, you'll find many exciting things to explore outside of Austin. Here are some ways to soak up all that Austin has to offer, whether you love adventure, water recreation, or simply relaxing outdoors.
What to Do in Austin If You Love… Adventure
If you plan to enjoy SXSW at night, you can spend your day experiencing the great outdoors in Austin. The city offers many opportunities for outdoor adventures, whether you want to see the sights on a heart-pumping hike or sail through the treetops on a zipline tour.
While the Texas Hill Country scenery includes plenty of rolling hills and vibrant bluebonnets, you can also experience tropical vegetation at Palmetto State Park. Known for its lush plant life and fantastic birdwatching, this state park is located about an hour southeast of Austin and gives visitors access to hiking, biking, fishing, paddling, and more.
Adventure-seekers in Austin can also see the Texas Hill Country from a whole new perspective by ziplining through the trees. Many ziplining tours take place within 25 miles of Downtown Austin, making it easy to see the sights and still get back to experience SXSW. At Lake Travis Zipline Adventures, outdoor enthusiasts can zip across spectacular canyons and scenic Lake Travis on Texas' longest and fastest zipline. When you book a tour, you can also enjoy a boat ride and a private beach.
What to Do in Austin If You Love… Water Recreation
Austin is famous for more than just its live music—the city also boasts some of the state's best lakes and rivers for water recreation. Whether you're into stand-up paddleboarding, leisurely kayaking, or water biking, you can embark on your preferred activity without traveling too far from the excitement of SXSW.
At Lady Bird Lake in Downtown Austin, you can take advantage of the calm waters by going canoeing or trying paddleboard yoga. Vision Paddle Boards offers 90-minute yoga classes on the water for individuals or groups of up to 20 people.
Austin also offers some excellent spots for fishing. At Mills Pond, active adults can get away from the hustle and bustle of SXSW for a peaceful day at the catfish-stocked pond. For the opportunity to catch bass, sunfish, and catfish, outdoor lovers can head to McKinney Falls State Park just 13 miles outside of Austin proper. This destination also includes 81 campsites with water and electric hookups, giving active adults the option to spend a little more time in nature before heading back to SXSW.
What to Do in Austin If You Love… Outdoor Relaxation
Fortunately, Austin boasts plenty of warm, sunny days, making it a great destination for simply being outdoors. Active adults can find many ways to relax in Austin's pleasant climate, from doing outdoor yoga to savoring a picnic atop Mount Bonnell.
Active adults who want a break from the sights and sounds of SXSW can reset at Laguna Gloria, a 14-acre campus set alongside the shores of Lake Austin. Visitors can stroll along a shaded, beautifully landscaped pathway and browse permanent and changing installations of contemporary sculptures.
Packing a picnic lunch to enjoy atop Mount Bonnell is another memorable and relaxing way to enjoy time in Austin. Rising 785 feet tall, this hilltop park is the highest in the city, which means visitors can enjoy stunning views of the Hill Country.
Even if you don't intend to hike or picnic, you can still relax in the sunshine at one of Austin's many city parks. Bring a blanket and a good book or even a hammock (they're allowed in most of Austin's city parks).
Spending Time Outdoors During SXSW
SXSW is a major draw for tourists and locals alike. Whether you live in Austin or you're visiting to experience SXSW, you can find ways to enjoy outdoor recreation and relaxation in combination with the event. Austin offers something for everyone—it's up to you to decide how you want to enjoy the great outdoors.