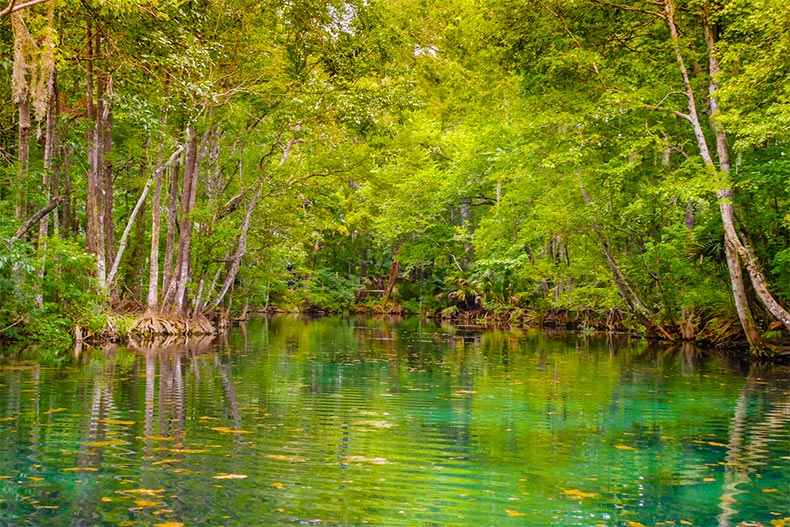 Traveling in Central Florida can include everything from Walt Disney World in Orlando to Legoland in Lakeland and Busch Gardens in Tampa. The area is more than theme parks, however, and if you really want to experience the best of the sunshine state's core, you need to travel like a local. Here are some ideas that will help you feel more like a resident and less like a tourist.
Floridians Love Their Springs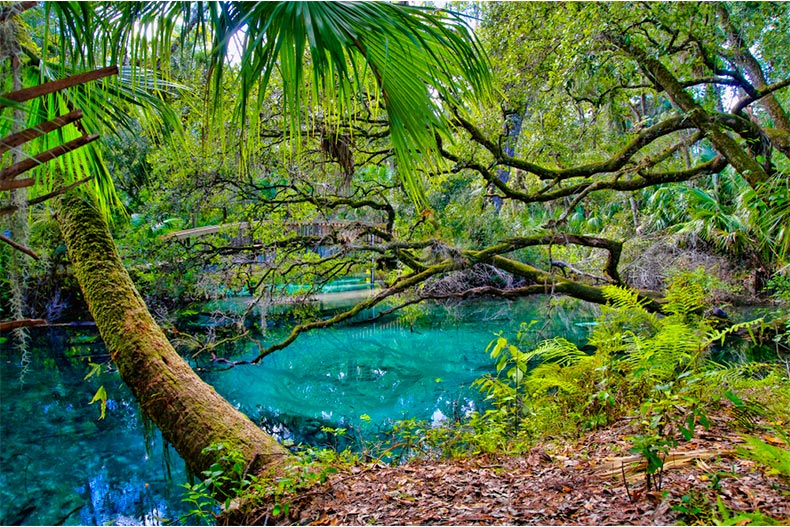 Juniper Springs is a favorite among locals.
The beach is great, but locals love the natural springs found all over Central Florida. In the Ocala National Forest, which is just northwest of Orlando, visit Juniper Springs. Take a canoe down the seven-mile Juniper Run, snorkel in the clear spring waters, or look for birds and wildlife on the nature trails that were constructed in the 1930s by the Civilian Conservation Corps.
In Apopka, Wekiwa Springs is a favorite place for Orlando residents to cool off in the summer and warm up in the winter. Spring waters stay at 72 degrees year-round. Floridians have been coming here since the middle of the nineteenth century. If you love manatees, head to Blue Springs State Park in Orange City. You won't be able to swim in the springs from November until March because wintering manatees are protected, but there are gorgeous trails to explore and plenty of boating and fishing available on the St. John's River.
Bok Tower: A National Historic Landmark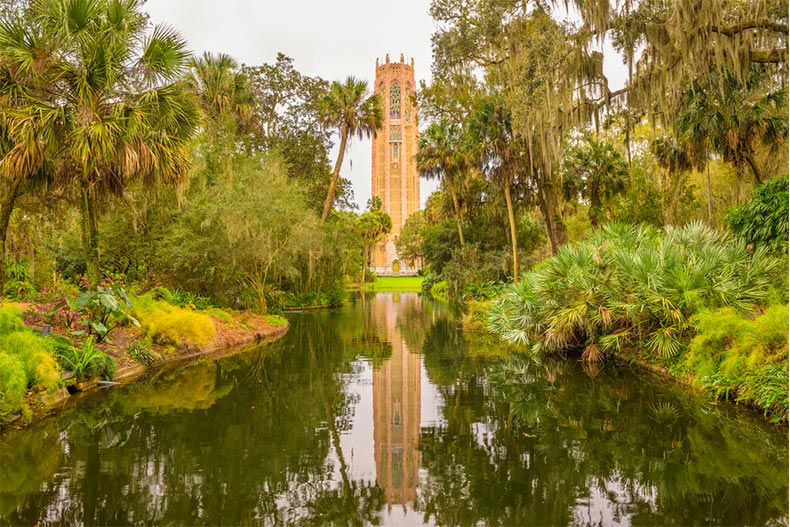 Bok Tower Gardens is a serene place to enjoy pleasant gardens.
Visit a singing tower that's 205 feet tall at Bok Tower Gardens in scenic Lake Wales. Lots of local Floridians spend their weekends here listening to the chimes of the carillon, strolling through various gardens, and enjoying a bit of architecture and history that's unique to Central Florida. The landscape is peaceful and serene, and you'll be treated to gorgeous views at this neo-Gothic, art deco inspired landmark. While you're in the area, make sure you drive over to Spook Hill. It's a bizarre little bit of road where cars appear to roll uphill. No, Central Florida hasn't defied gravity. It's an optical illusion, but still a lot of fun.
Seeing Swans, Real and Created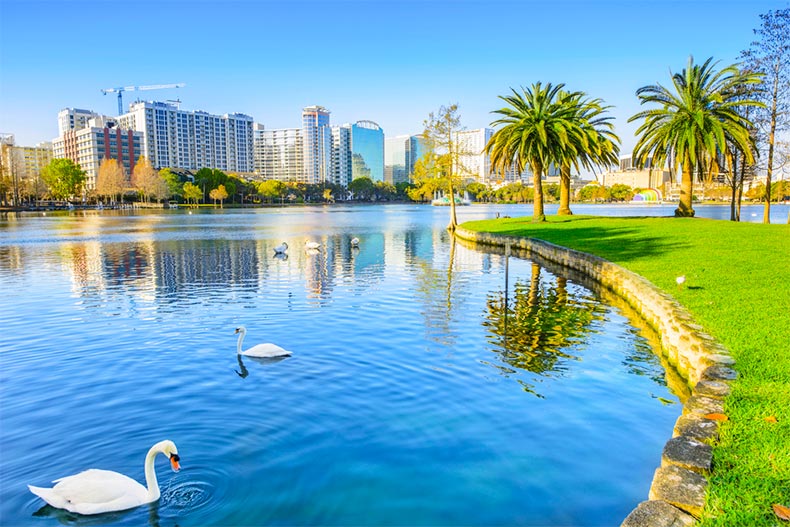 Central Florida is for the birds and by birds we mean swans. Locals love to sit in the swan boats at Lake Eola Park in Orlando. Visitors can rent a swan boat for 30 minutes for only $15, and take their time cruising around the lake with family, friends, or a special sweetheart. It provides captivating views of the Orlando skyline and a relaxing way to spend half an hour.
There's a paved path that encircles the lake which is nearly a mile long and perfect for walks or runs. If you'd prefer to visit with real swans, head over to Lake Morton in Lakeland. The Queen of England gifted a pair of swans to the town in 1923. The descendants of those royal swans float around Lake Morton and come onshore to sun themselves among geese, ducks, ibis, wood storks, and other birds. Locals are proud of these swans and spend a lot of resources caring for them.
Feed Yourself Like a Local
Food is a very local thing in Central Florida. If you want some truly special tacos in Orlando, be sure to check out Hunger St Tacos in Winter Park. Their menu is brief, simple, and fresh, and all of their seating is outdoors. Local Orlando pizza aficionados rave about Pizza Bruno and their traditional pies.
In Tampa, you'll find Cuban food that locals claim rivals Miami's Little Havana neighborhood. Try the Cuban sandwich at West Tampa Sandwich Shop or Brocato's Sandwich Shop. Locals consider the best Spanish restaurant in Central Florida to be The Columbia. Visit the restaurant in Tampa, Clearwater, Sarasota, and Orlando. For drinks and nightlife with a local feel, hit up IceBar Orlando on International Drive, any of the clubs and bars in Tampa's Ybor City neighborhood, or the craft beers in Lakeland at Cob and Pen.
Local Logistics: Things to Know
Central Florida is easy to visit any time of the year. Locals love it the most in the late fall and the early spring, between the major tourist seasons. You can always count on sunshine, and in the summer there will be a thunderstorm nearly every afternoon, but it won't last long. Hurricane season starts in July and ends in November. This isn't normally a factor for Central Florida, but Hurricane Irma did some serious damage in 2017, not a single part of the state was spared.
Pick your lodging with a few things in mind. There are more than enough hotel rooms. In fact, when it comes to volume, Orlando has the second-highest number of hotel rooms in the U.S. There are nearly 150,000 of them. Resorts will often offer special discounts and packages, especially if you're planning on purchasing theme park tickets. If you really want to stay like a local, consider an Airbnb or something similar. You'll have the opportunity to stay in a local property, and most hosts will be happy to provide tips on their favorite local spots.
Having a car is probably essential. There's very little public transportation in Central Florida, and you'll want the freedom to explore your surroundings. The good news? Gas is usually much cheaper in Florida than in other states. So, hit the road and get to know the area.