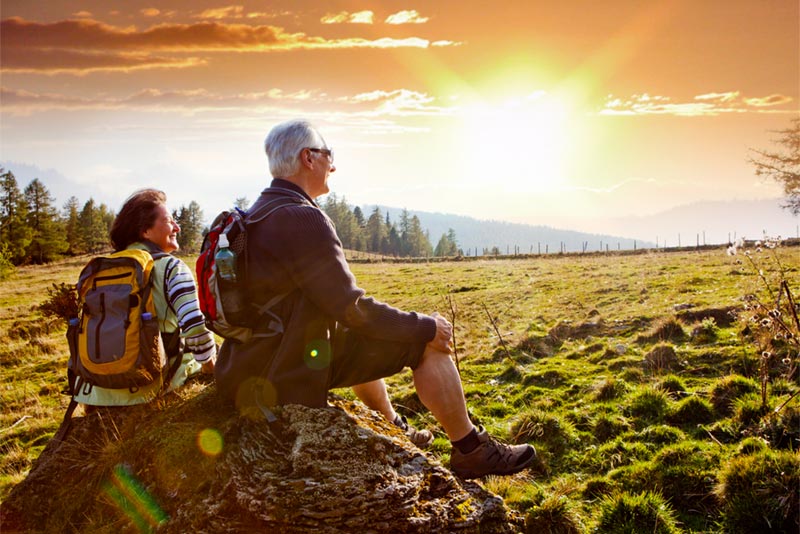 Retirement once conjured images of rocking on the front porch, knitting, and playing chess. Today's retirees are a bit more adventurous. They know how to relax and they know how to play hard. Some retirees are even making news with their active adventures, like even setting world records in the process.
Climbing Mt. Everest
On July 14, 2010, 82-year-old George Solt reached the peak of Mt. Kilimanjaro, the highest mountain in Africa. Solt, who is from Maidenhead, England, climbed the mountain in six days and spent another two days climbing back down. The Guinness Book of World Records has not yet verified his climb, but Solt could soon be officially listed as the oldest man to successfully climb Mt. Kilimanjaro. In the meantime, that title is held by Min Bahadur Sherchan, from Nepal, who reached the peak in May 2008 at the age of 76.
Skydivers Over Sixty (SOS)
Another world record was set by a group of older active adults on January 17, 2009. The record was set by members of Skydivers Over Sixty (SOS) for successfully completing the largest formation created by skydivers who are all 60+. They set the record with a formation of 48 skydivers, beating the previous 43-person formation by five people. You can watch the inspiring video of this amazing feat online.
Active Adult Adventures
These impressive examples clearly show that getting older doesn't necessarily mean giving up the activities that you love. For most people, that will not include breaking any world records, but it does mean that age alone shouldn't be enough to deter you from an activity. Just remember that getting older may bring the need for some extra precautions, and it's a good idea to check with your doctor before trying a new exercise or activity at any age.
Active Adult Communities for Adventurous Adults
Active adult communities offer a variety of social clubs, including those geared toward many sports and activities. Basketball, tennis, softball and many other on-site sports offer resident athletes an opportunity to stay in top form with some friendly competition. There are clubs that bring together residents who love camping, hiking, horseback riding, and other adventurous activities. Those who enjoy scuba diving can even find SCUBA clubs at communities such as Cascades at St. Lucie West in Florida and Sunland Springs Village in Arizona.
Motorcycle clubs are also gaining popularity at active adult communities. Both beginner and veteran bikers can join these social clubs to arrange group trips, learn about motorcycle safety, and simply share their love of motorcycles. Just a few of the active adult communities that offer motorcycle clubs are Sun City Apple Valley in California, Heritage Pines in Florida, Anthem Ranch in Colorado, Province in Arizona, and Village at Deaton Creek in Georgia.
Getting older doesn't mean that you are too old for your favorite activities. Look to the inspirational stories of others and remember that you are only as old as you feel. Are you involved in an exciting activity? Tell us about it in the comments section below.