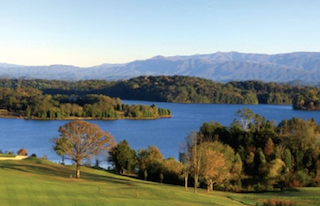 Set along the shores of the Tennessee River, in the foothills of the Great Smoky Mountains, Knoxville, Tennessee, offers a fabulous getaway for active adults. This scenic city features a wide range of urban attractions, as well as a rich history and a number of natural parks and outdoor recreations. Not far from Knoxville, suburban communities often feature resort-style amenities that appeal to active adult retirees.
Location & Climate
Located in Eastern Tennessee, Knoxville is the third largest city in the state. Knoxville is about an hour south of the Kentucky border, less than two hours northeast of Chattanooga and just under three hours east of Nashville. This southern state has hot and humid summers with average days in the high 80s, although temperatures can climb to over 100 degrees. Winters are generally mild, with days in the high 40s, yet there is typically some snowfall in January and February.
Local Attractions
Downtown Knoxville offers shops, restaurants, historical tours, live performance venues, and more. The Knoxville Visitors Center is a prime stop for first-time visitors, as it offers information about all the local hot spots and seasonal happenings. Regional tours in the downtown area include explorations of historic architecture, Knoxville's role in country music, highlights of the Civil War, and haunted ghost tours.
For educational fun, the Knoxville area offers a wide range of museums and historic sites. Visitors can explore popular attractions such as Blount Mansion, James White's Fort, the McClung Museum of Natural History and Culture, the Knoxville Museum of Art, and the Women's Basketball Hall of Fame. When it comes to live entertainment, Knoxville features a number of theater companies, music venues, festivals, and fairs. In the summer, theater lovers can enjoy Shakespeare on the Square in the heart of Downtown Knoxville. Other options include the Knoxville Symphony Orchestra, Knoxville Opera, Carpetbag Theatre, Knoxville Choral Society and the annual Tennessee Valley Fair.
Active adults who love to shop will find both local boutiques and well-known chain stores in Downtown's Market Square District. There is also great shopping in West Knoxville's Bearden District and in the Shops at Turkey Creek. Restaurants also serve up diverse fare, including regional favorites and cuisine from around the world. Southern specialties in Knoxville include fried catfish, barbecue spareribs, hickory-smoked pork, and farm-fresh produce.
Recreation
Of course, the Knoxville area's sunny climate and scenic beauty is the perfect setting for many outdoor recreations. There are a number of public and private golf courses in Knoxville, including Willow Creek Golf Club, Dead Horse Lake Golf Course, Cherokee Country Club, and Fox Den Country Club. At Worlds Fair Park, locals and visitors can enjoy open lawns, fields of flowers, waterfalls and tranquil streams. Other recreation areas include Outdoor Knoxville Adventure Center, Second Creek Greenway, and Krutch Park.
Active adults who plan to settle in the Knoxville area will find several open-age communities whose indoor and outdoor amenities support resort-style living. These developments are often found outside of Knoxville in nearby communities like Loudon, Vonore, and Farragut. Whether planning a visit or looking for a retirement destination, the Knoxville area offers scenic beauty and an exciting mix of indoor and outdoor recreations.