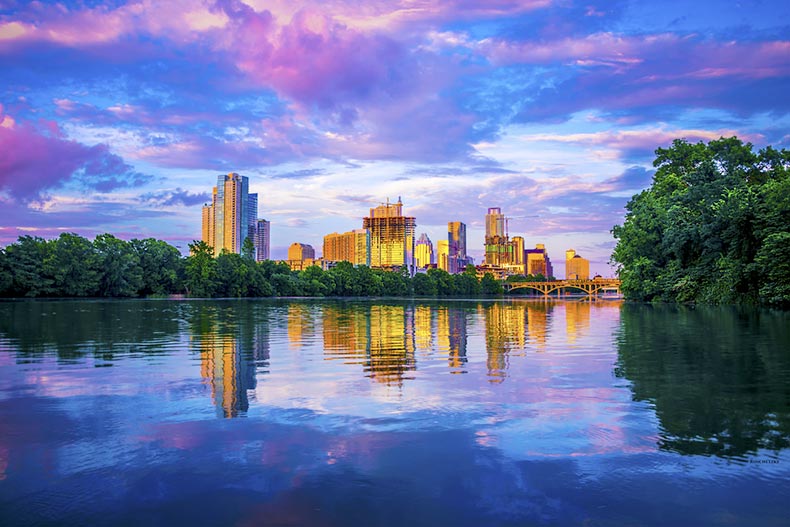 There are many reasons to retire in the Texas Hill Country, from the picturesque landscape to the diverse culture. Active adult homebuyers looking specifically for Austin, Texas homes for sale can choose from a variety of 55+ communities throughout suburban Austin. The area contains more than a dozen active lifestyle communities that make it easy to enjoy all that Austin has to offer.
Whether you're thinking about moving to Austin or you already live nearby, you'll find the city is rich with entertainment opportunities. Read on to explore some of the best things to do and places to see on a day trip to Austin, whether you're exploring solo, entertaining the grandkids, or going with a group of friends.
How to Spend Your Day in Austin
Austin is home to world-class shopping and dining destinations, but that doesn't mean you have to put a dent in your wallet to enjoy the city. There are many free things to do in Austin, whether you want to spend time outside or browse some of the city's museums.
If you're new to Texas or you're a history buff, immerse yourself in Texas history on a free, guided tour at the historic Texas Capitol Visitors Center. Each 30-minute tour takes you on a journey through the massive three-story structure—the largest capitol building in the country. Those who prefer to explore at their own pace can pick up a free self-guided tour pamphlet and spend the day learning about Texas traditions.
To experience Austin's beauty, start by hopping on a bike. You can rent a bicycle from Austin Bike Tours and Rentals and join an organized adventure or explore on your own. Go for a ride along the peaceful Hike-and-Bike Trail and pause to reflect on the spectacular scenery at Barton Springs Pool.
When grandkids come to visit, be sure to put Zilker Park at the top of your list. Considered Austin's most-loved park, this 351-acre metropolitan park is a great place to play disc golf, enjoy a picnic, play sand volleyball, or rent a kayak.
Where to Eat in Austin
Austin's culinary scene offers a variety of flavors, whether you're into traditional Texas fare or you want to get a taste of more global-inspired bites.
If your day trip takes you south of Austin, be sure to check out some of the best south Austin restaurants such as Evangeline Cafe, which serves up Cajun-Creole cuisine with a side of live music, or Full English, which offers all-day British breakfast along with high teas and tea parties.
For those interested in vegan restaurants in Austin, stop into Counter Culture for made-from-scratch food with plenty of daily specials, or The Beer Plant, which offers a vast menu of plant-based dishes plus 40 craft beers. And since no trip to Austin is complete without tacos, you can indulge in vegan varieties at The Vegan Nom, which offers a breakfast and brunch menu along with both a daytime and a nighttime menu. Be sure to order a Nueva Onda, a taco stuffed with a satisfying mix of tofu, sweet potato hash browns, and avocado.
If a hearty plate of spaghetti and meatballs sounds more appealing, check out one of the many Italian restaurants in Austin. Patrizi's is known for its hand-pulled, made-to-order pasta. Or check out Reale's, which features a cocktail lounge and al fresco dining.
Austin day-trippers can satisfy any craving at a multitude of downtown Austin restaurants. At Second Bar and Kitchen, locals have come to love the flavorful variety of small plates and hand-crafted cocktails. Those who want to sample regional French cuisine can do so in the heart of Downtown Austin at Chez Nous, a cozy neighborhood bistro that serves authentic French fare like truite meunière and confits de canard aux abricots.
Exploring Austin's Nightlife
When you're in Austin for a day trip, you might as well stay a little longer and experience Austin when the sun goes down. There are plenty of things to do in Austin at night, starting with watching the sunset from Mount Bonnell or taking a sunset cruise.
For a truly Austin experience at night, don't miss the flying of the bats from beneath the Congress Avenue Bridge. The winged creatures usually fly around sunset, but the show can sometimes unfold later in the evening—anywhere from 7:30 to 9:45 p.m.
When you're in Austin at night, you can also enjoy the city's eclectic live-music scene. The Continental Club is an Austin icon, featuring live music every night, from rock and country to jazz and blues.
Make the Most of Austin
Living in a 55+ community near Austin allows active adults to fully embrace the city's offerings. From outdoor adventures during the day to exciting excursions at night, Austin offers plenty of fun things to do and experience.