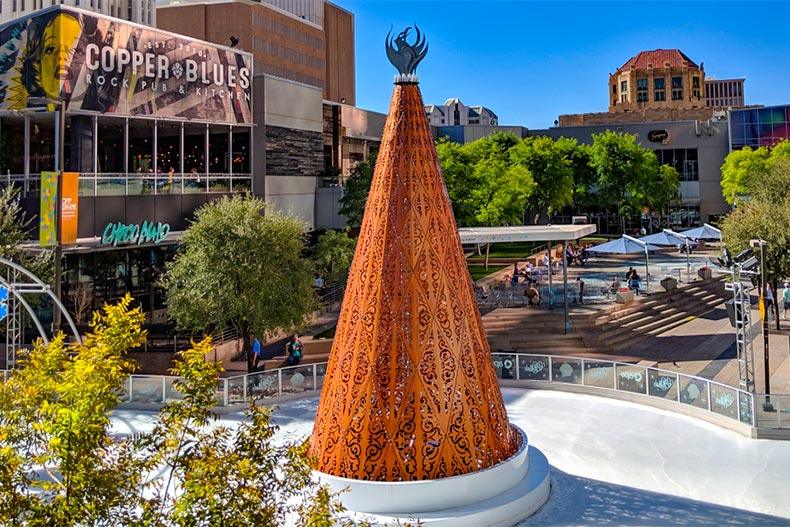 As the holidays approach, many active adults in the Phoenix area are marking their calendars for trips and activities to enjoy with friends and family. With light festivals, cultural attractions, and musical performances, Phoenix has an assortment of holiday events to check out. Our helpful guide explores some of the best activities and events to put on your calendar during this holiday season.
See a Holiday Concert or Show
Phoenix has a number of concerts and shows during the holidays. The Phoenix Symphony, Arizona Masterworks Chorale, and Tempe Symphony Orchestra all have festive concerts planned for the holiday season.
Be sure to also check out TheaterWorks in Peoria, AZ, which always has a great lineup of performances. This year, performances will include classic productions like A Christmas Carol and contemporary shows like A Merry Gishmas, which features singer James Gish's jazzy renditions of Christmas songs. And don't miss Ballet Arizona's performance of The Nutcracker at Symphony Hall in Phoenix. The performance will be accompanied by live music performed by the Phoenix Symphony.
Holidays at the Heard
For active adults seeking a festive cultural attraction, Holidays at the Heard is a great option. This annual event at the Heard Museum in Phoenix celebrates American Indian culture. This year's event will feature hands-on activities, book readings, traditional dancing, throat singing, live music, and more.
Visit a Holiday Festival
Brighten up the holiday season by visiting one of many festivals in the Phoenix area. Lights of the World, held at Arizona State Fairgrounds in Phoenix, is one of the top five Christmas light shows in the country. With 65 displays, over six million lights, free carnival rides, and acrobat shows, this incredible light festival is a great activity to enjoy with the grandkids.
The Phoenix Zoo also holds a beautiful light show every year. Now in its 25th year, the annual Zoolights event will feature millions of lights, a towering holiday tree, live reindeer, and a 4-D theater.
For those seeking a more traditional experience, be sure to visit the Glendale Glitters Spectacular Weekend. Visitors can explore 16 blocks of Glendale's historic downtown district, which will be adorned with 1.5 million lights. The event will also feature live entertainment, horse-drawn carriage rides, a petting zoo, snowfield, and more.
Phoenix's Desert Botanical Garden will also host a dazzling light show with its Las Noches de las Luminarias event. The botanical garden will be transformed with thousands of twinkle lights on the ground and 8,000 luminaria bags along walking paths. The event will also feature nine musical ensembles throughout the grounds for a magical evening.
Phoestivus Open Air Holiday Market
Catch up on last-minute shopping at the Phoestivus Open Air Holiday Market. This all-inclusive holiday event at the Phoenix Public Market features over 150 local vendors. Visitors can find locally grown produce, hand-crafted gifts and jewelry, one-of-a-kind holiday decorations, and more. Last year's event drew more than 6,000 people, and this year is expected to be just as popular.
Christmas Day Brunch At Omni Scottsdale Resort & Spa At Montelucia
For a relaxing day with the family, head to Omni Scottsdale Resort & Spa Montelucia for a delicious brunch on Christmas Day. Featuring live music and patio seating, this event is a great way to enjoy quality time with the grandkids and get Christmas off to a great start. Later in the day, the resort also offers a four-course Christmas dinner with festive holiday music.