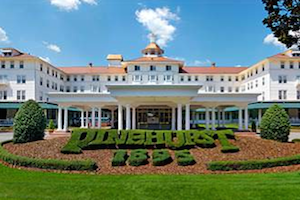 Located in Central North Carolina, the Village of Pinehurst is known for its historic charm and Southern hospitality. It is also the home of Pinehurst Resort and other popular golf retreats, and home to both the Men's and Women's 2014 U.S. Open. The area features several active adult communities, as well, making it a lovely place for an active retirement.
The Pinehurst area is located in North Carolina's Sandhills region. This particular region divides the Piedmont and coastal plains, and includes ancient beach dunes that were created when the coastline was farther inland (about 20 million years ago). Today, the Village of Pinehurst offers small-town charm, while the surrounding area includes lakes, golf courses and resorts, shopping centers, restaurants and other recreational pursuits.
With its Central North Carolina location, the Pinehurst area typically has warm summers and cool, but mild winters. During the warm summer months, average temperatures are generally in the high 70s, while daytime highs can climb into the high 80s. In the winter, January brings the coldest temperatures, with averages in the low 40s and daytime highs in the low 50s. Winters can also bring some occasional snowfall.
If you're planning a trip to Pinehurst, the area features several historic inns and resorts, including Pinehurst Resort, Pinecrest Inn, Holly Inn and Magnolia Inn. These picturesque retreats offer scenic grounds, delicious dining and charming accommodations which make you feel like you've stepped back in time.
To learn more about the area's history, you can explore the Tufts Archives at the Pinehurst History Museum or take a self-guided walking tour of the Historic Village of Pinehurst. Nature lovers will also enjoy a trip to the Village Arboretum which includes 35 acres of lovely gardens and preserved areas.
Of course, Pinehurst is best known for its impressive golf courses and rich golf history. In 1996, the Village of Pinehurst and Pinehurst Resort were given National Landmark status for their significant role in U.S. golf history. Pinehurst is home to both the Men's and Women's 2014 U.S. Open, and has been named the "Best Golf Resort in America" by Golf Magazine. It has also been a stop on the PGA Tour and has hosted the PGA Championship.
Golfers can enjoy fun and challenging play at courses throughout the Pinehurst, Southern Pines and Aberdeen Area. Pinehurst Resort features nine distinctive courses and has been called the "St. Andrews of American Golf." Additional Pinehurst golf courses include the Country Club of North Carolina, Forest Creek Golf Club, Midland Country Club and Pinewild Country Club.
Active adults who want to settle near the Village of Pinehurst will have no trouble finding appealing Pinehurst area communities. There are age-restricted developments, like Pinehurst Trace, as well as open age communities, such as Knollwood Village. These neighborhoods are typically small, with less than 250 homes, providing close-knit communities with plenty of local amenities.
Whether planning a golf getaway or looking for a retirement destination, consider a trip to beautiful Pinehurst, North Carolina.