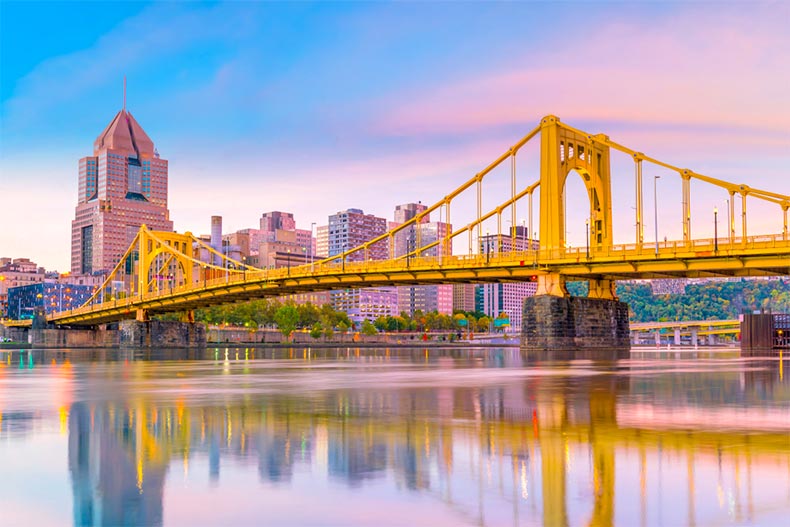 The Pittsburgh of today is very different from years past. Originally successful as a steel town, it fell on hard times in the 1990s when the industry had a downfall. Around the year 2000, things started turning around. Local university graduates and the like started to set down roots, focus on research and technology, network, and develop their communities. The area is now being hailed for its resurgence in education, technology, industry, culture, and most importantly, livability.
Livability Factors
The word about Pittsburgh's high quality of life is getting around, and active adults are starting to take notice. In fact, AARP called the city a "retirement hotspot." It may not have year-round warm weather, but there are many other benefits that may outweigh higher temperatures.
Smart active adults value the importance of an affordable cost of living, top health care, and thriving cultural scenes, and Pittsburgh scores high on all of these counts. Getting around is easy and affordable, too. The city's public transit system has been greatly improved during the past decades. Pittsburgh also ranks as the 25 most walkable city.
Affordable housing costs are another plus. Almost 70 percent of Pittsburgh area residents own their own homes. Pittsburgh's tax rates are also retirement friendly. Pennsylvania's income tax rate is low at 3.07 percent for every taxpayer in the state. Also, tax retirement income from IRAs, 401ks, social security, and pensions is not taxable in Pennsylvania. Homeowners who are 65+ on limited incomes may also qualify for property tax rebates.
So Much to Do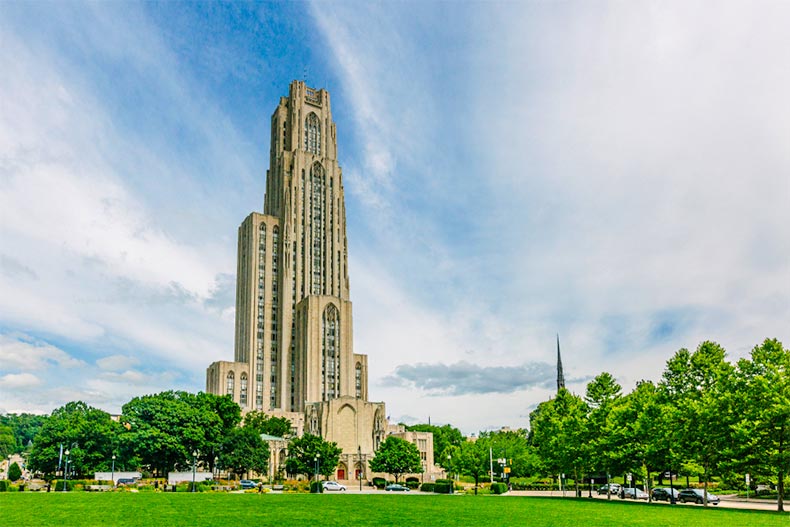 University of Pittsburgh's Cathedral of Learning is a must-visit.
The nearest beach may be two hours away, but there are dozens of nearby parks and recreation areas. The impressive Phipps Conservatory and Botanical Gardens has 23 gardens, seasonal displays, and special events. Frick Park, Mount Washington, the Pittsburgh Zoo, and Point State Park also offer 55+ adults ample opportunities for viewing nature at its finest.
Indoor pursuits include world-class museums like the Carnegie Museum of Natural History, Cathedral of Learning, and for something eclectic, the Frick Art and Historical Center.
The area dining scene can be hip, trendy, upscale, or homey, depending on your mood. The Church Brew Works is one example of a truly unique dining experience. This restaurant serves American fare and libations in a beautifully restored church. Altius is one of the area's finest restaurants. For comfort food, Pamela's Diner is known for its stellar breakfast platters.
The Necessities of Life
Like all big cities, Pittsburgh has all the modern conveniences that active adults need, including shopping outlets, many of which are located in the walkable downtown area. For medical care, the University of Pittsburgh Medical Center is ranked number one in the city. Other options include Allegheny General Hospital and HealthSouth. The city is also home to some of the nation's finest educational institutions, including the University of Pittsburgh, Carnegie Mellon University, and Chatham University.
For many active adults and retirees, sports are another necessity of life—and Pittsburgh it all on offer. From top professional teams like the Pirates, Steelers, and Penguins to the Pittsburgh Hammers rugby team, it seems like there is always a big game to see.
Golfers can pick from over 500 private and public courses in the area, many of which are ranked in Golfer's Digest. Olde Stonewall is a top-rated public course in nearby Ellwood City and Oakmont Country Club is one of the finest private courses in the entire state.
Strike While the Iron Is Hot
Even though Pittsburgh is no longer a steel town, that saying still applies. With so much going for it, this city's popularity is going to increase, and it is possible that housing costs will increase with time. Below are some of our highly recommended active adult communities in the Pittsburgh area.
Pittsburgh, PA Active Adult Communities
Mid $200s - Mid $500s
80 new attached and single-family homes
Mid $200s - Low $300s
241 new attached and single-family homes
High $200s - Mid $300s
133 new attached and single-family homes
Low $300s - High $300s
100 attached resale homes
Low $400s - Mid $600s

134 new and resale attached homes