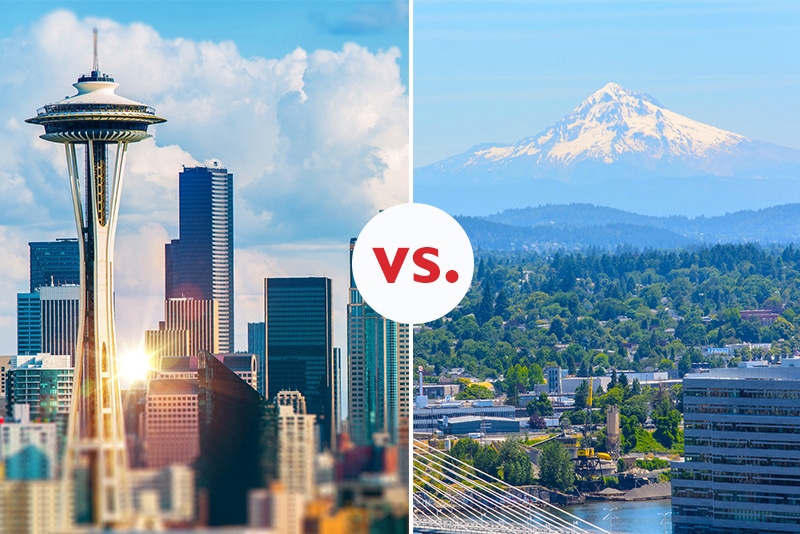 Portland and Seattle are both popular urban cities that offer numerous attractions, great outdoor recreation, a diverse culture, four-season climate, and plenty of scenic beauty. Both cities also attract retirees who are looking for a retirement destination that doesn't include a tropical or desert environment. While Portland and Seattle share many similarities, each city does have something unique to offer Baby Boomers in their own special way.
Portland, Oregon
Portland is the largest city in Oregon and is one of the eco-friendliest cities in the world due to its emphasis on low-carbon living. Retirees who seek a green lifestyle will love Portland's events like their Earth Day festivities, neighborhood farmers markets, rose gardens, urban forests, Portland Rose Festival, and more than 10,000 acres of parks.
Portland also has a college-town vibe that offers plenty of continuing education courses from several universities in the area, including Portland Community College, which offers a 50% discount for residents 62 or better. Portland is also a highly walkable city, making it easy to get anywhere quickly without using a car. A majority of residents get around on bikes thanks to the city's 315 miles of bikeways.
Seattle, Washington
Seattle is also a bike-friendly city and has an urban trail system that lets riders travel through the city seamlessly. Seattle is known as the birthplace of the alternative grunge rock scene, quaint coffee shops (including being home to the original Starbuck's storefront), and is one of the most literate cities in the country with about 80 percent of residents registered for library cards. This thriving urban center also provides breathtaking views of Puget Sound and the Cascade Mountains.
Climate
Portland also has a beautiful skyline that offers views of Mt. Hood and the West Hills in the distance. Many active adults are choosing to age in place instead of relocating to warmer climate regions like Florida or Arizona. That's why Portland and Seattle are ideal retirement destinations for active adults who want to experience a four-season climate.
Seattle and Portland have generally mild winters with higher than average rain and occasional snowfall. Seattle is known for being a rainy city, getting about 36 inches of rain a year, but most of the rainfall occurs during the winter months when average temperatures are in the mid-40s. Summers in Seattle and Portland are pretty enjoyable with mild temperatures in the mid-70s to 80s. With a diverse climate, retirees can enjoy the distinct seasons in a beautiful and natural setting.
Attractions
Whether you're living in Seattle or Portland, each city has its own rich lineup of exciting attractions and cultural offerings. Portland's culinary and cultural scene is thriving with farm-to-table and organic restaurants, microbreweries, and food trucks. The city is also home to cultural attractions like the Portland Opera, Oregon Symphony, and Oregon Museum of Science and Industry.
Not to be outdone, Seattle also has a wide selection of attractions, including the famous Space Needle's Observation Deck that offers unparalleled views of the city's skyline. Retirees can take a ride on the Seattle Monorail, go on a whale-watching cruise on Puget Sound, or shop at Pike Place Market, which is the most popular farmers market in the country.
Not as famous — but still great — is Portland's Saturday Market, which is similar to Seattle's farmers market but on a smaller scale. Other cultural offerings in Seattle include Pacific Northwest Ballet, Seattle Chamber Music festivals, the Seattle Symphony Orchestra, and Seattle Opera.
Recreation
Residents can also enjoy numerous outdoor green spaces and national parks in both cities year-round, which promote active living that attracts retirees. Seattle has the 535-acre Discovery Park, which is the largest park in the city, and is perfect for recreational activities. Boomers can hike or ski in the nearby Cascade or Olympic Mountains as well as kayak or sail in the waters of Puget Sound.
Portland also has great parks and green spaces for outdoor enthusiasts. Forest Park is one of the largest wilderness parks within a major city in the country and offers more than 5,000 acres of lush landscape. The city is also home to Mill Ends Park, the world's smallest park. Washington Park is home to the Oregon Zoo, the Portland Japanese Garden, and the International Rose Test Garden.
When it comes to sports, both cities have their own teams to cheer on. Portland is home to two major league franchises: Portland Trail Blazers of the NBA and the Portland Timbers of Major League Soccer. Seattle is home to the Seattle Seahawks of the National Football League, Seattle Mariners of the Major League Baseball, and Seattle Sounders FC of Major League Soccer.
Communities in Portland
Active adults looking to retire in Portland or Seattle will also find a great selection of 55+ communities in the area. Portland itself has three active adult communities within its city limits including King City, Claremont, and Summerplace. Each community features a variety of home designs, world-class amenities, and a welcoming social atmosphere that is sure to attract retirees. The surrounding area has several more 55-plus communities, sure to accommodate the wants and needs of active adults from all walks of life.
Communities in Seattle
The Seattle-Tacoma Area is also a vibrant region with 55+ communities like Trilogy at Redmond Ridge, which is an established age-restricted community with 1,574 homes. Jubilee at Hawks Prairie and Trilogy at Tehaleh are other active adult communities in the area that offer new and resale homes as well as resort-style amenities like lavish clubhouses, recreational facilities, and activities. Whether retirees decide to retire in Seattle or Portland, each city has something great to offer that will keep them active outdoors all year long.