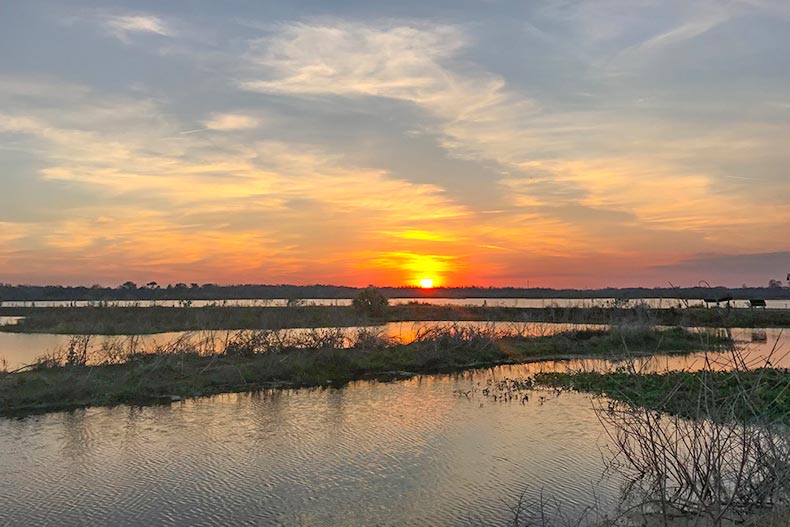 In Central Florida, communities like Lakeland and Winter Haven offer something a little different than what you'll find on the coasts. You'll enjoy freshwater lakes, lots of nature, and plenty of culture and recreational activities to keep yourself active while relishing the perpetually warm weather and flush of Vitamin D from year-round sunshine.
Lakeland Has the Prettiest Parks
Whether you're hoping for a sunset stroll or a picnic lunch, you'll have no trouble finding a scenic park in Lakeland. The city has more than 70 parks with amenities that range from skating areas to jogging paths and pickleball courts. There are also picnic pavilions, dog parks, and fishing in several locations. For some shuffleboard or a pleasant walk along a lake dotted with water lettuce and several species of ducks, visit Lake Parker Park. Walk a labyrinth, cool off on the splash pad, or take in a show at the Lake Mirror Amphitheater when you visit Barnett Park. Downtown Lakeland is full of restaurants, shops, coffee bars, and lovely Lake Morton, where you can visit with and feed a community of birds, including white swans, black swans, wood storks, ibis, and geese.
Winter Haven's Chain of Lakes
Twenty-four lakes are connected by a manmade canal in Winter Haven. They provide numerous opportunities for fishing, boating, swimming, and water sports. They also grant visitors a peek into the history of Central Florida. The canal was necessary for farmers and merchants to move citrus crops from farm to city to railroad. The Chain of Lakes in Winter Haven is part of the 54 lakes found in Polk County.
Hiking and Horsing around in Colt Creek State Park
Take a country drive outside the city of Lakeland, up state road 471. Eventually, you'll run into Colt Creek State Park, where you'll find over 5,000 acres of natural forest and pine flatwoods for hiking, biking, horseback riding, fishing, and boating. Overnight trailer and primitive camping is also permitted. If you're interested in wildlife, chat with the ranger at the welcome station, who will tell you where the twin reticulated bobcats were last spotted. You're also likely to encounter white-tailed deer, alligators, otters, and the endangered gopher tortoise. Birders will enjoy the bald eagle sightings, as well as the presence of migratory songbirds and wading birds like herons, egrets, and cranes.
Where to Eat and Drink
If you're hungry and you want some regional flavor, Andy's Driven In Restaurant and Igloo in Winter Haven has long been the favorite diner for locals. For fresh seafood and gorgeous views of Lake Shipp, visit Harborside Winter Haven. They feature weekly fish specials and it's a great venue for private parties and events. In Lakeland, visit the Bay Street Biergarten downtown for some Bavarian food and a pint or two. The Main Street Diner in Lakeland is the place to be for coffee breaks, breakfast and lunch. Wear the stretchy pants when you eat at this cozy, casual place right across the street from the Detroit Tigers' spring training stadium.
Getting To and Around Lakeland and Winter Haven
The Central Florida cities of Lakeland and Winter Haven are less than an hour from Tampa to the west and Orlando to the east. When you choose to live in Lakeland-Winter Haven, you're also close to Ocala and its horse farms and national forest, and an easy drive from the beaches on the Gulf Coast and the Atlantic Coast. Right off Interstate 4, Lakeland and Winter Haven provide easy access to Interstate 95, Interstate 75, or any of Florida's scenic back roads.