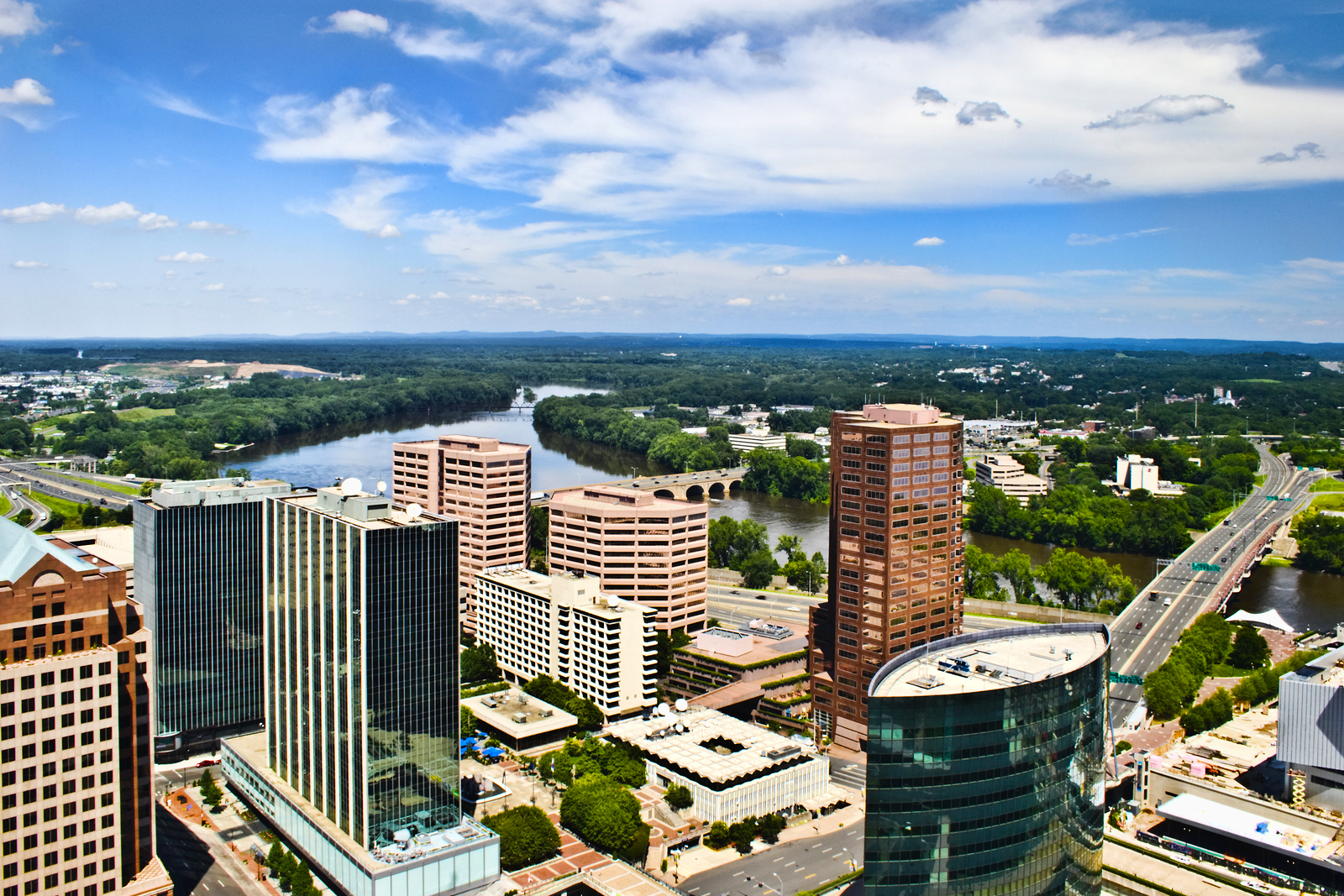 Hartford is a historic and charming town in Central Connecticut that is the state's capital and is the third-largest city in the state. It's famous for being the home of Mark Twain's House, where some of the author's most notable works were written. The Hartford area is also known to attract retirees who seek diverse cultural attractions, scenic beauty, and a variety of active adult communities.
Much of the city's rich history dates back to the early 1600s to the first European settlers. The settlers originally named the area Newtown, but was changed to Hertford in 1637 (pronounced "Hartford") in honor of Puritan pastor Samuel Stone's hometown in England. Since its colonial days, Hartford has evolved from a quaint town popular among abolitionists in the late 1800s to the home of famous authors like Mark Twain and Harriet Beecher Stowe to a business center.
The city is nicknamed "Insurance Capital of the World" because of all the insurance companies headquartered there. The insurance industry is also a major driver of the region's economy.
Founded in 1635, Hartford is one of the most historic cities in the country. It is also home to the nation's longest-running public art museum, publicly funded park, and published newspaper, The Hartford Courant. During the American Civil War, Hartford was a prominent and wealthy city, but as the years passed that wealth left for other regional cities. Despite this economic setback, Hartford has seen continuous growth in addition to offering cultural gems throughout the city as well as plenty of modern and historic attractions.
Today, Hartford's central business district has a number of historic spots and entertainment venues, such as the Wadsworth Atheneum, Bushnell Theater for Performing Arts, Hartford State, Trinity College, Elizabeth Park, Old State House, Cedar Hill Cemetery, and public tours of Mark Twain's home and the Harriet Beecher Stowe Center. The area also boasts plenty of outdoor recreation like forests, nature centers, gardens, and scenic hiking trails. The Connecticut River Valley offers breathtaking views of the landscape as well as recreational activities like riverboat cruises, ski slopes, and hiking trails.
Bushnell Park is popular for having a restored 1914 carousel and the Science Center of Connecticut in West Hartford is known for having a hands-on museum that features live animals and other exhibits. Hartford also has a thriving arts scene with galleries showcasing works of local and international artists. The city and its surrounding suburbs also offer a wide selection of fine dining, boutiques, and shopping centers, which are helping Hartford's redevelopment efforts.
Locals and tourists often stop at Adriaen's Landing, which is home to the Connecticut Convention Center and Connecticut Science Center, featuring a combination of retail shops, entertainment options, and housing.
With Hartford being located in the center of Connecticut, it makes it easy for retirees to visit other places of interest. The city is about 45 minutes north of New Haven, two hours northeast of New York City, and just under two hours from downtown Boston. Active adults looking for 55-plus communities in the area will have several options to choose from that come in a variety of sizes and price points.
Newington Ridge Preserve in Newington is a quaint 55+ community that will only consist of 16 homes that are priced in the mid $300s.
There are also more established communities like The Powder Forest Homes in Simsbury, which offer 182 homes and well-appointed amenities.
Many of the active adult communities in the Hartford area feature tranquil settings where residents not only enjoy the community's amenities, but also the area's natural surroundings. North Woods of Colchester caters to the 55+ crowd by providing low-maintenance homes situated amid 78 acres of beautiful woodlands in Colchester, CT. Quaker Green, an active lifestyle community in West Hartford, features new and resale attached homes and condos within a quiet, park-like setting as well as easy access to downtown Hartford, New Britain, Long Island Sound, and West Haven.