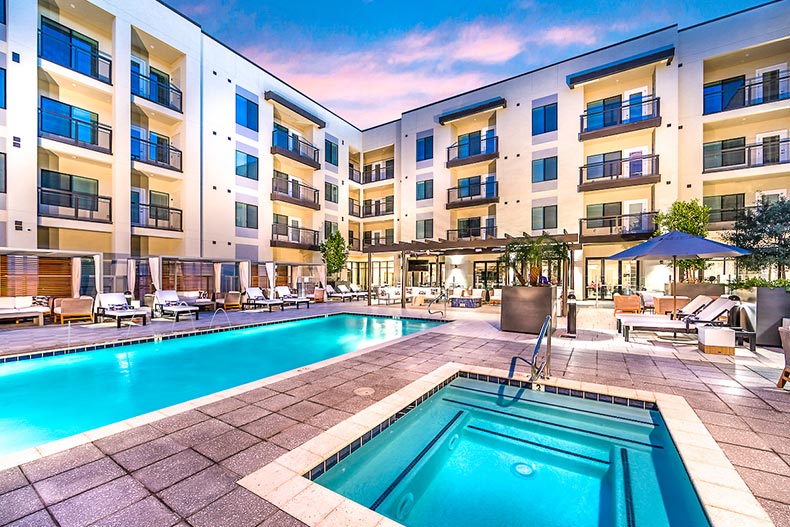 Built from 2018 to 2019, Overture Kierland is a rental community of 170 apartments for 55+ active adults. It has amenities such as a yoga studio and an outdoor pool, and it's in a residential part of Scottsdale, Arizona with nearby shopping, dining, entertainment, and other recreational options.
Apartments
There are 18 apartment models, the smallest being 621 square feet with one bedroom and one bathroom. The largest models have 1,447 square feet with two bedrooms and two bathrooms. All apartments have gourmet kitchens with stainless steel appliances, and all have either a patio or a balcony. Some of the larger one- and two-bedroom models also have a den, which can double as a small additional bedroom. All but the very smallest 621-square-foot model also have walk-in closets.
Amenities
If you're keen on health and fitness, then Overture Kierland has many amenities for you, including a pool, a Jacuzzi, and a bocce ball court. Eating and drinking choices include Nosh, a coffee bar and bistro, and Cork, a private dining room. There's also a demonstration kitchen and an outdoor grill area. Additional amenities include a yoga studio, a billiards and games room, a dog park, and a movie theater.
Social Life
If they wish, residents can enjoy a very active social life at Overture Kierland. There are a large number of clubs, classes, and activities, including writing and art classes, cookery classes, computer and software courses, a drama club, a book club, holiday parties, potlucks, and movie nights. There are also organized day trips. Residents get together for regular happy hours, and there are also yappy hours for dog owners to meet and socialize with their pets.
Location
Overture Kierland is only a 10-minute walk from Kierland Commons, the first lifestyle center in Arizona. Based around its Main Street and designed with a small-town feel, Kierland Commons is a combination of residences, shops, restaurants, entertainment venues, banks, and other amenities. Kierland Commons also has several bars, cafes, and wine bars as well as dozens of stores, including Crate&Barrel and Tommy Bahama.
Downtown Scottsdale is a 20-minute drive due south, straight down N. Scottsdale Road, providing more nearby shopping, dining, and entertainment choices. For golfers, TPC Scottsdale is only a 5-minute drive away. Ranked by Golf Advisor as one of the "Top 10 Public Courses in Phoenix/Scottsdale," the Westin Kierland Golf Club at the Westin Kierland Resort and Spa is also within a 5-minute drive of Overture Kierland.
The resort also brings a range of eating options within easy reach of Overture Kierland residents. There's a Latin American restaurant, a whiskey bar, a gastropub, and a bar and lounge with mountain views and live music. It also has a spa.
There are several banks and ATMs within a 10-minute walk of Overture Kierland as well as a post office. A huge Costco and a Walmart Supercenter are also both within a 10-minute drive, along with a Home Depot, a Best Buy, and a Kohl's. There are three movie theaters within a 10-minute drive, with one just a 5-minute walk away.
A 15-minute drive takes you out of the city to the McDowell Sonoran Preserve Gateway Trail, which provides over 30,000 acres of preserved desert landscapes with 225 miles of hiking and biking trails. There are also guided hikes, classes, and lectures.
If you're interested in music, there's a must-see attraction near the apartments: the Musical Instrument Museum. This museum has the largest collection of musical instruments in the world, and they're presented alongside videos, recordings, and cultural artifacts from almost every country in the world. The museum also hosts regular live concerts. Also, a 20-minute drive takes you to the Scottsdale Museum of Contemporary Art (SMoCA); to Western Spirit, Scottsdale's Museum of the West; or to Taliesin West, the former winter home of architect Frank Lloyd Wright and a major tourist attraction in the area.
Heading south of Scottsdale takes you into Phoenix, with Downtown Phoenix a 30-minute drive from Overture Kierland. Here, you'll find attractions such as the Heard Museum, which has the largest collection of Native American arts and crafts in the nation, and Chase Field, home of the Arizona Diamondbacks. Also, Phoenix Sky Harbor International Airport is a 25-minute drive from Overture Kierland.