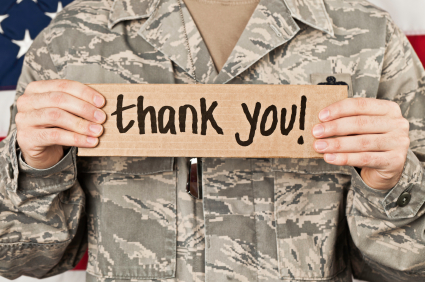 While retirees may no longer work full-time jobs, they may be in a great position to volunteer their time to support our troops, military families and veterans. Diverse volunteer opportunities let retirees use their own skills and resources to help in the ways they find best. From sending care packages overseas to fostering the pets of deployed soldiers, there are many different ways to actively support our troops.
Retirees who want to get involved can start by looking into local USO programs. If there is a USO (United Service Organizations) center near you, submitting a volunteer interest form online lets you create an online profile and sign up for local opportunities. You might like to help at particular USO events, work behind the scenes, answer phones or even sign up as an airport volunteer to guide exhausted veterans as they navigate their way home.
If you live near a VA hospital, nursing home or clinic there are many ways you can volunteer to support wounded veterans. Hospitalized vets are often far from home and separated from their friends and families. Retirees can volunteer directly with patients as a friendly companion, or help out the administration staff in a number of ways. Donating blood to the American Red Cross also helps servicemen and women both at home and overseas.
Lifting the spirits of our deployed troops with letters and care packages is another way to offer support. The U.S. Post Office no longer accepts packages mailed to "any service member" but there are plenty of organizations which coordinate care packages and letter writing programs. Just a few of these groups include: Adopt a Platoon, Blue Star Mothers and Any Soldier. You can also donate money to send a USO care package.
Animal lovers may also be interested in supporting active duty military personnel by fostering their pets while they are overseas. This is particularly important for servicemen and women who are having trouble finding a friend or family member who can take in their pets, or who need short-term pet care until other arrangements can be made. Local shelters and private groups often aid in finding foster homes for military pets. A few well-known programs include: the Military Pets Foster Project, Dogs on Deployment and Operation Noble Foster.
Whether you once served in the military yourself or simply want to help out troops, veterans and military families, there are many programs which make it easy to offer support. Make the most of your retirement by choosing volunteer opportunities which help you help others.