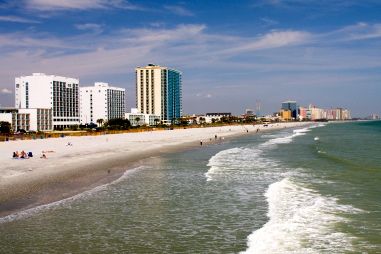 Sought after by many for its island charm, endless stretch of oceanfront beach, sunny climate, and fresh seaside fair, Myrtle Beach is one of the most popular destinations active adults flock to in search of the best retirement communities in South Carolina and, arguably, the world.
Myrtle Beach's Coastal Charm
Coastal towns have been popular with retirees for decades, and it's undeniable that Myrtle Beach, South Carolina, has its own particular charm. This beautiful area features many refreshing 55+ communities as well as a variety of activities which appeal to active adults.
Also known as the "Grand Strand", Myrtle Beach first became popular with vacationers in the early 1900s. Myrtle Beach incorporated as a town in 1938 and became a city 19 years later. The area has been growing rapidly over the last decade, but that has not taken away from its relaxed coastal lifestyle. Whether golfing on award-winning courses with friends, fishing with your grandchildren, or shopping with the girls, finding things to do around Myrtle Beach's retirement communities is as simple as enjoying the warm ocean breezes and a fresh cocktail. The city offers endless attractions, amenities, and activities for all types of active adults.
Activities
Golf enthusiasts will have no trouble finding an award-winning course in the Myrtle Beach area. There are dozens of golf courses, covering a wide range of rates. Many courses offer special discount tee times and coupons to make golfing more affordable. Just a few of the top-rated area golf courses include Aberdeen Country Club, Long Bay Club, Waterway Hills, Tradition Club, and Litchfield Country Club.
In addition to golf, active adults can find many activities throughout the Myrtle Beach area. Shopping and dining opportunities are abundant, as are movie theaters and performing arts centers. As with any coastal area, beach activities and water sports are popular with both residents and visiting tourists. The area also boasts amusement parks, water parks, and casino cruises.
Location
Myrtle Beach is located at the center of the Grand Strand, a popular, 60-mile stretch of beaches from Little River to Georgetown. While Myrtle Beach itself is a hot spot for vacationers, most retirees will be happier avoiding the tourists by choosing a community just outside of the city. A few popular areas include Little River, Conway, Surfside Beach, Murrells Inlet, and Pawley's Island.
Communities
When it comes to active adult living, the Myrtle Beach area has many lovely South Carolina retirement communities that are either age-restricted or -targeted.
Seasons at Prince Creek West is an age-restricted community in Murrells Inlet that welcomes residents aged 55 or older. This beautiful community began as a Levitt & Sons property, but was later acquired by Dockstreet Communities. The new owner has big plans for the community, including a 29,000-square-foot clubhouse, multiple swimming pools, hobby and game rooms, and outdoor sports courts.
Those who prefer all-age living should consider communities such as Surfside Beach Club in Surfside Beach and Meadows of St. Patrick in Murrells Inlet. Surfside Beach Club features amenities that will appeal to active adults, such as a community clubhouse and an outdoor swimming pool. While Meadows of St. Patrick does not provide its own amenities, it could be an ideal setting for those who prefer to live in a charming community that does not have the level of involvement found in other active adult communities.
Wherever retirees choose to live, the Myrtle Beach area will provide a charming coastal lifestyle as well as close proximity to the beautiful Grand Strand's many activities that are sure to appeal to active adults.