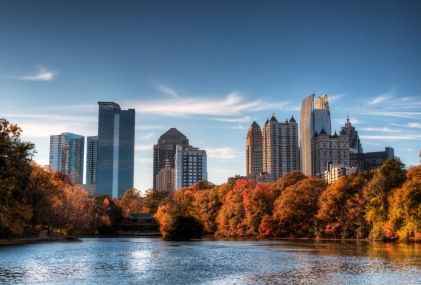 Whether you're a first-time tourist or a frequent visitor, there's so much to do and see in Atlanta, Georgia. You can drop by popular destinations like the Georgia Aquarium, The World of Coca-Cola and Little Five Points. And, if you choose to retire in the area, you can enjoy Atlanta's exciting attractions all year round.
Nicknamed the Capital of the South, Atlanta is a thriving city with over 5 million residents. It's known for its rich history, which encompasses key moments of both the Civil War and the Civil Rights movement. However, its modern attractions offer something that appeals to nearly any active adult.
Buckhead, "the Beverly Hills of the East," features upscale shopping and dining, while Little Five Points is Atlanta's Bohemian center. Other tourist hot spots include the Botanical Garden, Zoo Atlanta, the Georgia Dome and the Martin Luther King Jr. National Historic Site. The World of Coca-Cola offers an unforgettable tour and tasting experience, while the Georgia Aquarium has been called one of the 1,000 Places to Visit Before You Die.
In addition to all of its cultural and recreational attractions, Atlanta also stays fresh with annual festivals held throughout the year. During a springtime visit, you can experience one of the city's most popular events: the Atlanta Dogwood Festival. It features hundreds of artists, fair-style food carts and activities for visitors of all ages. Other spring events include Sweetwater 420 Fest, the East Atlanta Beer Festival, the Inman Park Festival, the Kirkwood Spring Fling and the Atlanta Food and Wine Festival.
During the summer months, the city celebrates music, food, the arts and natural beauty. Highlights include the Decatur BBQ, Blues and Bluegrass Festival, Atlanta Summer Beer Fest, the Grant Summer Shade Festival, the Atlanta Ice Cream Festival and the Flying Colors Butterfly Festival at Chattahoochee Nature Center. This year, the city also introduced the new Atlanta Seafood and Craft Beer Festival.
When the weather starts to cool, there are still plenty of seasonal things to do throughout the Atlanta area. Special events celebrate Labor Day Weekend, Ocktoberfest and Halloween. Late September brings the North Georgia State Fair, while October hosts both the annual Taste of Atlanta and Atlanta Pride festivities.
Once Thanksgiving rolls around, tree lighting ceremonies usher in a variety of neighborhood holiday events. In January, locals and residents can ring in the New Year with parties and events like Firstnight Atlanta's New Year Eve Festival. The winter months are also a prime time to celebrate heritage with the Martin Luther King Jr. Celebration and the Atlanta Jewish Film Festival.
With so much to do throughout the city, and annual festivals highlighting the joy of each season, it's easy to see how Atlanta, Georgia, is a prime place for a fabulous vacation or an exciting active adult retirement.