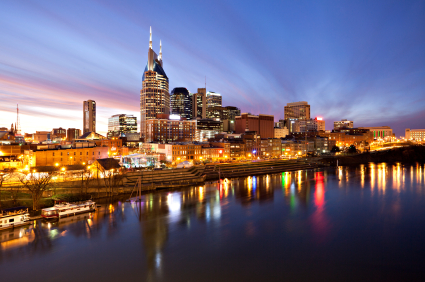 From the Appalachian Mountains to the Mississippi River, Tennessee is a great state to consider when planning a scenic vacation or a tranquil retirement. Yet this Southern state may be best known as a landmark spot for both the music industry and barbecue cooking. It's also a fabulous destination for history buffs, since the state was the site of many major Civil War battles.
With its long, flat shape, Tennessee is bordered by eight neighboring states: Kentucky, Virginia, North Carolina, Georgia, Alabama, Mississippi, Arkansas and Missouri. The Mississippi River runs along its western border, while the Appalachian Mountains cut through the eastern part of the state. Tennessee has many scenic areas, yet it is also home to several urban centers. Some of the state's most well-known cities include Nashville, Memphis, Chattanooga and Clarksville.
It's no surprise that names of these cities have all turned up in popular songs. Tennessee has played a crucial role in the development of American music. Memphis is home to both Beale Street, with its roots in early blues, and Sun Records, the label which launched music icons including Elvis Presley, Jerry Lee Lewis, Johnny Cash and Roy Orbison. Meanwhile, The Grand Ole Opry helped make Nashville the heart of the country music scene. Music lovers today can learn more at popular Tennessee attractions like the Memphis Rock N' Soul Museum, the Country Music Hall of Fame and the International Rock-A-Billy Museum.
Tourists and newly relocated retirees are also in for a treat with Tennessee's mouth-watering barbecue. Slow-cooked in a pit and served wet or dry, Memphis-style barbecue is one of the most popular regional forms of barbecue in the country. Each year, as part of the Memphis in May festival, food lovers can also gather for the popular World Championship Barbecue Cooking Contest.
Beyond barbecue and music, Tennessee has a variety of attractions throughout the state. Natural wonders include caverns, waterfalls, mountains and rivers. Outdoor lovers can explore the Cumberland Caverns, walk behind the water at Ruby Falls or hike and camp at the Great Smokey Mountains National Park. Sports fans can head to Bristol Motor Speedway for NASCAR racing, or cheer on professional teams like the Tennessee Titans, the Memphis Grizzlies and the Nashville Predators.
Tennessee's urban and suburban areas are filled with great opportunities for shopping, dining and cultural attractions. Depending on your location, a few memorable stops include Beale Street Historic District, in Memphis; Market Square District, in Knoxville; Paris Historic Downtown, in Paris; and Music Highway Crossroads, in Jackson. In Gaitlinburg, Arrowcraft is the perfect place to find a variety of regional crafts.
With so much to offer, Tennessee is a great place to plan your next vacation, either with family and friends, or as a romantic getaway. The low cost of living and picturesque settings also make the state a popular retirement destination. There truly is something for everyone in the state of Tennessee.